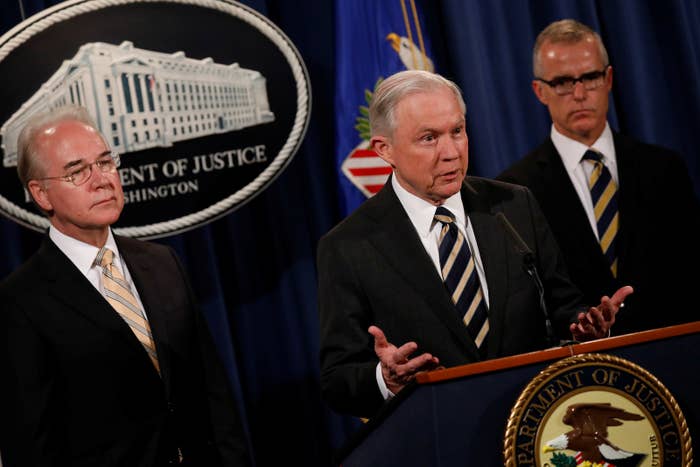 Attorney General Jeff Sessions and members of a multi-agency Department of Justice task force announced the "largest health care fraud takedown in American history" at a press conference Thursday, charging more than 400 people, including 56 doctors, in cases alleging $1.3 billion in false and fraudulent billing.

While announcing the charges, members of the task force highlighted the opioid-related cases brought across 21 federal districts that charge 120 individuals, including 27 doctors, with illegal prescription drug distribution.
Many of the cases announced Thursday by the DOJ involved Medicare and Medicaid fraud. The defendants are accused of taking advantage of the poor and elderly by overprescribing painkillers to patients then billing the federal government for the proceeds.
Asked to comment on the Trump administration's larger strategy for combating the opioid epidemic, Sessions remarked that he'd like to see a return to the drug prevention message of more than 20 years ago.
"There are three ways to deal with the rising drug epidemic. One is prevention, which I believe will work," Sessions said. "History showed it worked in the 1980s and 1990s. We need to have a reinforced message to stay away from these drugs, minimize your exposure to them. Don't get started, and you won't get addicted."
Since becoming AG, Sessions has come under criticism for pushing tactics at the DOJ that many see as a return to the failed "war on drugs" era of the '80s and '90s. Earlier this year, he announced that he was directing federal prosecutors around the country to pursue the highest possible charge in cases, including mandatory minimum sentences for drug offenders.
Asked if he was saying that the same strategies used to combat street drugs in the 1980s can be used to combat the prescription opioid epidemic, Sessions did acknowledge that the "prescription problem is different."
"We have never seen this kind of deaths from prescription drugs," Sessions said.
"It is a much more deadly crisis than we had with drugs in the 1980s," he added.
Health and Human Services Secretary Tom Price said that a commission tasked with studying the opioid problem would be issuing a "five-point plan" to stem the rising tide of opioid addiction–related deaths by the fall. In 2015, the number of opioid overdose deaths was "approaching 60,000," Price said. He added that the numbers for 2017 are "not better."
"There has to be an answer to why they becoming addicted to a greater degree," Price said. "Why is it they have lost hope? What is going on in our society?"