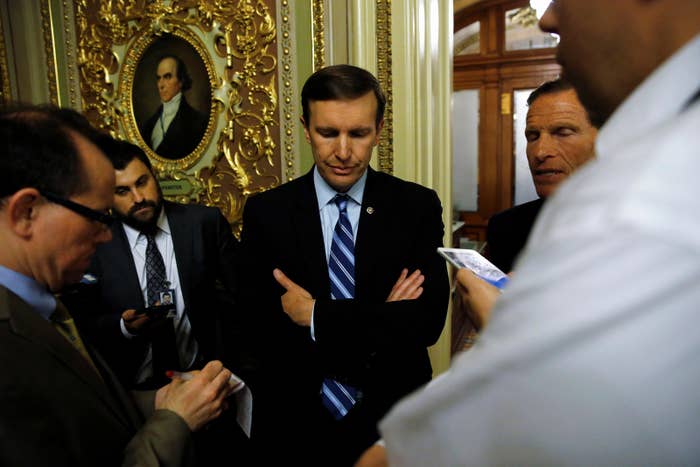 Four new gun control measures proposed in the wake of a 14-hour Senate filibuster failed on Monday.
The proposals, including to expand background checks and put new limits on gun buyers who are on the so-called "no-fly list," were rejected one week after the deadliest mass shooting in U.S. history in Orlando, Florida, where gunman Omar Mateen killed 49 people.
Before the vote, Sen. Chris Murphy, a Democrat from Connecticut who pushed heavily for new gun restrictions, addressed the floor.
"This body was going to ignore what happened in Orlando last week. We were going to pretend like it didn't happen," he said, playing up the significance of his coalition's holding of the Senate floor last week to force a vote on the gun control issue.
While getting any legislation through had been considered a long shot, "we are at least going to get to see where people stand," Murphy added.
Murphy also called out his Republican colleagues Sens. Chuck Grassley and John Cornyn, describing their proposals as "just shields...for members who don't want to stand up and do the right thing."
Grassley's proposal would have increased funds to the federal background check system, but not expand them to include all gun purchases. Cornyn's proposal would give the Justice Department 72 hours to seek a court order delaying the sale of a gun to someone on the "no-fly list." Both failed on a vote of 53 to 47, failing to get the 60 needed to pass.
Murphy's proposal to expand background checks by also requiring them at gun shows failed four votes shy of 60.
Finally, a proposal by California Sen. Dianne Feinstein to block gun sales to people on the "no-fly list" suspected of being engaged in or planning a terrorist act — endorsed by the Justice Department after last week's filibuster — failed on a vote of 47 in favor to 53 against.
The gun control proposals were amendments to the annual spending bill that funds the FBI and other federal law-enforcement agencies.
The National Rifle Association (NRA) applauded the Senate votes, calling the Democrat proposals "an embarrassing display."
"Today, the American people witnessed an embarrassing display in the United States Senate. President Obama and his allies proved they are more interested in playing politics than addressing their failure to keep Americans safe from the threat of radical Islamic terrorism," Chris Cox, executive director of the NRA Institute for Legislative Action, said in a statement. "We all agree that terrorists should not be allowed to purchase or possess firearms. We should all agree that law-abiding Americans who are wrongly put on a secret government list should not be denied their constitutional right to due process.
"These are not mutually exclusive ideas. It is shocking that the safety of the American people is taking a backseat to political theatre."
Meanwhile, supporters of new gun legislation reacted with anguish at the Senate voting down all the proposals.
John Feinblatt, president of activist group Everytown for Gun Safety, said in a statement:
"Tonight, far too many senators once again fell for the NRA's games instead of standing up for public safety and national security. Congress has an obligation to get its work done and help protect Americans from gun violence – rather than try to protect gun lobby politicians in an election year.

"This week, we saw gun sense champions change the political calculus and force a vote in the Senate. That calculus is changing across the country as well – and together, the American people will be voting on this issue in November."
Dan Gross, president of the Brady Campaign to Prevent Gun Violence, said senators should be ashamed for protecting "the rights of terrorists and other dangerous people to buy guns."
"The Brady Campaign will expose these politicians for who they really are and call out their failure to disarm hate in America," he said.
Here is Sen. Chris Murphy's full statement:
"Today's votes would never have occurred were it not for the loud voices of the American people echoing through the halls of the Capitol last week. After the deadliest shooting in American history, Senate Republicans weren't even going to discuss, let alone vote on, measures to stop this endless mass murder enveloping our country. So on Wednesday, I took a stand with nearly 40 of my colleagues to demand that Congress do something – anything – to stop the slaughter of innocent victims of gun violence. Millions of Americans engaged in the debate and made their voices heard.

"I'm disappointed by the results tonight, but far from surprised. We knew breaking the NRA's stranglehold on this Congress would be a long, uphill climb. The fact is Americans want a background check system that prevents dangerous people and terrorists from getting their hands on guns. It will take time, but I firmly believe that our democracy does not allow a Congress to be this far out-of-step with the views and values of the people for very long. This country is rising up to demand stronger, safer gun laws, and in the fact of unspeakable tragedy, our movement for change got stronger this week."
Sen. Cory Booker said: "I am frustrated, but I, like my fellow senators standing here right now, will not let this finite defeat undermine our infinite determination to close these gaping loopholes. We may have lost today, but we will not give up."
Other members of Congress also reacted on Twitter after the vote: