A Russian Lawyer Involved In A US Prosecution Mysteriously Plunged From His Apartment Window
The case, USA v. Prevezon, was being spearheaded by now-fired US Attorney Preet Bharara.
A Russian lawyer who was a witness in a US federal court case connected to the largest money-laundering scheme in Russian history was hospitalized after plunging four stories on Tuesday in Moscow, a spokesman said.
There are conflicting reports about what happened to the lawyer, Nikolai Gorokhov. His spokesman, William Browder — who was an alleged victim in the money-laundering scheme — says he was "thrown from the fourth floor of his apartment building." Russian media, often controlled by the state, says he "fell while he and workers were trying to lift a Jacuzzi into his apartment."
"His name is redacted in all the documents," Browder told BuzzFeed News regarding court filings in the US Southern District. "The feds were very concerned for his safety. I can confirm his role." The Department of Justice didn't immediately return a request for comment.
The case, USA v. Prevezon, is on the brink of going to trial in Manhattan — right in the middle of a massive shakeup of federal prosecutors by President Trump.
In court filings, the Department of Justice alleges that Prevezon, a Cyprus-based real estate company owned by a Russian national, purchased several New York City apartments with funds linked to a decade-old $230 million tax fraud case — the biggest in Russian history — perpetrated by gangsters and corrupt officials. In court filings, Prevezon says the DOJ has no hard evidence to back up its claims.
Last week, after plenty of drama, Trump fired Preet Bharara, the high-profile US attorney who was handling the case. Now prominent New York City defense attorney Marc Mukasey — the son of former US Attorney General Michael Mukasey, who at one point was defending Prevezon — is reportedly on the shortlist to replace Bharara.
Prevezon has filed a last-chance motion to get the case thrown out before trial — but if the judge rules against them, it's scheduled to be presented to a New York City jury on May 15. It's unclear when Trump — whose presidential campaign is facing close scrutiny for possible ties to Russia — will appoint Bharara's successor.
Those involved in the case believe that it will stay on track, and experts agree that the case should proceed as scheduled, despite Bharara's ousting.
"I don't see the US government withdrawing from this case," Will Pomeranz, deputy director of the Wilson Center's Kennan Institute and a leading expert on Russian commercial and constitutional law, told BuzzFeed News. "It's unlikely that with a case on the eve of going to trial is one that they're going to back away from. And if they did, it would obviously send a signal."
Michael Mukasey is no longer involved in the Prevezon defense and did not respond to a request to comment for this article. Prevezon's current firm, Quinn Emanuel, said that it could not comment on the record. The DOJ said that it could not comment because the case is ongoing.
So how did Russian gangsters allegedly steal nearly a quarter-billion in taxpayer dollars? According to the DOJ, they literally stole companies.

In 2007, investigators say, an organization of Russian mobsters, corrupt officials, and law enforcement orchestrated a raid on three companies held by the Hermitage Fund, which at one time was the largest Western investor in Russia. Cops associated with the would-be fraudsters stormed the offices of the companies and seized key assets. Then, they re-registered the companies, putting themselves in charge. After they took control, the thieves ginned up sham lawsuits that resulted in rulings against the companies totaling a massive $973 million. But the payoff came later, when these stolen companies filed for tax refunds to the tune of $230 million, which was immediately approved by tax officials in cahoots with the fraudsters.
Once he caught wind of what happened, the founder of Hermitage, William Browder — also the spokesman for the lawyer who was hospitalized Tuesday in Moscow — fought back by enlisting a group of accountants and lawyers to suss out who was behind the scheme. One attorney, Sergei Magnitsky, was particularly successful. By digging through bank records, Magnitsky was able to track the $230 million — which happened to be the exact amount that Hermitage paid in taxes in 2006 — to bank accounts opened with obscure banks controlled by Russian gangsters.
But when Magnitsky brought this to the attention of the Russian Interior Ministry in 2008, instead of going after the culprits, the government jailed Magnitsky. A year later, he died in prison at age 37.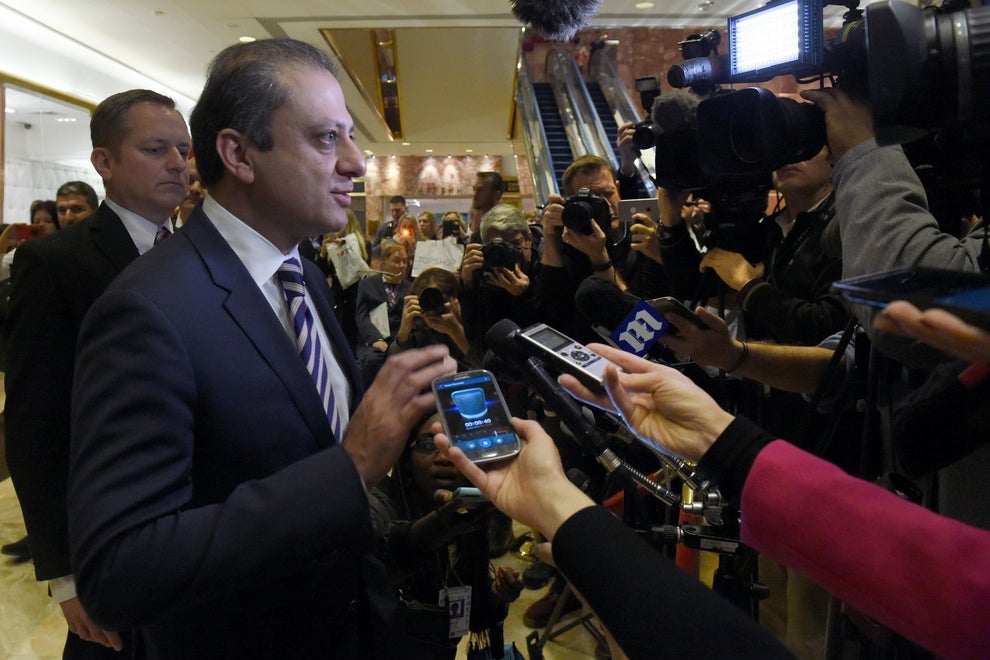 The Russian authorities claimed Magnitsky died of heart failure and enacted a smear campaign against him, saying he and Browder had stolen the $230 million themselves. However, it was later revealed through investigative reports that Magnitsky had been denied medical care and likely tortured while in jail, which raised suspicion around his death.
The Magnitsky affair heightened tension between the Russian and United States governments. In 2012, President Obama signed the Magnitsky Act, which froze the assets of Russian human rights abusers and banned them from obtaining visas to enter the country. In 2013, the first 18 names were added to the list, including a number of people allegedly linked to the $230 million Hermitage tax heist. Vladimir Putin responded by banning 18 US citizens from entering Russia — including Bharara and a team of prosecutors who had put away a major Russian arms dealer.
"The reason that [the Prevezon case] is so important," Browder told BuzzFeed News, "is this is the first major case going to trial involving money laundering from the crimes that led to the death of Sergei Magnitsky."
In the years since Magnitsky's death, Browder has led a crusade seeking justice for his former lawyer. And in 2013, he told BuzzFeed News, he walked a complaint into the Manhattan district attorney's office, claiming that Hermitage's investigators had linked funds from the $230 tax fraud to Prevezon and its real estate holdings in New York City. The Manhattan DA's office turned the case over to Bharara, who announced in September 2013 that he was bringing a civil forfeiture claim to seize the assets of Prevezon, freezing $14 million of the company's assets tied to the US bank accounts.
In court filings, Prevezon claims that the DOJ "tells two stories: one story about a $230 million Russian tax fraud, and another separate story about [Prevezon's] legitimate real estate business," but says that prosecutors "fail to connect the two."
The company argues that Bharara's former office has told "a graphic and disturbing story" about the tax fraud and Magnitsky's death, but maintains that "[t]hose allegations are irrelevant to [Prevezon]" and "designed to inflame the reader [of the complaint] and to create prejudice against" the real estate company.
It is true that the DOJ makes no claim that the defendants from Prevezon were directly connected to the alleged theft of the $230 million. And in the end, if the US government is successful in its prosecution, a civil forfeiture ruling against the real estate company would only be the first small step in linking Russian individuals to laundered funds from the $230 million tax fraud in the court of law.
A number of other countries — including Britain, Switzerland, and Lithuania — will be watching the outcome of the case because they have opened criminal probes and frozen assets their investigators believe are tied to the $230 million heist. In total, to date, more than $40 million in assets tied to these cases has been frozen around the globe.
"It's an example of the problem," Pomeranz said, "but it's just a small microcosm of the problem."
Outside Your Bubble is a BuzzFeed News effort to bring you a diversity of thought and opinion from around the internet. If you don't see your viewpoint represented, contact the curator at bubble@buzzfeed.com. Click here for more on Outside Your Bubble.