A Pennsylvania police department has come under review after one of its officers overdosed while on duty and now the local district attorney's office is calling the officer's drug cases into question for possible misconduct and evidence-tampering.
Last month, Johnstown police officer William Slisz was found passed out from an apparent drug overdose with a mysterious hammer lying beside him on the floor of the department's break room.
"It appeared as he was trying to hammer himself into the secure evidence room within the police department," Cambria County District Attorney Kelly Callihan said at press conference last week.
The September 18, 2016 incident has set off a chain of events that now includes an extensive investigation by the DA of the department's drug cases, and has caused Johnstown police chief Craig Foust to be put on paid leave.
Slisz, who was on-duty at the time, was revived using Narcan and taken to the hospital. Though the type of drug that the officer had taken has not been released, Narcan is a drug used to reverse an opioid overdose. Officials confirmed that he has been placed on administrative leave pending an investigation.
Callihan said that her investigation of the incident indicates that Chief Foust knew about "prior issues" with the department's evidence room for several months prior to Slisz's overdose.
"He knew about and had knowledge of a possible breach of security of the evidence room as far back as July," Callihan said. "The Chief did not consult me, nor advise me in any way that a problem was detected."
In what might be the most damaging fallout from the events, the DA says that her office is reviewing cases on which Slisz worked for possible misconduct or evidence tampering. He was also a member of the Cambria County drug task force —which is commissioned by the Pennsylvania Attorney General's office — the DA's office confirmed.

"Unfortunately, justice in this matter may mean having to concede some cases, or walk away from some prosecutions, if we find evidence has been compromised," Callihan said.
A small city of about 20,000 in western Pennsylvania, Johnstown has become one of many communities in the state ravaged by the most recent opiate epidemic.
This week, two men were arrested In Johnstown with more than 200 bags of heroin.
In April, Pennsylvania Attorney General Kathleen Kane's office charged 33 individuals in connection with a heroin trafficking organization based in Johnstown. Investigators determined that they were responsible for dealing more than 9,100 bricks of heroin — worth about $2.7 million — during a 13-month period.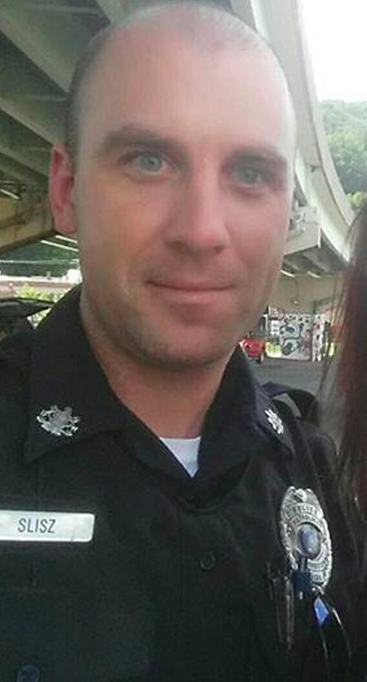 The fallout within the police department, juxtaposed alongside the epidemic, has left Johnstown residents frustrated with officials.

At a City Council meeting Wednesday, resident John DeBartola asked Mayor Frank Janakovic what he planned to do about the apparent corruption within the police department.
"It's a good 'ol boys network," DeBartola said. "We need someone to get these new positions who's not from the area, who's not connected to any of the factions."
Janakovic read a statement at the meeting asking residents not to dwell on the past.
"It's easy to focus on the negative instead of looking toward the future," he said. "What we do today will mold our city's future."
Callihan's office said there is no timetable on when the internal investigation of the police department will be completed. As of now, the Attorney General's office has not been pulled into the case.
"Officer Slisz will face criminal charges, but until the investigation is complete, the exact offense can't be certain," Callihan said.