Police Shot The Boat Tsarnaev Hid In During The Boston Bombing Manhunt More Than 100 Times
The jury in the Boston bombing trial viewed the entire boat that defendant Dzhokhar Tsarnaev hid in during the four-day manhunt.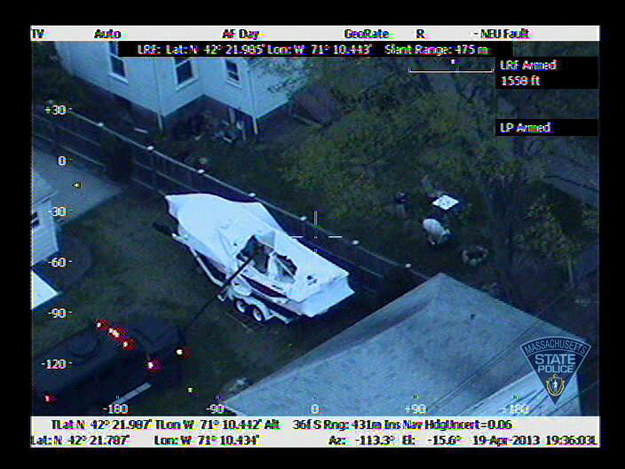 Jurors in the Boston bombing trial were taken Monday morning to an undisclosed South Boston location to view the Watertown boat that Dzhokhar Tsarnaev infamously hid in during the four-day manhunt for him after the 2013 Boston Marathon bombing.
After a standoff, he ultimately stood up in the boat and surrendered to police.
At the half-hour long viewing, jurors were accompanied by an FBI agent. They were lifted two at a time on a forklift above the boat to view the evidence inside.
Reporters at the scene counted at least 110 bullet holes scattered along the boat. There is speculation that the number of bullet holes might be closer to 200 since the stickers marking evidence inside the boat were numbered up to 208.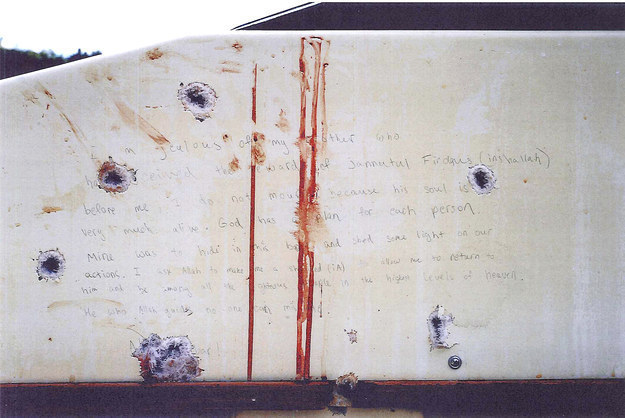 The jurors also viewed never-before-seen writing by Tsarnaev carved on the inside the boat that read "Stop killing our innocent civilians." Last week, a note written in pencil on the inside panels of the boat – Tsarnaev's manifesto – was shown to the jury.
Tsarnaev's lawyers pushed the judge to show the whole boat — not just the panels with Tsarnaev's writings — to the jury during the trial. Earlier this month, the defense filed a motion to bring the entire boat to the courthouse.
Tsarnaev and several of his defense attorneys accompanied the jury to the location Monday to view the boat. Tsarnaev was described as "impassive" as he sat under a tent and observed the jurors' examination of his hideout.
The trial resumes Monday with testimony from the Watertown police officers who engaged Tsarnaev and his older brother Tamerlan in a gunfight on the street. That incident led to Tamerlan's demise when the 21-year-old defendant ran him over with a car.