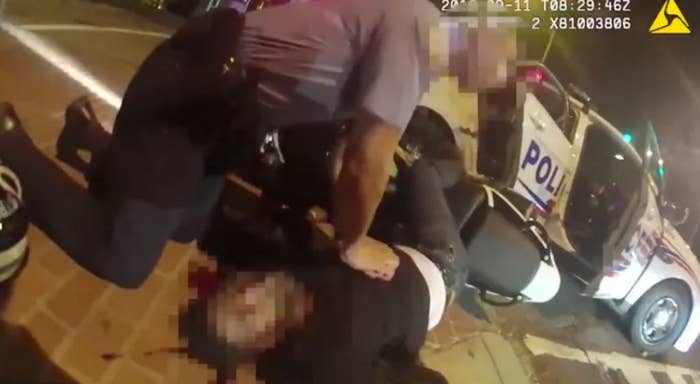 Federal authorities have concluded there is "insufficient evidence" to charge the police officer who was filmed performing CPR on a motorcyclist he fatally shot in Washington, DC, last year.

According to the US Attorney's Office, at around 4:20 a.m. on Sept. 11, Terrence Sterling pulled his motorcycle in front of a police patrol car at a red traffic light, turned to look over his shoulder, then sped through, prompting officers to give chase.
After traveling as many as 25 blocks — sometimes at speeds of over 100 mph — Sterling stopped at a traffic light and the officers pulled their car in front of him, blocking him in.
Officer Brian Trainer, 27, a four-year member of the Metropolitan Police Department, started to get out of his car when, according to police, Sterling revved his motorcycle and accelerated toward the patrol car, striking the door. Trainer then fired two shots, striking Sterling on the right side and the neck.
Body cam footage shows Trainer and another officer performing CPR on Sterling, with one of them repeatedly saying, "Keep looking at me, bud. Keep looking at me."
Sterling was transported to a nearby hospital where he later died.
In the days after the shooting, the mayor's office released the body camera footage showing the aftermath of the shooting. Officials also confirmed that Trainer's body camera "was not activated until some moments after the shooting."
The deputy mayor for public safety and justice, Kevin Donahue, said the release of the video and Trainer's identity after the shooting was authorized by Mayor Muriel Bowser, who "deemed the body camera footage to be in the public interest."

Following the incident, Trainer was placed on administrative leave pending the completion of the investigation.
Sterling's family is suing the city and police department for $50 million.
Sterling's family did not immediately respond to BuzzFeed News' request for comment.
DC Police Release Video, Name Of Officer Who Fired Shots In Fatal Shooting Of Terrence Sterling
None