Police Billboard In Wisconsin Shows Cop Under Investigation For Fatal Shooting And Says "Thank You"
A Wisconsin billboard reads "Thank you for your support, Kenosha" and features an officer who is currently under investigation for a fatal shooting.
A billboard featuring Kenosha Police Officer Pablo Torres that reads "Thank you for your support, Kenosha" has been put up in the Wisconsin city.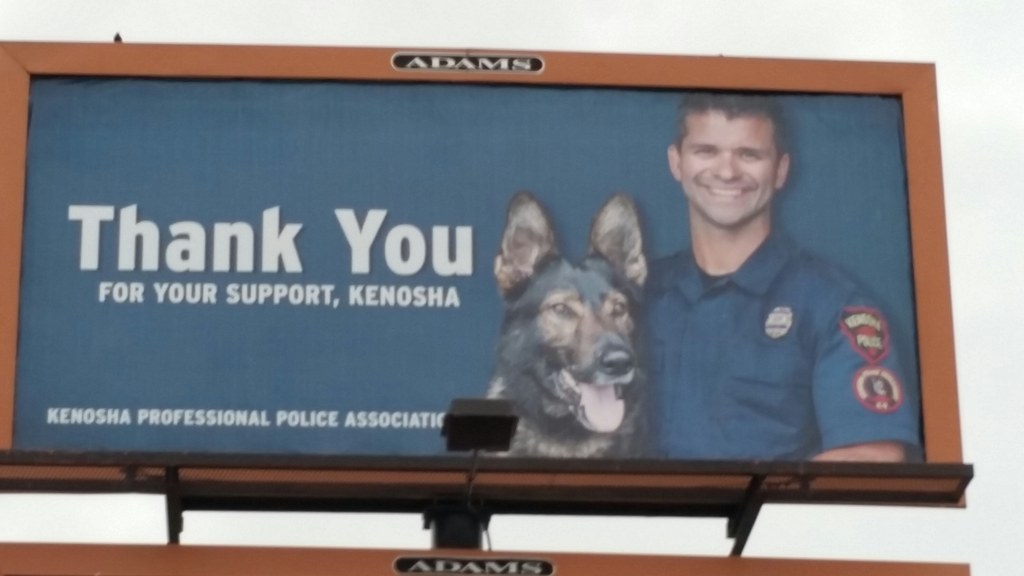 Torres is currently on administrative leave after fatally shooting 26-year-old Aaron Siler on March 14. Siler allegedly attempted to evade police then confronted Torres with a weapon. "Officer Torres fired his handgun striking and killing the suspect. There were citizen witnesses to the incident," Kenosha PD said following the incident. The Wisconsin's Bureau of Criminal Investigation is currently investigating the shooting.
The killing of Siler occurred on Torres's first day back on the job after he was on leave for the March 4 non-fatal shooting of Terry Knight, a 66-year-old man who allegedly came at Torres with a knife. Investigators cleared Torres of wrong-doing in the incident.
Torres's involvement in two shootings in ten days has led some in the community and the local media to question the appropriateness of the billboard.
Kathie Willie, a friend of the Siler family, told Kenosha News she was "immediately sickened" when she saw the billboard.
"They are basically thanking Kenosha for shooting and killing Aaron and shooting and injuring Terry Knight. I was so hurt. I was balling my eyes out," Willie said.
In an editorial published this week, the Kenosha News called for the billboard to come down:
"The billboard, and events such as the Back the Badge rally in Pennoyer Park on Saturday, may be intended as support for law enforcement and appreciation for that support, but they could also be seen as attempts to intimidate people who might criticize the police.

There is an ongoing investigation of a fatal police shooting in Kenosha.

Everyone — the cheerleaders for the police and the critics — ought to withhold judgment on this case until the results of that investigation are made public.

In the meantime, the billboard ought to come down."
The billboard was paid for by the Kenosha Professional Police Association. KPPA President Pete Deates put out this statement this week:
"The recent incidents in the community have greatly impacted many people including the officer, his family, and the entire police department. We have been humbled by the outpouring of support the community has given us and we simply wanted to say thank you."
Kenosha Mayor Keith Bosman told Kenosha News he didn't notice the billboard until it was pointed out to him and expressed his support for Officer Torres.
"I'm very confident officer Torres will be exonerated and allowed to come back to work soon," Bosman said. "We wish the best for him."
BuzzFeed News reached out to the billboard company, Adams Outdoor, for comment and is waiting to hear back.