People Of Albuquerque Storm City Council Meeting, Attempt To Arrest Police Chief
A city council meeting in Albuquerque, N.M., descended into chaos Monday as activists took over and demanded the arrest of the city's police chief. Twenty-five people have been killed by the police since 2010.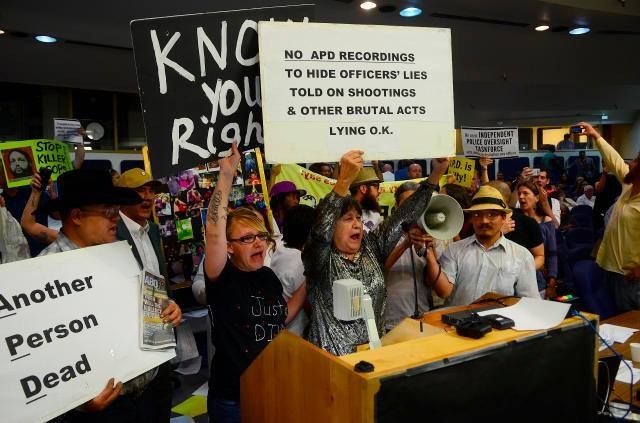 An Albuquerque City Council meeting came to a chaotic end Monday when protesters carrying fake arrest warrants for the city's police chief took over, prompting police officers and council members to flee the chambers.
Protestors said they were issuing a "people's arrest warrant" for Police Chief Gorden Eden following the fatal shooting of Armand Martin, the 25th person killed by Albuquerque police since 2010.
Martin's wife reportedly called 911 Saturday night after a verbal confrontation during which Martin pulled a gun on her. According to police, Martin then exited his house wielding two handguns and was shot and killed by the department's SWAT unit.
Albuquerque's police force has been under intense scrutiny by the U.S. Justice Department, which issued a report last month citing the department for police brutality and excessive force. Two people in Albuquerque have been shot and killed by police — Martin and 19-year-old Mary Hawkes — since the report was released.
Tensions boiled over at Monday's meeting during the statement by David Correia, assistant professor at the University of New Mexico and an activist working to stop police violence in Albuquerque.
"As soon as I started reading [Eden] his rights, all hell broke loose," Correia told BuzzFeed.
Roughly a dozen activists and several family members of alleged victims brought forth 1,000 copies of a warrant the group created for the arrest of Eden.
After the members of the council and police left the chamber, the demonstrators took their seats and held their own meeting.
"It went much different than we expected. We expected them to arrest us," Correia said.
Chief Eden sent out a statement Monday night: "We understand there are those in our community who have expressed concerns about APD issues related to the Department of Justice report. We are working hard to make proactive improvements now and in conjunction with DOJ recommendations. While we welcome constructive discussions, we do not believe disruption of tonight's city council meeting was a productive way to meet those goals."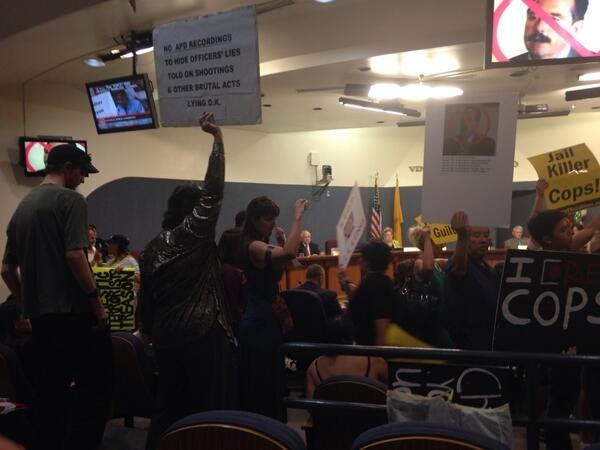 The council takeover is the latest in a string of uprisings in the city against the APD. Most notably, a 1,000-person march and protest was held following the police shooting and killing of homeless man James Boyd in the Albuquerque foothills in March. Boyd's killing went viral after the lapel video from one of the officers involved in the shooting appeared online.
Still relatively new to the job, Eden became chief one month before the Boyd killing, and the DOJ report focuses entirely on the excessive force that occurred under the command of his predecessor Ray Schultz, who retired last year. (Officer Allen Banks was briefly named interim chief after Schultz's retirement.)
"[Eden] definitely inherited the problem," Correia told BuzzFeed.
When asked why the protesters seemed focused on arresting Eden and not Schultz, Correia said: "We have to focus on interrupting this pattern of unjustified lethal force — interrupting business as usual. Eden is the one making it business as usual."
Correia added that activist groups have discussed next convening their own court to prosecute Eden for crimes they claim he's committed as police chief.
At the end of the month, the DOJ is scheduled to issue a consent decree detailing how the 46 recommendations outlined in their report for curbing police brutality and excessive force in the APD will be implemented.
Albuquerque Police and city council members did not respond to multiple requests to comment for this story.
This is the arrest warrant that activists attempted to us to arrest the Albuquerque police chief.