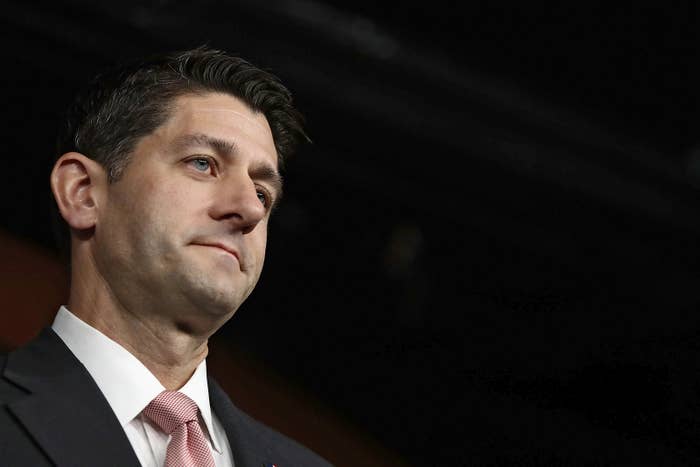 Speaker of the House Paul Ryan told fellow Republicans on a conference call Thursday that the House will vote next week on a bill that would prevent suspected terrorists from purchasing guns, a source on the call told BuzzFeed News.

The gun measure will be part of a terrorism package aimed at disrupting radicalization and recruitment, the source said.
Ryan told the members on the call that it's "just common sense" to make sure that suspected terrorists can't buy guns.
Ryan's decision to hold the vote comes one week after the House Democrats staged a 26-hour sit-in demanding a vote on new gun legislation following the Orlando nightclub massacre, where 49 people were killed.
At multiple points during the sit-in, Ryan attempted to bring the House to order. Democrats on the floor chanted, "No bill! No break!"
Democrats vowed to continue the protest when the House returned after the Fourth of July recess.
Ryan initially dismissed the action by the Democrats, calling the sit-in a "publicity stunt."
He said on the call today that leadership is thoroughly reviewing what happened on the House floor and will "take any action we deem necessary."
It is unclear exactly what the gun bill that Ryan intends to take up will look like. Some Democrats are speculating that it will be similar to the bill authored by Republican Senator John Cornyn, which was one of four gun bills voted down by the Senate last week.

Cornyn's bill called for law enforcement to receive notification when someone on a terror watchlist attempts to purchase a gun and gives officials a 72-hour window to determine probable cause to deny the purchase. It received backing by the National Rifle Association.
"House Democrats will keep up our efforts to push for the Majority to allow a vote on gun violence legislation, but bringing up a bill authored by the NRA just isn't going to cut it," said a spokesperson for House Minority Leader Nancy Pelosi.
Aides for House Minority Whip Steny Hoyer said that they look forward to seeing what Ryan proposes.
"It remains to be seen whether the legislation is a bipartisan proposal that will address gun violence by keeping guns out of the hands of suspected terrorists, or if this is a partisan package that includes poison pill provisions – such as the Cornyn or Johnson proposals," said Mariel Saez, national spokesperson for Hoyer.
Jennifer Baker, Director of Public Affairs for the NRA, sent BuzzFeed News a statement:
"The NRA does not want terrorists to have legal or illegal access to firearms. If the anti-gun politicians in the Democrat majority wanted to pass legislation that prevented terrorist from purchasing firearms while providing meaningful due process to law-abiding Americans before they are denied their constitutional rights they could. They would rather play politics and engage in political stunts. This is exactly why the American people are so frustrated with Washington, D.C."