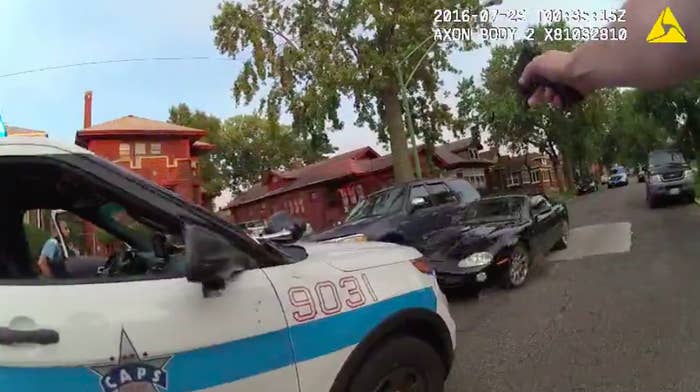 Chicago officials released video footage of yet another a deadly encounter between an unarmed citizen and the police on Friday.
The footage shows the fatal shooting of 18-year-old Paul O'Neal, who was shot on July 28 on the South Side after fleeing the scene from a stolen Jaguar.
The shooting occurred when police tried to pull over O'Neal at around 7:30 pm as he drove a Jaguar convertible reported stolen in Bolingbrook, Illinois, police said.
O'Neal struck the officers' car and was shot at while he was behind the wheel of the convertible, police said.
O'Neal, who was unarmed, then attempted to run, and an officer chased him. When he refused to stop, officers shot at him again.
O'Neal died of a gunshot wound to the back, authorities said.
Sharon Fairley, chief administrator of the Independent Police Review Authority, said in a statement prior to the release of the videos that the footage is "as shocking and disturbing as it is, is not the only evidence to be gathered and analyzed when conducting a fair and thorough assessment of [the] conduct of police officers in performing their duties."

Police Superintendent Eddie Johnson has said the video footage suggests violations of departmental policy in the shooting of Paul O'Neal. Johnson suspended the three officers, said it appears they violated departmental policies.

After the release of the video, Johnson acknowledged that the shooting of O'Neal has "raised a lot of questions" about the actions of the officers involved. He said in a statement that "individuals will be held accountable for their actions."
O'Neal's family is suing the police department. They were allowed to view the video ahead of its release.
At a press conference, an attorney for the family Michael Oppenheimer said that police "executed" O'Neal.
Oppenheimer called for a special prosecutor to review the case.
The video is being released on Friday with unprecedented quickness as the department and the city try to restore trust between it communities and the police.
The effort to provide more transparency comes after the fallout related to the investigation of the shooting of 16-year-old Laquan McDonald, where a court order was required to force officials to release video footage of the deadly shooting of McDonald by Chicago police officer Jason Van Dyke, who is facing first degree murder charges.