Update — June 11, 6:00 p.m. ET: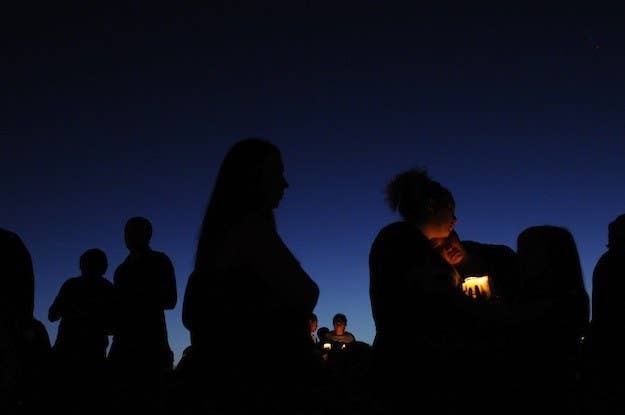 Police say 15-year-old Jared Michael Padgett shot and killed fellow Reynolds High School freshman, 14-year-old Emilio Hoffman, inside the locker room of the school gym on Monday morning, before taking his own life in a bathroom.
Police have not established a link between Hoffman and Padgett.
"He arrived at school yesterday morning on the school bus, carrying a guitar case and a duffel bag. He entered the boys' locker room in the building that housed the gymnasium. He spent a period of time in the locker room, and during that time murdered a fellow student," Troutdale Police Chief Scott Anderson said at a news conference Wednesday.
Reynolds High School teacher Todd Rispler was also grazed with a bullet inside the locker room, but managed to elude the shooter and notify the school administration to administer the lockdown.
The shooter used an AR-15 assault rifle in the attack, and also carried, but did not use, a semi-automatic handgun. Investigators also recovered nine loaded magazines with the capability of holding several hundred rounds.
"The shooter also had a large knife. He was wearing a non-ballistic vest used for carrying ammunition and other items. He also was wearing a multi-sport helmet with a camouflage design," Anderson said.
Investigators confirmed that all the weapons were obtained from the shooter's home. The weapons had been secured, but the shooter "defeated all security measures," according to investigators.
"I cannot emphasize enough the role that Mr. Rispler and the responding officers played in saving many, many lives yesterday," Anderson said. "Given the weapons and amount of ammunition that the shooter was carrying, the early notification and the initial law enforcement response were critical. Every one of the teachers and students in that school did the exact right thing in a very difficult situation."
The investigation is ongoing and police cannot confirm a motive at this time, police said.
UPDATE: Emilio Hoffman's mother Jennifer released a statement on behalf of the family:
We want to share some thoughts about Emilio with the community.
Emilio lived in the Gresham/Troutdale area his whole life. He attended Kelly Creek Elementary, Gresham Arthur Academy, Reynolds Arthur Academy, and Walt Morey Middle School.
Emilio has one sister and three brothers as well as an extended family, including a number of foster brothers and sisters who he grew up with over the years.
He enjoyed science and history, but his true love was sports. Over the years he played t-ball and football, but when he found soccer, that was it. Soccer was his whole life. He played on a team for La Amistad and the Columbia River United Futbol Academy (CRUFA), local soccer leagues. He also coached a U7 team for TFA Barcelona Oregon for two of his younger brothers.
When we attended the candlelight vigil last night, we were humbled by the response from his friends, teachers and community. Emilio loved his friends, and his friends loved him.
To those friends we say - be happy like Emilio. Smile like him. Laugh like him.
You couldn't be around Emilio without laughing! Anyone who has ever met Emilio laughed with him. He had to be the center of attention at all times!
To the parents out there - Love your kids. Hug your kids every day. And live with no regrets. I don't have any regrets with Emilio. None. And he knew that.
Thank you for all of your support. It has provided comfort, and it is good to know how much Emilio was loved ... not just by us, but by everybody.