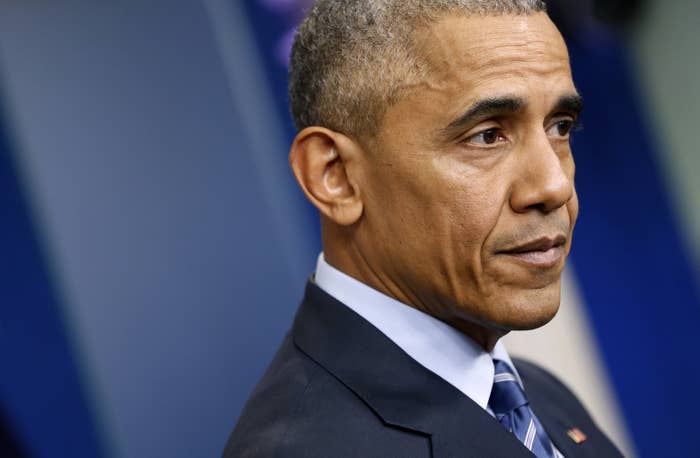 The Obama administration will dismantle a post-9/11 registry program that targeted immigrants from Muslim countries before the Trump administration comes into power next month.

The New York Times first reported that the Department of Homeland Security will remove the National Security Entry-Exit Registration Systems, known as NSEERS, from its slate of available programs, effective immediately.
The move by Obama is largely symbolic since the registry has been inactive since 2011. However, in the wake of Trump's election, the incoming administration has hinted that it might reinstate the program once Trump's team takes control of DHS.
On the campaign trail, Trump expressed support for a registry of Muslims and called for a ban on Muslims from entering the country — a popular rallying cry at his rallies, criticized for spreading Islamophobia. Reuters reported that Kansas Secretary of State Kris Kobach — an immigration hardliner reportedly advising Trump and the author of NSEERS — said there have been talks about Trump reactivating the program when he takes office. And last month, Kobach was photographed going into a meeting with Trump while holding a stack of papers that referenced NSEERS on the front page.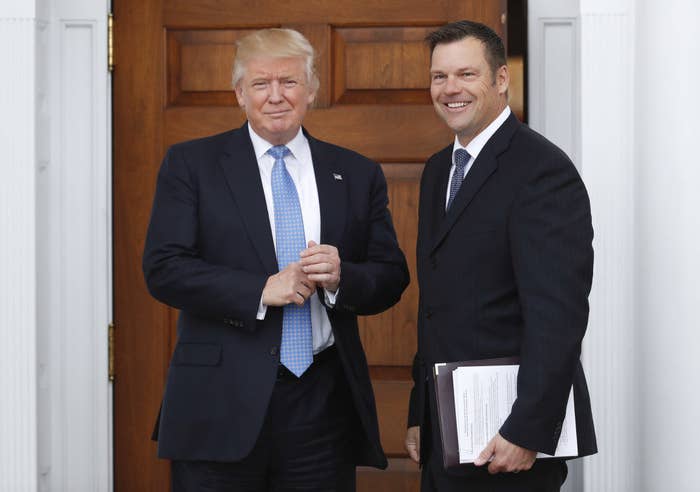 Under NSEERS, men from 25 majority-Muslim countries entering the country were forced to register, get fingerprinted, and told to check in regularly with immigration officers. In 2011, DHS deemed it redundant. However, NSEERS still remained on the books at DHS — except all 25 countries have been removed, so no registration requirements currently exist for anyone.

The Times reports that DHS filed a document with the national registry that states that the agency is removing the program, calling it "outdated" and "obsolete."
DHS told BuzzFeed News that the agency will publish this document that ends NSEERS on Thursday, Dec. 22, and it will officially go into effect one day later.
"DHS ceased use of NSEERS more than five years ago, after it was determined the program was redundant, inefficient and provided no increase in security," DHS spokesperson Neema Hakim said in statement Wednesday. "The intervening years have shown that NSEERS is not only obsolete, but that its use would divert limited personnel and resources from more effective measures."
Crafted and instituted after the terrorist attacks of Sept. 11, NSEERS came under fire a few years later when in 2004 the 9/11 Commission questioned its effectiveness at combating terrorism when the commission members discovered that the registry has yielded no terrorism prosecutions. That same year, a piece of the program that called for Muslim men from the designated countries already in the US to call-in to local immigration offices and register was discontinued.
Kobach pushed back against the commission's findings. "No one was charged with terrorism crimes, but that argument completely misses the point," Kobach said while testifying in 2004. "We gained a lot of information and we have to remember the disruptive value: This forced terror cells in the United States to modify their behavior."
BuzzFeed News reached out to Kobach's office about the ending of NSEERS but didn't immediately hear back.
In 2011, NSEERS was discontinued in 2011 with very little fanfare. In a federal register notice, then-Homeland Security Secretary Janet Napolitano wrote that the program was redundant and the 25 countries that were ordered to comply were removed. A year later, the Inspector General reaffirmed DHS's decision to halt the program, noting that the agency's newer, more automated security programs worked more efficiently and allowed for more informed targeting and data analysis.
Despite these past moves by DHS to effectively end NSEERS, if it were to stay on the books in the national registry, the mechanism for Trump to reinstate it would have been fairly easy, according to a former DHS staffer who worked on immigration policy under both presidents Bush and Obama.
Theresa Cardinal Brown, former director of the Immigration Legislation Task Force at DHS, told BuzzFeed News that reinstating NSEERS would be "really easy" for Trump.
"It's just takes a new notice [from the DHS secretary] and a new list of countries," Brown said.
During her time at DHS, Brown said, running NSEERS was "costly and ineffective" and that there was "a lot of confusion around the program." For instance, registered individuals were supposed to periodically check in with local Immigration officers, but "people weren't given the proper follow-up information," Brown said.
The American-Arab Anti-Discrimination Committee (ADC) said in a statement it welcomes the decision to end NSEERS, calling it "a failed program rooted in discriminatory profiling."

Trump's transition team did not immediately respond to a request to comment on the move to end NSEERS by the Obama administration.
On Wednesday, asked about the recent violence in Berlin and Turkey and whether it caused Trump to rethink or reevaluate plans to create a Muslim registry or ban Muslim immigration to the United States, Trump said, "You know my plans. All along, I've been proven to be right. 100% correct. What's happening is disgraceful."