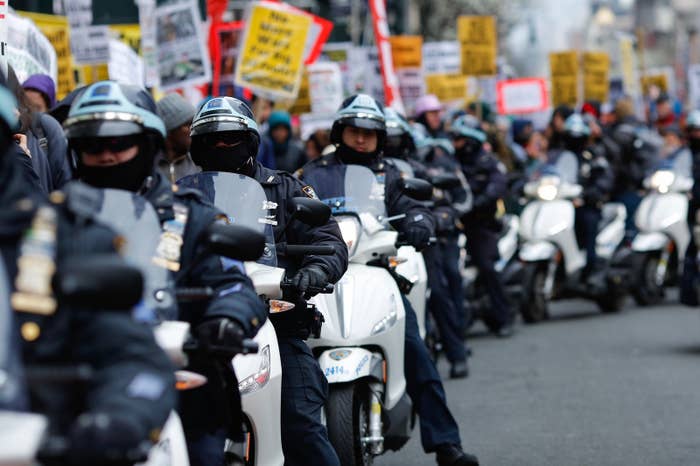 Seven NYPD officers were arrested Wednesday after a years-long internal investigation revealed their involvement in a New York City gambling and prostitution ring — and two of the officers have a history of misconduct within the department, according to secret NYPD disciplinary files previously obtained by BuzzFeed News.
Officer Giancarlo Raspanti was found guilty of departmental charges in 2014 of engaging in a "physical altercation" with a person known to the department "in the presence of their nine year old son." He was suspended for 30 days.
Are you an officer who has been through the NYPD disciplinary system? Have you ever encountered one of these officers? If so, we'd love to hear about your experience. To learn how to reach us securely, go to tips.buzzfeed.com. You can also email us at tips@buzzfeed.com.
Sgt. Louis Failla was found guilty of departmental charges in 2014 for failing to follow proper procedures during an undercover operation. He was also found guilty of failing to notify an NYPD captain regarding "the repair of damaged property resulting from the forced entry into wrong premises." Failla was docked 15 vacation days.
Failla faced additional departmental charges — including failing to notify the internal affairs unit — after learning about an allegation of corruption against a member of the service. Those charges were dismissed, records show.
The records obtained by BuzzFeed don't reveal any additional information about these incidents. The NYPD did not respond to a request to provide more detail.
The unions representing Raspanti and Failla didn't immediately respond to requests for comment.
The NYPD fiercely guards police misconduct records, citing a controversial state law to deny the public from seeing which officers have been disciplined for lying or other wrongdoing. A recent BuzzFeed News investigation found that hundreds of officers who committed the most serious offenses, from lying to grand juries to physically attacking innocent people, got to keep their jobs. The investigation was based on a cache of secret, internal records about 1,800 NYPD employees disciplined between 2011 and 2015 that are now available to the public in a searchable database.

Failla, Raspanti and five other officers were taken into custody Wednesday following a three-year investigation. The probe was prompted by an NYPD officer coming forward with a tip to internal affairs.
Failla faces four counts of official misconduct. Raspanti is charged with two counts of official misconduct and receiving reward for official misconduct. Sergeant Carlos Cruz is charged with enterprise corruption. Sergeant Cliff Nieves and police officer Steven Nieves are charged with promoting prostitution. Detective Giovanny Rojas-Acosta is charged with enterprise corruption. Detective Rene Samaniego is charged with two counts of enterprise corruption.
Two other NYPD officers, including a former internal affairs detective, were stripped of their guns and badges and placed on administrative leave, a department official confirmed to BuzzFeed News.
On Thursday, department officials laid out the details of its investigation, which began in April 2015 after an unnamed officer informed internal affairs that he believed a fellow officer from the Vice Enforcement Division was having conversations with someone who may be involved in illegal activity.
"That someone turned out to be a retired detective," said Deputy Commissioner Joseph Reznick, head of the department's internal affairs bureau.
The retired detective, Ludwig Paz, joined the NYPD in 1990 and retired after 20 years on the job in 2010 with a full pension. During his time with the department, Paz spent time in the NYPD's Vice squad that targets illegal gambling and prostitution operations.
Paz is accused of serving as the ringleader of a group of more than 40 conspirators that ran brothels and illegal gambling operations in Queens, Brooklyn, and Long Island.
The current officers who are charged — which officials said each worked with Paz at some point during his career — are accused of various crimes associated with the ring. Several officers allegedly provided protection by sharing information into ongoing investigations into Paz's operations — including giving the retired detective advanced noticed that one of his locations was about to be raided.
At the same time, the accused officers targeted competitive locations for raids and shut those businesses down.

Reznick said that the officers charged in the case had sex with prostitutes while on and off-duty. Raspanti allegedly was rewarded with discounted sex with prostitutes for providing Paz with information from a department computer. Reznick added that one of the officers charged was scouting locations to setup a brothel and illegal gambling operation after retiring from the service.

Two of the officers charged, brothers Steven and Cliff Nieves, allegedly setup a bachelor party at one of Paz's brothels where attendees had sex with prostitutes. The New York Post reports that both brothers pleaded not guilty on Thursday to promoting prostitution.
Reznick said that the investigation is ongoing and there are "additional active members of the service that we are interested in as well as retired members." However, he said that absent new information the department does not anticipate more arrests of any NYPD officers.

Along with the arrested officers, 26 civilians were taken into custody. The department is looking for 13 additional suspects.
"Today, those who swore an oath and then betrayed it have felt the consequences of that infidelity. The people of this Department are rightly held to the highest standard, and should they fail to meet it, the penalty will be swift and severe," Police Commissioner James O'Neill said in a statement Wednesday to BuzzFeed News.
"I thank Deputy Commissioner Joseph Reznick for the thorough investigation performed by the Internal Affairs Bureau, in partnership with the Queens District Attorney's Office, in rooting out this illicit activity," O'Neill said. "His unit initiated this probe and in doing so, has sent a clear message: there is no place in the NYPD for criminal or unethical behavior."