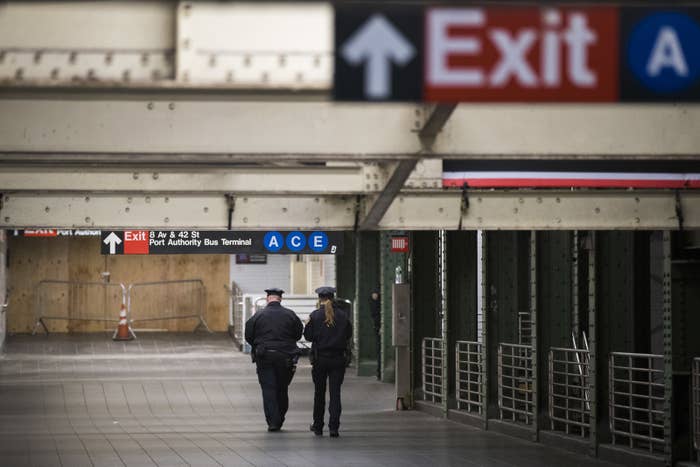 The man accused of detonating a pipe bomb strapped to his body inside a New York City subway station on Monday addressed President Trump on Facebook shortly before the attack, saying in a post "you failed to protect your nation," federal prosecutors said.
Akayed Ullah is charged with five federal counts, including detonating a weapon of mass destruction and providing material support to ISIS, according to a federal complaint released Tuesday.
According to investigators, at 7:20 a.m. on Monday, an improvised explosive device was detonated inside a subway terminal near New York City's Port Authority bus terminal at West 42nd Street and 8th Avenue in Manhattan.

Shortly after the attack, police discovered Ullah lying on the ground in the area of the blast and he was taken into custody.
Police found a 9-volt battery inside Ullah's pants pocket, wires connecting the battery under his jacket, two plastic zip ties, several fragments of metal pipe, metal screws, and fragments of a Christmas tree light bulb.
Ullah was taken to a local hospital for treatment of his injuries, including burns to his body. Three other people were treated for minor injuries.
At the hospital, Ullah was interviewed by investigators. Based on his statements, they believe he constructed the pipe bomb at his Brooklyn residence about a week before the attack.
Ullah also allegedly told investigators from his hospital bed, "I did it for the Islamic State."
Ullah came to the US from Bangladesh in 2011, the Department of Homeland Security said. According to the complaint, Ullah became radicalized in 2014 when he began viewing pro-ISIS videos online and started researching how to construct a homemade bomb.
After the attack, police searched Ullah's Brooklyn home, finding materials such as metal pipe, screws, fragments of Christmas tree lights, and a passport with Ullah's name with handwritten notations, including: "O AMERICA, DIE IN YOUR RAGE."
At a press conference Tuesday, acting US Attorney for Manhattan Joon Kim referred to Ullah as a "hate-filled man" with an "evil purpose" who "came to kill, to maim, and to destroy."
Asked for more detail on Ullah's remarks about ISIS and Trump, Kim said, "I'm not going to go into any further detail" besides the court documents.
Kim said that Ullah remains hospitalized and his first court appearance will be remote via his bedside later Tuesday or Wednesday.
At Tuesday's White House press briefing, L. Francis Cissna, director of US Citizenship and Immigration Services, outlined how Ullah immigrated to the US through chain migration — an immigration program that allows individuals from other countries to enter the US if they have family members already here.
In Ullah's case, he was able to secure a visa through the chain migration program in 2011 because his uncle previously immigrated as a visa lottery winner, Cissna said.

Earlier on Tuesday, President Trump called on Congress to end chain migration for family members, saying they pose a national security threat.

At the briefing, Cissna reinforced Trump's message.
"What we need is an immigration system that is selective," he said. "We want to be able to select the types of people who are coming here based on criteria that ensures their success. Criteria that ensures their ability to assimilate successfully in our country.

"Random lotteries, extended family connections — that's not the way to run out immigration system."
Cissna called the conditions that Ullah entered the US the "most extreme remote family-based connection," adding that chain migration program participants are "more susceptible to being radicalized."
However, when asked if he had data to support that claim, Cissna responded, "No."
He also didn't have a "command of the facts" regarding whether Ullah may have been radicalized prior to entering the US in 2011.