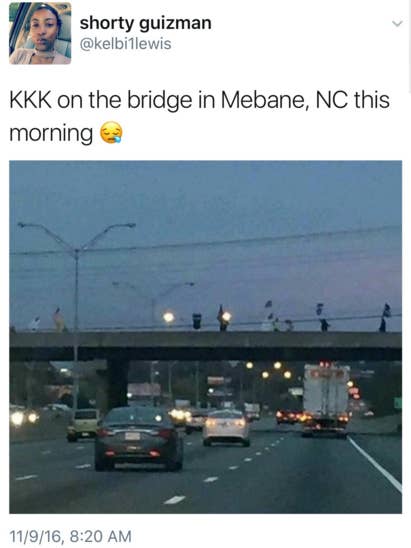 On Wednesday, a tweet was posted by Twitter user @kelbi1lewis purporting to show members of the Ku Klux Klan marching on a highway overpass in Mebane, North Carolina, on the morning after the 2016 presidential election. By Thursday morning this tweet had received more than 57,000 retweets.
But it turns out this picture is not the image of Klansman celebrating Donald Trump's election that it suggests to be.
As the tweet was being passed around, a reporter for local North Carolina outlet rhe Burlington Times News contacted BuzzFeed News on Twitter and said that she wrote about this group the day before when they were spotted rallying on the Tucker Street overpass Tuesday.
In her story that was first posted Tuesday afternoon, Times-News reporter Natalie Allison Janicello writes, "Peering over the Tucker Street overpass Tuesday, Barry Brown and roughly a dozen other Donald Trump supporters waved flags at the passing motorists below."

Three area law enforcement agencies confirmed to BuzzFeed News that the group did march on the overpass on Tuesday.
Spokespersons for the Mebane Police and Alamance County Sheriff's Office told BuzzFeed News that they had received no calls about the group on Wednesday morning prior to the tweet being sent out or any calls reporting members of the KKK out marching in the area.
Alamance County Sheriff's Director of Public Information Randy Jones told BuzzFeed News that after the above image started going viral on Twitter, the sheriff's office and police depts. from Mebane and Burlington began to receive calls about the tweet.
Jones said that police officers drove out to the overpass where they saw members of the same group of Trump supporters written about by Janicello the day before out with their flags.
"It's the same group of people. They've got several flags, but they're not in garb There's nothing related to the klan," Jones said.
He added that he drives by the bridge personally everyday and had seen the same group before.
"I saw them twice on two different days. No robes, no confederate flags," Jones said.
Last week, the KKK's official newspaper, The Crusader, endorsed the Republican candidate for president, Donald Trump.
"'Make America Great Again!' It is a slogan that has been repeatedly used by Donald Trump in his campaign for the presidency," KKK Pastor Thomas Robb wrote. "While Trump wants to make America great again, we have to ask ourselves, 'What made America great in the first place ... The short answer to that is simple. America was great not because of what our forefathers did — but because of who our forefathers were."
"America was founded as a White Christian Republic. And as a White Christian Republic it became great."
The Trump campaign denounced the comments.
"Mr. Trump and the campaign denounces hate in any form. This publication is repulsive and their views do not represent the tens of millions of Americans who are uniting behind our campaign," the campaign said in a statement.
On Tuesday night, Donald Trump defeated Democratic candidate Hillary Clinton and became the president-elect.

Early Wednesday morning, as it became apparent that Trump was going to win, former leader of the KKK David Duke sent out congratulatory tweets about Trump and called it "one of the most exciting nights of my life."