Newtown Will Not Host Official Event On Anniversary Of School Shooting
The town asks for privacy on Dec. 14.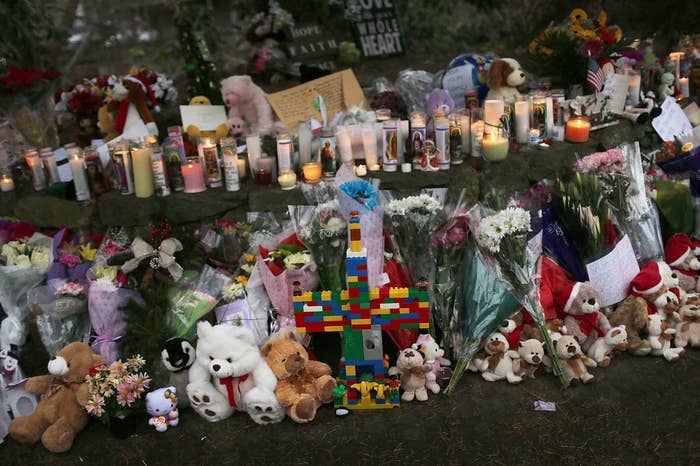 As the one-year anniversary of the rampage that killed 20 students and six staff members at Sandy Hook Elementary School draws near, town leaders and residents are asking for privacy.
"We cannot undo the awful happening on that day — but we can choose how we respond to it and that choice could maybe have long-lasting positive effects," Newtown, Conn., First Selectman Pat Llodra wrote on her blog this week discussing the town's plan not to host an official event commemorating the anniversary of the Dec. 14, 2012, shooting at Sandy Hook School.
"Our community is choosing to remember and honor those who lost their lives in that awful tragedy in ways that are quiet, personal, and respectful — centered on the themes of kindness and service to others," Llodra wrote.
Llodra elaborated in her post that town organizations, businesses, schools, and houses of worship are all on their own as far as how they choose to honor the victims. She also asked that no more gifts be sent to Newtown.
Following reports last week that pro-gun groups intended to host a nationwide "Guns Save Lives Day" on Dec. 14., Llodra, who worked as an educator for 30 years before being elected to the town council, posted the message on the town's Facebook page discouraging the event as well as asking the media to leave Newtown alone:
"For this group to use our Sandy Hook tragedy as a springboard for political action is disrespectful to our community of Newtown and is of particularly insensitive timing. I respect their right to promote their beliefs regarding guns. I ask that they respect our community and not use us for their purposes. We will not host a political rally of any stripe on that day and we hope that all such inclined persons understand that they and their agenda are not welcome. We ask for privacy and expect that all caring folks, including the media, will accommodate us. Those persons, who choose to not accede to our request to be left alone, show the world their own moral and ethical fiber."
Earlier this week, as plans were finalized to demolish and rebuild Sandy Hook School, it was reported that the construction company that won the bid would be mandated by the town to have all its workers sign nondisclosure agreements preventing anyone working the job from distributing photos, granting access to unauthorized individuals to grounds, or selling any tragedy memorabilia on eBay.