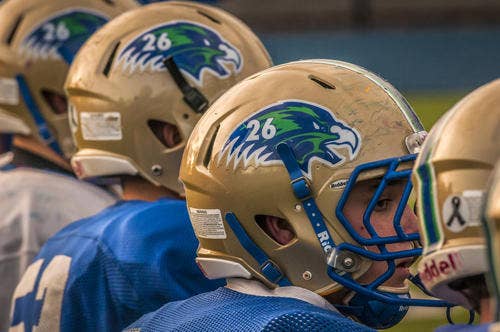 The Newtown High School Nighthawks football team from Newtown, Conn., capped off an undefeated 2013 season on Tuesday night, defeating Masuk High School 42-7 to move to 12-0.
The victory in the annual Thanksgiving game, which was moved to Tuesday due to the storm set to his the East Coast later this week, secures a No. 1 seed for Newtown when the state tournament begins next week. (A loss to Masuk could have dropped Newtown to as low as a four seed, Nighthawks coach Steve George told BuzzFeed.)
Earlier this year, Newtown dedicated its season to the 20 students and six school officials killed on Dec. 14, 2012 at Sandy Hook elementary school. The uniforms for Tuesday's game included the number 26 and the color green — the official school color of Sandy Hook school — in the nighthawk emblem on the team's helmet.
Should Newtown continue its run, which saw the Nighthawks outscore opponents 437-138 this year, the team might find itself in a state title game to be held either on Dec. 13 or Dec. 14, the one-year anniversary of the shooting.
Newtown running back Cooper Gold ran for 256 yards and five touchdowns in just three quarters of action in Tuesday night's game