New York Post Columnist Calls Newtown Shooting A "Little Convenient Massacre"
Fred Dicker made the comment on his radio show Monday, sparking outrage among victims' families and gun control groups. Dicker says his "sarcastic reference" was misunderstood.
New York Post columnist Fred Dicker has found himself in a controversy after calling the Sandy Hook school shooting a "little convenient massacre" on his radio show Monday.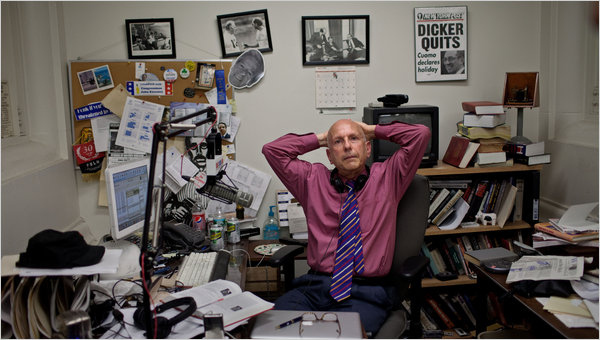 Dicker was discussing the new state gun laws passed by New York Governor Andrew Cuomo when he made the remark.
Via soundcloud.com
"That was his anti-gun legislation, which he had promised not to do, but then he had a little convenient massacre that went on in Newtown, Conn., and all of a sudden there was an opportunity for him," Dicker said.
The outcry from Sandy Hook shooting victims' families was immediate with James Wiltsie, whose cousin, Victoria Soto, 27, was among the six adults and 20 children killed at Sandy Hook elementary school telling the Daily News that Dicker's comments are "basically putting salt in the wound."
Rebecca Kowalsky, whose 7-year-old son, Chase, was killed at Sandy Hook, told the Daily News, "You can't fix stupid."
Monte Frank, of grassroots advocacy group Newtown Action Alliance, issued the following statement:
"I cannot understand how anyone can call "convenient" the murder of twenty children and six educators at the school down the road here in Sandy Hook. I pray that no community has to experience the horrific tragedy we did. Mr. Dicker owes the families of those who lost loved ones in the Sandy Hook tragedy an apology. We applaud Governor Cuomo and our neighbors in New York for having the courage to enact the SAFE Act to reduce the risk of another community having to experience the horror we endured."
Dicker responded Monday saying that his remarks were misconstrued in an email statement to the Albany Times-Union.
This group clearly doesn't understand, or doesn't want to understand, my point, which is a sarcastic reference to the governor latching on to an horrendous out of state mass killing to advance a political agenda that had nothing to do with the problem of gun-related crimes in New York. This is a charge that has been made for over a year now by many critics of the governor's "Safe Act." I used the word "massacre" intentionally because it refers, by definition, to a horrendous large scale killing, which of course the Newtown horror was. Here's my dictionary's definition of "massacre":

Massacre noun, 1 a cold-blooded massacre of innocent civilians: slaughter, wholesale/mass slaughter, indiscriminate killing, mass murder, mass execution, annihilation, liquidation
Rival newspaper The Daily News featured Dicker's comment on the front page Tuesday, calling it a "shameful Newtown diss."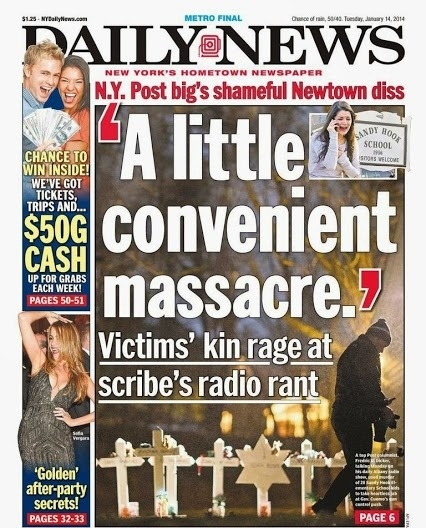 BuzzFeed reached out to the Post's public relations representatives Tuesday, who declined to comment.