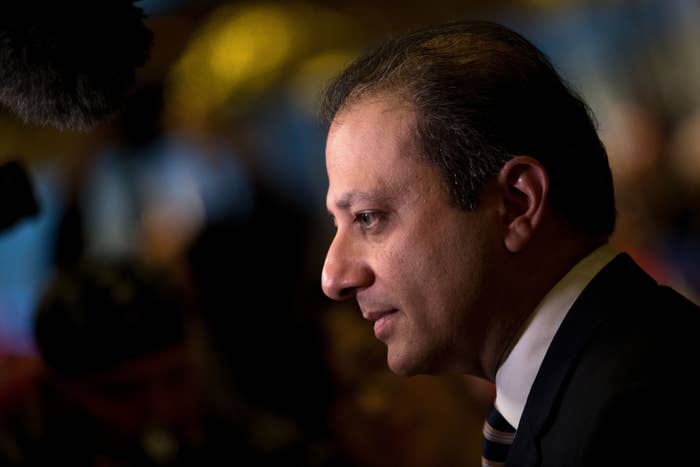 NEW YORK — A former state retirement fund manager is accused of receiving bribes that included prostitutes, cash, cocaine, an expensive watch, and even tickets to see Paul McCartney and the US Open in exchange for steering more than $2 billion to two brokerage firms, according to an indictment unsealed in federal court Wednesday.

Navnoor Kang, 38, the former director of Fixed Income and Head of Portfolio Strategy for the $184 billion New York State Common Retirement Fund (NYSCRF), is charged along with brokers Deborah Kelley, 58, and Gregg Schonhorn, 45, for allegedly taking part in the scheme. Federal prosecutors say that from 2014 to 2015, Kang received more than $100,000 in bribes, while Kelley and Schonhorn made millions in commission from getting the business. They then allegedly tried to cover up their actions by coordinating false testimony and hiding evidence, and intimidating a witness.
The New York comptroller's office, which runs the retirement fund, told the Associated Press it is "outraged" by Kang's "shocking betrayal of his responsibilities." He was dismissed from NYSCRF in February.

On two occasions in 2014, authorities say Schonhorn picked up a $10,000-tab for Kang and an associate to take trips to Montreal, where they allegedly got bottle service and cocaine while out on the town. That same year, Kelley allegedly paid for a long-weekend trip for Kang to New Orleans and tickets to Paul McCartney concert.
By the fall of 2014, authorities say Schonhorn was also regularly bribing Kang in New York with trips to strip clubs, upscale dinners, tickets to Broadway shows and the US Open tennis tournament, along with providing crack and cocaine.
Kang allegedly told Schonhorn and Kelley that entertainment benefits were illegal at his office and the brokers could not disclose any of it on their expense reports. However, according to the indictment, Kelley attempted to expense the New Orleans trip but left Kang's name out of the report. Then in 2015, Kelley paid for a ski trip for Kang and his then-girlfriend to Park City, Utah, and attempted once again to expense the costs while excluding his name, prosecutors allege.
Later that year, Schonhorn purchased Kang a $17,000 Panerai wristwatch, according to the indictment.
Meanwhile, the NYSCRF's business with Schonhorn and Kelley's brokerage firms grew exponentially. By March 2016, prosecutors say Kang was steering more than $2.3 billion to Schonhorn and $179 million to Kelley in retirement bond business.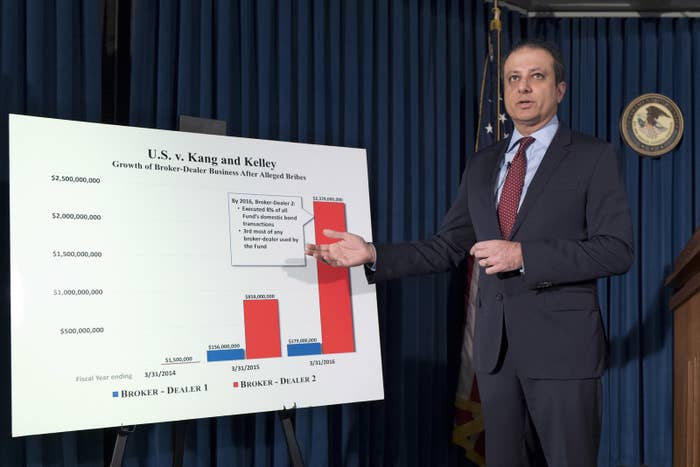 The trio are also charged with obstruction of justice in the case. After they were subpoenaed in late 2015, Kang and Kelley allegedly agreed to sync their stories and give false testimony. Kelley testified that she had not paid for any of Kang's Park City ski trip, with the exception of certain small expenses that Kang repaid her for. Kang said he believed his girlfriend had repaid Kelly for the trip.

After he was subpoenaed, authorities say Kang called Schonhorn and told him he was in trouble and asked if he knew anyone who could fabricate receipts. Schonhorn allegedly advised Kang to tell his girlfriend to give Kelley a check to cover the cost of the trip and make it seem like she had forgotten to pay her earlier. However, the woman refused.
In July 2016, Schonhorn began cooperating with authorities and agreed to record his meetings with Kang. At one meeting, Kang asked Schonhorn to lie about the dinners, US Open tickets, and his interactions with his girlfriend. At another, Kang returned the wristwatch and informed Schonhorn that he had hidden some evidence.
"Today, we allege a classic, quid pro quo bribery scheme at the New York State Common Retirement Fund, the third largest pension fund in the country," US Attorney Preet Bharara said in a statement announcing the charges. "The hard-earned pension savings of New Yorkers should never serve as a vehicle for corrupt, personal enrichment. The intersection of public corruption and securities fraud appears to be a busy one, but it's one that we are committed to policing."
Kang's attorney told the Associated Press that he will fight the charges in court.