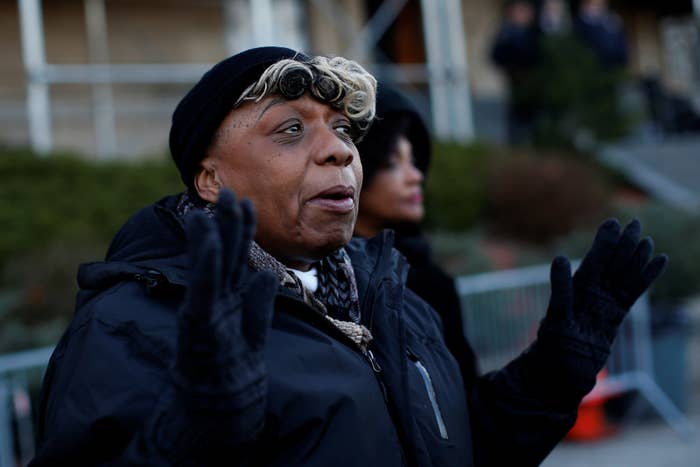 Family members of people who died in police custody, activists, public defenders, and elected officials joined together at a rally Thursday outside New York's City Hall to demand that the NYPD fire employees who have been found guilty of serious offenses.
The rally was organized in response to a BuzzFeed News investigation published earlier this week that found hundreds of officers who committed acts from lying to grand juries to assaulting innocent people were allowed to stay on the force, and their records were kept from public view.
On hand was Gwen Carr, the mother of Eric Garner, who died after he was put in a chokehold by NYPD officer Daniel Pantaleo in 2014. Carr called for Pantaleo and the other five officers who were at the scene that day to be fired. "They all should stand accountable. No one stopped the killing. They all stood by and watched him die," she said.
"The BuzzFeed article revealed the scandal that my family and others have witnessed for far too long: that the crisis in the NYPD department is a systematic failure to hold officers accountable for their abusiveness and wrongdoing," Carr added.
"The NYPD cannot expect to gain the trust of the communities it polices when it fails to police its own members and hold them accountable," said Council Member Antonio Reynoso, member of the Progressive Caucus. "I am demanding that immediate action be taken against any officer who has violated the trust of our communities."
On Wednesday, Mayor Bill de Blasio renewed his call for the state legislature to change New York State civil rights law 50-a, which keeps all police personnel records — including an officer's disciplinary history — confidential. Speaking beside the mayor, Police Commissioner James O'Neill said that he supports greater transparency into the department's disciplinary process. Asked to release data that could shed light on that process, he said he was "looking at" whether that would be legal.
Both officials said the BuzzFeed News investigation, which was based on internal documents from the years 2011–2015, did not reflect current practices at the police department, which de Blasio described as being "under new management."
Speakers at the rally on Thursday rejected that claim.
"We should not hide behind, 'Well, this article comes before my time as commissioner,'" said New York City Council Member Donovan Richards.
Richards, who is chair of the city's public safety committee, said it's O'Neill responsibility "to ensure that the transparency our community deserves is actually happening. And that is not happening right now."
"It doesn't matter which administration we are in, past or present, you're supposed to take care of the problem," Carr said. "You're in charge now. So you take over from where the other administration left off."
BuzzFeed News' investigation found that the secrecy surrounding disciplinary procedures can also harm officers themselves, some of whom said they received outsize punishments for minor offenses. And the decision to keep tainted cops on the force can jeopardize legitimate police work, in some cases causing prosecutors to reopen old cases or drop new ones.
None of the city's five district attorneys chose to comment.
In the coming months, BuzzFeed News plans to publish a database with information about the NYPD officers and civilian employees who have received dismissal probation.