Missouri Governor Lays Out Police Plan Ahead Of Ferguson Grand Jury Decision
Gov. Jay Nixon acknowledged that he expects demonstrations following the grand jury decision in the Darren Wilson case, says "violence will not be tolerated."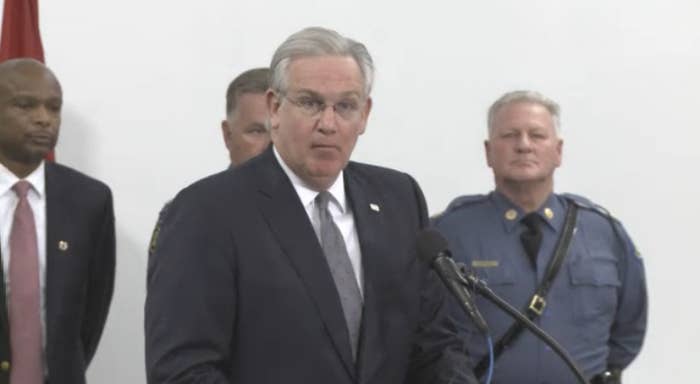 When a grand jury returns its decision and decides whether or not to indict Officer Darren Wilson in the killing of unarmed teenager Michael Brown, whatever they decide, Gov. Jay Nixon says "violence will not be tolerated" in Missouri.
"The ugliness cannot be repeated," Nixon said about what happened in Ferguson in August after Brown's death.
Nixon announced that the responsibility for managing protests and demonstrations after the grand jury will be handled by a "unified" group consisting of the Missouri state highway patrol, St. Louis County police, and St. Louis city police. Nixon did not say whether of not local Ferguson police would be part of the operation.
Asked if the National Guard would be called up to assist in Ferguson, Nixon said, "I'm prepared to issue that order." The Governor acknowledged that the National Guard has been part of the planning discussions in anticipation of the grand jury's decision.
It has been 94 days since 18-year-old Michael Brown was shot and killed in a Ferguson street by Officer Darren Wilson. St. Louis county prosecutor Robert McCulloch said this week that the grand jury was still hearing evidence in the case and a decision would not be announced earlier than mid to late November.
Nixon and other officials speaking on Tuesday said that they did not know when the grand jury decision will be announced.
St. Louis county police chief John Belmar said "it's certainly a possibility" that demonstrations could break out in other parts of the state and country following the grand jury announcement.
Belmar said that he has talked to other police chiefs around the country to help prepare for the public response to the decision regarding Wilson.
Nixon and other members of the command group pointed out that nobody was killed during the demonstrations following the Aug. 9 incident, which they said was "unprecedented."
Said Belmar: "My goodness, can we be that fortunate moving forward?"