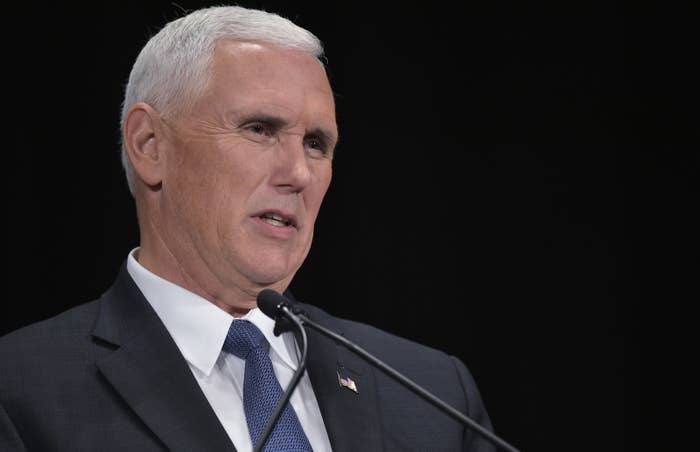 After serving 10 years of a 40 year prison sentence for an Indiana armed robbery and attempted murder, Keith Cooper was freed when eyewitnesses recanted their testimony against him, new DNA evidence showed he wasn't at the scene of the crime, and a jailhouse informant admitted that he lied to investigators.

Five years later, Cooper filed a pardon petition that, if it were granted, would make him the first person in the state's history granted clemency based on a finding of innocence. When his request was presented to the parole board, they found unanimously that he should be pardoned and have the two serious felony charges wiped from his record.
Now, after waiting for more than two years for Governor Mike Pence to act on the board's decision, Cooper has learned that the GOP vice presidential candidate won't — unless Cooper can prove to the governor's administration that all other judicial remedies have been exhausted.
"To our knowledge, Mr. Cooper has not filed a petition with the courts in Elkhart County to determine whether post-conviction relief is available," Gov. Pence's general counsel Mark Ahearn wrote in a letter to Cooper this month.
Though Cooper is now out of prison, his felony conviction remains on his record, limiting his job opportunities.
"I'm tired of people judging me by that conviction. That [Department of Correction] number. That's not who I am," Cooper told BuzzFeed News in August. "Man, I know that better than my own Social Security number."
Cooper's legal team disagrees with the Pence administration's assertion that Cooper needs to first ask the courts to vacate his sentence and grant him his innocence.

After the new evidence was revealed — which included testing on a hat left at the scene by the suspected assailant that did not include Cooper's DNA — the judge offered Cooper a deal to be re-sentenced and be released with time served. By accepting this deal, Cooper withdrew a post-conviction relief petition attempting to have his conviction vacated. Cooper and his attorneys claim that when this petition was withdrawn, it prevented him from moving forward with his request to have his conviction thrown out by the court.
An Indiana Public Defender submitted a letter in Cooper's petition to the governor for a pardon saying that by accepting a lesser sentence and withdrawing his post-conviction petition, Cooper was out of options with the courts to grant his innocence.
However, the Pence administration does not see this as proof that Cooper's only option to have his conviction thrown out is the governor's pardon.
"While Mr. Cooper's counsel commissioned a public defender to submit a memo as to why post-conviction relief is not available to Mr. Cooper that is not dispositive, nor is it an official finding of any court," Ahearn wrote in his letter to Cooper.
Ahearn wrote that this decision not to act on Cooper's pardon request was "out of respect for the judicial process."
In August 2016, BuzzFeed News reported about Cooper's wrongful conviction of the 1996 robbery where one man was shot.

Twelve years after the incident, in 2008, shooting victim Michael Kershner and his mother, Nona Canell, gave videotaped statements claiming that they misidentified Cooper.
They said that they believed based on the new evidence that the person whose DNA was found on the hat was the shooter. Canell said that during the investigation she requested "numerous times" to see a lineup of suspects, but the lead detective on the case, an Elkhart Police detective, assured her that they had "the right guy" in Cooper.
Pence's refusal to immediately pardon Cooper was criticized this week in an editorial in the South Bend Tribune, saying that Pence's suggestion that he would wait until the judicial process is complete "defies reason."
"An innocent man who has had a decade of his life stolen from him by a flawed process shouldn't be advised to sit tight and wait a bit longer for the system to finally get it right," the editorial reads. "Every one of us should feel the sting of such injustice. Nothing can erase all that Keith Cooper has endured, but the next step couldn't be clearer. Governor Pence, issue this pardon."
Cooper's counsel believes that Pence's continued delay is part of a strategy to put the decision on the next governor's administration. (Pence pulled out of the 2016 gubernatorial race when he joined the Trump campaign.)
"We are really disappointed in Governor Pence's failure to provide justice to an innocent man. It's clear that he has punted the petition to the next Governor because it's election season," Cooper's attorney Elliot Slosar told BuzzFeed News. "We continue to hope that Governor Pence acts on this petition in a courageous manner instead of running from it."

Jeff Harris, spokesman for John Gregg, democratic candidate for governor in Indiana told BuzzFeed News that "based on media reports and the limited information we have on the case" if elected Gregg intends to pardon Cooper.
He called the lack of action by Pence "disappointing."
BuzzFeed News reached out to Gregg's republican opponent in the 2016 governor's race, Eric Holcomb, asking if he would pardon Cooper if elected. We're waiting to hear back.
Kara Brooks, spokesperson for Gov. Pence, told BuzzFeed News that the letter Pence's office sent Cooper last week is "not a final decision from the governor."
"It points out the judicial process Keith Cooper's attorney needs to follow to better help his client," Brooks said. "Our attorney made clear that because of the unique circumstances regarding this request, the nature of which are outlined in the letter, [Cooper] must exhaust all of possible judicial options for appeal before the governor can consider pardon request."