Mike Pence Is Allowed To Keep An Email Secret — For Now
Pence has been sued to turn over an email related to a Texas immigration lawsuit he later hired private attorneys to help fight. An appeals court ruled in Pence's favor, but the case has been appealed to a higher court.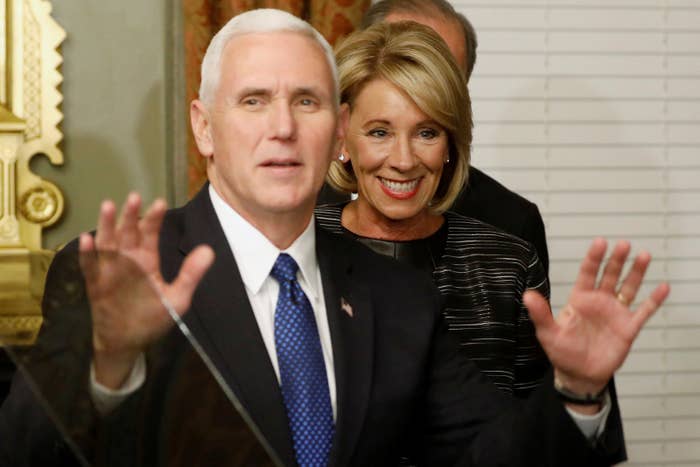 Vice President Mike Pence — who, along with President Donald Trump, repeatedly blasted Hillary Clinton over her use of a private email server during the 2016 campaign — has prevailed in a state appeals court in a case where he is seeking to keep the contents of an email that he received while Indiana Governor secret.

Still, the case is not over. The plaintiff, Indiana lawyer William Groth, has filed a petition to have the case transferred to the Indiana Supreme Court. If the higher court decides to take the case it will vacate the Appeals Court decision.
The case centers around a white paper produced by a staffer for Texas Governor Greg Abbott that was sent to Pence and other Republican governors soliciting them to join Texas' lawsuit against President Obama's executive actions on immigration.
In 2014, Pence joined the lawsuit against Obama, hiring outside law firm Barnes and Thornburg to handle the litigation. The Texas case eventually reached the Supreme Court, which deadlocked on the issue, effectively blocking Obama's immigration actions from moving forward.
Groth filed a Freedom of Information Request seeking the Governor's invoices, contracts and the communications between Abbott's office and Pence. After Pence failed to produce the white paper, Groth sued, but the Indiana State Superior Court ruled that it didn't have standing to hear the case.
Groth appealed and last month a three-judge appeals court panel ruled in a split 2-1 decision in Pence's favor that he was entitled to withhold the email attachment as a matter of attorney-client privilege.
Appeals Court Chief Judge Nancy Vaidik, who dissented in the case, wrote that Pence had not demonstrated he was in an attorney-client relationship with the Texas author of the white paper "at the time of the communication at issue." Vaidik said that Abbott aide's email and white paper "served as a lobbying or soliciting tool by Texas to encourage other states to join its legal challenge."
Pence's legal team has presented no evidence that he sought legal advice pertaining to the Texas case before the white paper was sent. His privately-hired attorneys did not begin working for him until a week after the white paper was sent. Judge Vaidik said in her dissent that "a potential client is not a client."
On Monday, Groth filed his petition to the Indiana Supreme Court to reconsider the case.
"What we have here is a document that was not even generated in Indiana so it's our position that since document came from Texas, the majority's interpretation is simply wrong as a matter of law," Groth said.
"It was essentially a solicitation we believe on behalf of the Texas governor to join this litigation," he added.
The Indiana Governor's office — now run by newly-elected Eric Holcomb — has twenty days to file a response. After that, the State Supreme Court could decide to drop the case, reverse the ruling and release Pence's email, or remand the case to the trial court for further litigation.
BuzzFeed News asked the private law firm hired by Pence if they had comment on case and if the State of Indiana is paying the firm to handle the case with public funds. They responded in an email: "As a matter of policy, Barnes & Thornburg does not comment on client matters."
The White House did not immediately return a request for comment.
During the campaign, Pence and Trump regularly called for the FBI to release Hillary Clinton's emails to the public after it was made known that she had used a private email server while serving as secretary of state.
Thousands of Clinton's emails were eventually made public by the State Department. Her campaign chair's emails were also hacked.
One week before the election, Pence went on Meet the Press and called for Clinton aide Huma Abedin to release emails that were under scrutiny by the FBI.