Updated — 5:30 p.m. ET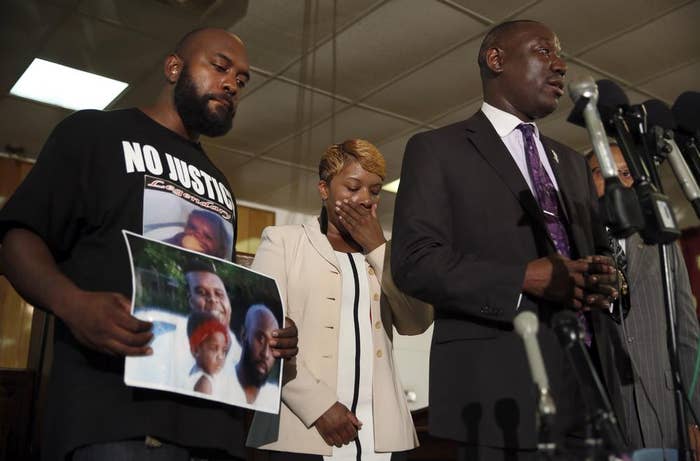 In an open letter to the editor of the St. Louis Post-Dispatch, Attorney Ben Crump, lead counsel for Michael Brown's family, accuses the paper of going after the slain teen's juvenile record in order to get clicks to its website. Crump writes:
Michael Brown, as it turns out, had no arrest record.

That last fact is a particularly difficult truth if you are trying to make the case that Michael Brown 'deserved what he got.'

Or if you are trying to drive traffic to your website.
Crump also says in the letter that the media has not done a good enough job surfacing details on Officer Darren Wilson, the Ferguson police officer who shot Brown.
But Consider the Post-Dispatch hasn't offered us a single new fact on Darren Wilson's behavior as a police officer. Where is the petition for his employment records? Why stop there? Where are the lawsuits in pursuit of his employment records, police reports, memos and emails for city and county police?
Last month, the Post-Dispatch filed a petition to release the juvenile records of Michael Brown. A conservative blogger filed a similar suit and alleged that Brown was facing second-degree murder charges before he died. Both petitions were denied this week by a St. Louis County judge. The courts also confirmed that Brown was not facing any serious felony charges at the time of his death.
BuzzFeed News has reached out to the Post-Dispatch for comment on Crump's letter and is waiting to hear back.
St. Louis Post-Dispatch spokesperson Tracy Rouch sent BuzzFeed News a statement refuting what Crump wrote in his letter.
The open letter by Benjamin L. Crump, the lead attorney for the Michael Brown family, is a gross mischaracterization of the weeks of extensive coverage in the St. Louis Post-Dispatch since the Aug. 9 fatal police shooting of Michael Brown.

His letter misconstrues why the Post-Dispatch filed a legal request to determine whether Michael Brown, 18, had a juvenile criminal record. Reports by some bloggers and others on social media have contended that he had a juvenile criminal record.

Our sole motivation is to determine the facts as we continue reporting on many facets of this story.

A family court judge denied the Post-Dispatch legal petition after a hearing about whether to release any possible juvenile record, which led to a Sept. 4 story that shed new light on the issue: Michael Brown had no serious felony convictions or pending cases in juvenile court, meaning no class A or Class B felonies. That was news.

Additionally, the Sept. 4 Post-Dispatch story included this response:

Post-Dispatch editor Gilbert Bailon disputed the idea seeking any juvenile records was designed to impugn Michael Brown.

"We are a news organization that pursues facts, which are the basis of coverage. Innuendo and speculation through various forms of media have raised questions about whether Michael Brown had a criminal record. We are seeking to find those facts without prejudgment or bias."

"It is ironic that today's new information appears favorable to Michael Brown by stating he had no record of adult or serious juvenile crimes, yet some have characterized the pursuit of that information as damaging to Michael Brown," Bailon said.