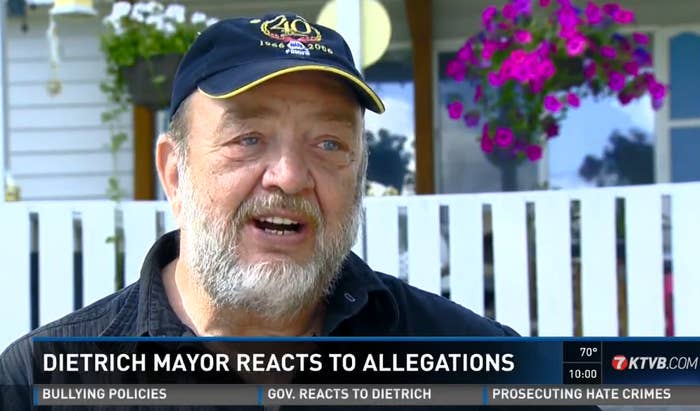 The mayor of a small Idaho town reeling from a case where three white teenagers are accused of sexually assaulting a black high school football teammate who is mentally disabled with a coat hanger said Thursday he heard about the incident just days after it happened last October, KTVB reports.

"When this first happened, the community, it was hush hush. Nobody spoke about it at all," Dietrich Mayor Donald Heiken said.
The Mayor's comments are that latest remarks that call into question how much school officials, coaches, and others in the community knew about the attack and the alleged harassment and abuse before the assault — and whether they did enough to try to stop it.
More details of what allegedly happened at Dietrich High School last October were revealed when a civil lawsuit against the school district, administrators, board members and coaches was made public this week.
According to the complaint, the three students allegedly lured the victim inside the school locker room under the pretense that they wanted to give him a hug. Instead, prosecutors said, they thrust a coat hanger in his rectum — and one of the assailants kicked the object several times.
John R.K. Howard, 18 — who transferred to Dietrich High from Keller, Texas — and Tanner Ward, 17, are being tried as adults in criminal court due to the serious nature of the crime. They could face life in prison if convicted of the charges, which include felony forcible penetration with a foreign object. Idaho law mandates that juveniles aged 14 to 18 accused of committing certain crimes on or near school campuses are charged as adults.
The third accused boy, an unnamed 16-year-old, is being charged as a juvenile.
The teen victim is 18 and graduated last year. BuzzFeed News is choosing not to name him. At an early age, the victim was diagnosed with mental disorders, including learning disabilities. When he entered Dietrich High School, he was placed in a special program for students with learning disabilities and given an individualized education program.
The victim testified about the alleged assault last week during a preliminary hearing for Ward. He said it happened after a football practice.
"I screamed," the victim testified. "I was pretty upset. I felt really bad. A little bit betrayed and confused at the same time. It was terrible — a pain I've never felt."
The victim testified that Howard and Ward harassed him before practice when they gave him a "power wedgie" that was so violent it tore his boxers.
The victim said Dietrich School District Superintendent Ben Hardcastle and Principal Stephanie Shaw interviewed him within a week of the incident. The victim said he and his mother reported the attack to Hardcastle the day after it happened.
Another teammate called to the stand Friday was inside the locker room after the team's practice and said he witnessed the assault. He testified that Ward initiated the attack using a hanger, which Howard then kicked "five or six" times. The witness said he didn't recall if either Ward or Howard said anything but remembered them both laughing at the victim, who appeared to be in pain.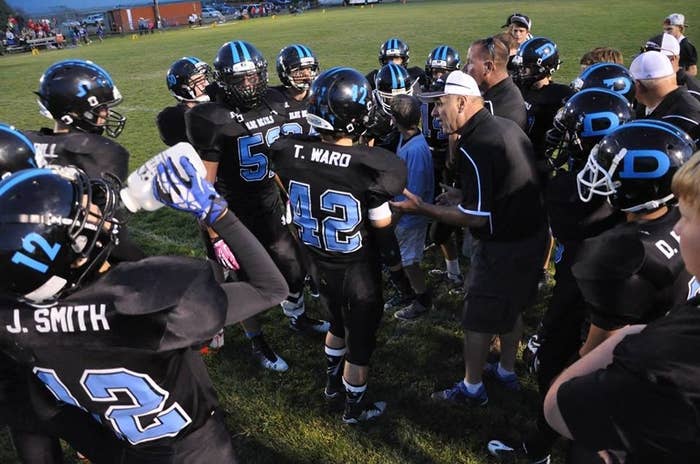 The civil complaint names the school district, Hardcastle, Shaw, district board members Starr Olson, Brad Dotson, Benjamin Hoskisson, Kris Hubert and Perry Van Tassell, and football coaches Mike Torgensen, Bret Peterson, Rick Astle and Wayne Dill and accuses them of failing to intervene and end the abuse against the victim.

The defendants named in the complaint are represented by attorney Brian Julian. Repeated emails and calls to Julian have gone unanswered. In addition, multiple attempts to reach Hardcastle and Shaw at the school through phone and email have been unsuccessful.
According to the complaint, the defendants "were all on notice and well aware that [the victim] had learning disabilities and cognitive deficits that rendered him defenseless and helpless in coping with bullying, racial taunting, beating and rape."
The victim made the football team in 2015; that same year, Howard transferred to the high school to live with relatives in Dietrich and, along with other members of the team, began to taunt and harass the victim, according to the complaint.
In the summer of 2015, the victim was taunted and called racist names by teammates including "Kool-Aid," "chicken eater," "watermelon," and "nigger." Howard also taught the victim a Ku Klux Klan song, "Notorious KKK," and demanded that he recite the lyrics.
During football practices the other players jumped on the victim and humped him aggressively. The complaint alleges that coaches and school staff were aware of this behavior and did nothing to stop it.
In late August 2015, as part of a "toughening up" program, team members had fistfights in the presence of coaches at a team camp on a farm in Dietrich, according to the complaint. At one point, the victim was placed in the center of a circle of his teammates and coaches and told to face off against Howard.
The victim, who had never boxed, was given boxing gloves while Howard fought bare-fisted. While his fellow students shouted "catcalls" and "racial epithets," Howard beat the victim unconscious in full view of the coaches.
"It just makes me sick that coaches and staff, they should've known, they knew what's going on. I mean, I think they ought to fire them all," Heiken told KTVB.
BuzzFeed News has reached out to other politicians around the state — including members of Congress, Sen. James Risch, Sen. Mike Crapo, Rep. Raul Labrador, and Rep. Mike Simpson — about Mayor Heiken's call to have the staff removed.
Lee Schlender, one of the attorneys representing the victim's family in the civil case, told BuzzFeed News he found Heiken's remarks "very interesting."
"His comments on how everyone kept it quiet was very revealing. Striking is also not one word of apology or contrition, regret or remorse," Schlender said.