Mayor Bloomberg Puts Online Gun Sellers On Notice
New York City Mayor Mike Bloomberg announced new findings on illegal online gun sales and criticized Congress for failing to act on gun control legislation.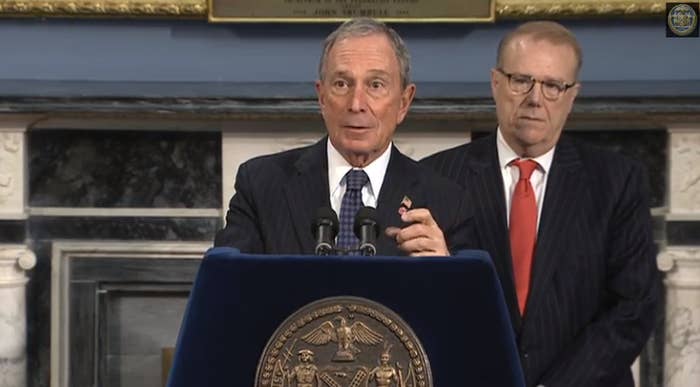 Hundreds of high-volume gun sellers are moving arms online without conducting proper background checks on purchasers, according to an investigation conducted by Mayors Against Illegal Guns.
New York City Mayor Mike Bloomberg held a news conference Thursday to announce the findings of the investigation, which focused on the popular gun retail website Armslist.com.
The study concluded that nearly one-in-three gun ads on the website are posted by high-volume sellers, who are selling more than 34 firearms a year without a license, despite federal legislation that requires anyone "engaged in the business" of selling guns to obtain a Federal Firearms License. At this rate, these unlicensed sellers would transfer more than 243,800 guns each year, many in violation of federal law, he said.
"On December 14th, we will mark a very somber anniversary and pause to remember what happened at Sandy Hook Elementary School one year ago," Bloomberg said. "Our report shows much more clearly needs to be done to prevent unlicensed sellers of firearms from illegally flooding the Internet with weapons and the result is a massive online, unregulated, second-hand firearms market that threatens public safety. These findings clearly tell us that law enforcement, legislators and web sites all need to take steps to choke off this potentially deadly stream of illegal firearms sales."
Bloomberg, who leaves city hall after three terms as mayor in January, called on the federal Bureau of Alcohol Tobacco and Firearms to crack down on internet gun sellers engaged illegal activity. The report's recommendations state: "ATF should promulgate a regulation to define "engaging in the business," and federal prosecutors should consistently and forcefully police the boundary between licensed dealers and private sellers." In 2013, the Obama administration appointed B. Todd Jones as ATF director, the agency's first permanent director since 2006.
Bloomberg also criticized Congress for failing to act at the federal level on gun violence since the Sandy Hook shooting. "They've basically done nothing," Bloomberg said during the press conference. "I don't know what tragedy it's going to take. I for one am going to keep the pressure on."
"We'll keep fighting. Maybe we'll fight even harder," said Bloomberg, noting that he'll have more time to focus on gun violence and Mayors Against Illegal Guns after exiting office.
The Associated Press reported this week that Bloomberg is installing paid staff for MAIG in more than a dozen states expected to take up gun control legislation in 2014.
"In 2012, the mayor spent about $10 million or so dipping his toe in the water. I guess we'll find out what the whole foot looks like in 2014," said Mark Glaze, Mayors Against Illegal Guns' executive director.