Massachusetts' high court has dismissed 21,587 drug cases in what is believed to be the single largest dismissal of wrongful convictions in US history.

The dismissals bring closure to a five-year legal battle waged by the ACLU of Massachusetts after it was revealed that disgraced former state chemist Annie Dookhan fabricated and tampered with lab evidence in thousands of cases during the time she worked at Hinton State Laboratory between 2003 and 2011.
"Today is a major victory for justice, fairness, and the tens of thousands of people who were wrongfully convicted based on fabricated evidence," Carol Rose, executive director of the ACLU of Massachusetts, said after the order to dismiss the cases was issued by the Massachusetts Supreme Judicial Court.
"After four years of intense work, we are proud to have been a part of the single largest dismissal of wrongful convictions in the nation's history," Rose said. "As a Commonwealth and champions of freedom, we have taken an important step in addressing a symptom of the war on drugs."
Dookhan started working at the lab in 2003, where she analyzed drugs brought in as evidence and sometimes testified in court. During her time at Hinton, Dookhan had the highest lab performance among her co-workers.
Then, in June 2011, an evidence officer discovered that Dookhan had not properly scanned and got a supervisor to sign-off on 90 samples. When her supervisors were notified about the missing lab work, they reviewed her file and found that the initials of one of her supervisors had been written in. Dookhan initially denied forging the initials, but later confessed.
Further investigation revealed that Dookhan fabricated tests on some samples, including performing "dry labbing" — or simply identifying visually instead of performing required chemical tests. In other cases, investigators found that Dookhan tampered with lab vials.
In court, Dookhan testified in 14 cases that she held a master's degree in chemistry from the University of Massachusetts at Boston. However, a probe into her background revealed that she never obtained such a degree, nor was she ever enrolled in any master's level classes.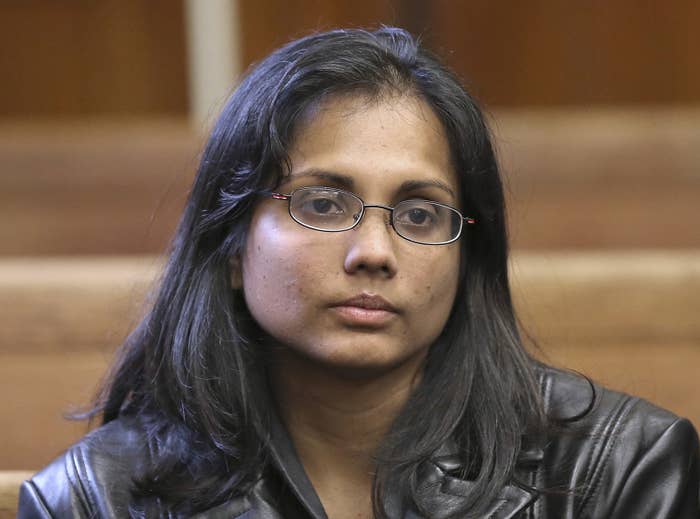 In September 2012, Dookhan was arrested and charged with obstruction of justice. The next month, the ACLU and Families Against Mandatory Minimums (FAMM) wrote letters to state Attorney General Martha Coakley and county prosecutors to dismiss all the cases that Dookhan touched.

A year later, Dookhan pleaded guilty in November 2013 and was sentenced to three to five years in prison, plus two years' probation. She would later be released on parole in 2016.
In 2014, the ACLU of Massachusetts filed a complaint claiming that the state violated the due process of defendants in Dookhan's cases, and once again called for every case to be dismissed. In May 2015, the district court declined to dismiss the Dookhan cases.
In May 2016, state prosecutors disclosed that Dookhan worked more than 24,000 cases — roughly one in six drug cases prosecuted in Massachusetts over a decade-long period — which prompted further review.
On Wednesday, prosecutors from around the state appeared in state Supreme Court to notify the court which of Dookhan's cases they intended to re-prosecute. Prosecutors said they only intended to retry those defendants with a lengthy criminal history.
Suffolk County District Attorney Daniel Conley, whose district has the largest number of Dookhan cases, told the court that his office would move to dismiss 15,570 cases, and re-prosecute 117.
"The 117 defendants identified in these cases account for more than 1,700 convictions for violent crimes or weapons violations, and have amassed more than 2,800 convictions in total," Conley said in a statement after the court hearing.
"The average defendant has more than 60 entries on his record. When given the opportunity for rehabilitation in a community setting, these defendants have violated probation an average of seven times each. They are neither low-level nor non-violent, and they stand at the intersection of drugs and violence."
The dismissal of more than 21,000 cases is not the end of the state's drug lab saga. There are 320 cases that will not be dismissed, but defendants will have the option to challenge their convictions individually. The work of another former lab chemist, Sonya Farak, is also being challenged. In that case, the ACLU is seeking the dismissal of an additional 18,000 cases.

"In that case, similarly, we're calling for the same remedy. The prosecutors have so far not agreed," Rose told BuzzFeed News on Thursday. "We're calling for a dismissal of those cases rather than waste the scarce public resources."