While President Trump handled a national security crisis right in front of dozens of patrons at his Mar-a-Lago hotel in Florida on Saturday, one resort member posted a flurry of photos to Facebook showing Trump reviewing sensitive documents, conferring with top aides, and talking on the phone.

The images also raised questions about the level of access Mar-a-Lago members have to the Trump administration — seemingly a blend of government and personal business for the president.
Richard DeAgazio, a Massachusetts businessman and Trump supporter, shared the photos that show he had a front-row seat as Trump and Japanese Prime Minister Shinzō Abe handled the response to North Korea's firing a missile in the direction of Japan.

"HOLY MOLY !!! It was fascinating to watch the flurry of activity at dinner when the news came that North Korea had launched a missile in the direction of Japan," DeAgazio posted. "The Prime Minister Abe of Japan huddles with his staff and the President is on the phone with Washington DC. the two world leaders then conferred and then went into another room for hastily arranged press conference. Wow.....the center of the action!!!"
In an interview with the Washington Post, DeAgazio described the situation unfolding before him at dinner on Saturday night before the two left to hold a joint press conference.
"There wasn't any panicked look. Most of the people [on the terrace] didn't even realize what was happening," DeAgazio said. "I thought he handled it very calmly, and very presidentially."
This episode is not the only thing that DeAgazio, a former president at Boston Capital, whose Twitter profile describes him as a "Consultant, SAG Actor, entrepreneur, network marketer," claimed to witness over the weekend.
In another post, DeAgazio claimed to be photographed alongside "Rick," who "carries the football" — a briefcase that contains all the details necessary to launch a nuclear attack.

DeAgazio, however, doesn't know if "Rick" was pulling his leg. He told the Washington Post that "Rick" "didn't say anything to me" about how the procedures worked. DeAgazio said he "looked it up" on Wikipedia. (Also, the official who holds the "football" has been photographed by members of the media in the past.)

BuzzFeed News reached out to DeAgazio about the photos and didn't immediately hear back. He has disabled his Facebook account.
Joining Mar-a-Lago, which Trump has referred to as the "winter White House," costs new members a $200,000 initiation fee; it was increased by $100,000 after Trump was elected. According to another post from DeAgazio of his membership letter, he joined the club after the election.
DeAgazio also shared photos on Facebook showing the access to the Trump administration that he and other Mar-a-Lago guests enjoy. DeAgazio previously shared photos of himself posing with White House senior adviser Kellyanne Conway. And on Saturday night he shared photos of himself with chief strategist Steve Bannon and a photo of a woman — who DeAgazio also posed with in front of a Trump painting — kissing Trump.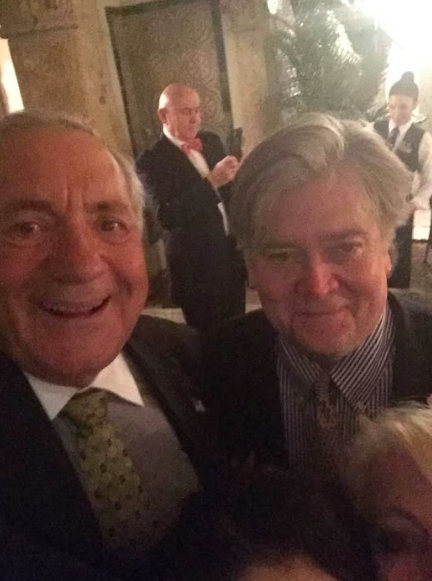 After his brief press conference to address the North Korea missile launch, Trump stopped by a wedding.
In one video shared on Instagram by a wedding guest, Trump got on the microphone and told the bride and groom, "I said to the prime minister of Japan, I said, 'Come on, Shinzo, let's go over and say hello.'"

In another clip, Trump says the groom's family has been long-time members of Mar-a-Lago and they have paid him "a fortune."
Trump has come under fire for his lax approach to security, with critics questioning his decision to handle certain matters outside the White House Situation Room. On Monday, Norm Eisen, former ethics czar for President Obama, expressed disgust on Twitter with Trump's decision to handle the North Korea situation in front of his dinner guests, and called the identification of "Rick" a "tremendous security violation."

BuzzFeed News has reached out to the White House and the Department of Defense for comment, and also asked if "Rick" is actually carrying the "football."
Two defense department officials told BuzzFeed News that a Facebook post showing the face of a soldier tasked with infamous "football" carrying key information in the event of the nuclear attack doesn't pose a national security threat.