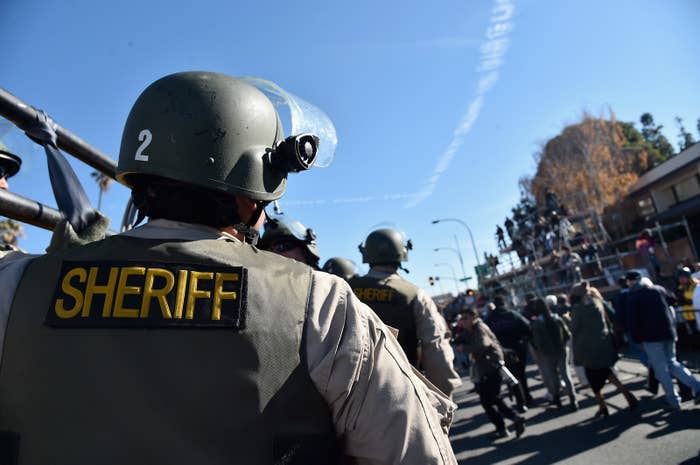 The Los Angeles County Sheriff's Department said Tuesday that a man who was shot to death by the department's SWAT officers in Compton in July was not a suspect in a carjacking, as police previously believed.
Donnell Thompson, 27, was fatally shot by a deputy on July 28 after he encountered officers who were allegedly fired upon by carjackers who also struck a patrol car.
The Sheriff's department said they pulled over the vehicle and discovered it was stolen. While the officers called for backup, the suspects drove off. During the pursuit, police said they were fired upon by the suspects. Police returned fire and the suspects crashed into the curb. The suspects fled on foot.
Police said the came upon Thompson after a resident in the neighborhood "discovered him lying in his yard and called 911." (By this point, another suspect had already been arrested.) Police said Thompson was "lying in a position that concealed one of his hands from view and was unresponsive to numerous commands."
Police claim that Thompson eventually got up and "charged at the deputies" before one fired at him.
"We have determined that there is no evidence that that Mr. Thompson was in the carjacked vehicle, nor that he was involved in the assault on the deputies," the department said in statement.
The department's review of the case included testing the carjacked vehicle for Thompson's DNA and fingerprints — they found none. The officer who fatally shot Thompson has been reassigned to non-field duties.
Family members said that Thompson had no criminal record and suffered from a mental disability.
"His age was 27, but mentally, he was not at that age," Thompson's sister, Matrice Stanley, told the LA Times. "Mentally, he was probably 16."
The LA Times also reported that Thompson's family has retained the Cochran firm, but they have not indicated whether or not they plan to sue the department.