Malaysian Prime Minister Says Flight 370 Crashed In Southern Indian Ocean, "All Lives Are Lost"
According to new data from investigators, the missing plane crashed in the southern Indian Ocean, Malaysia's prime minister announced today.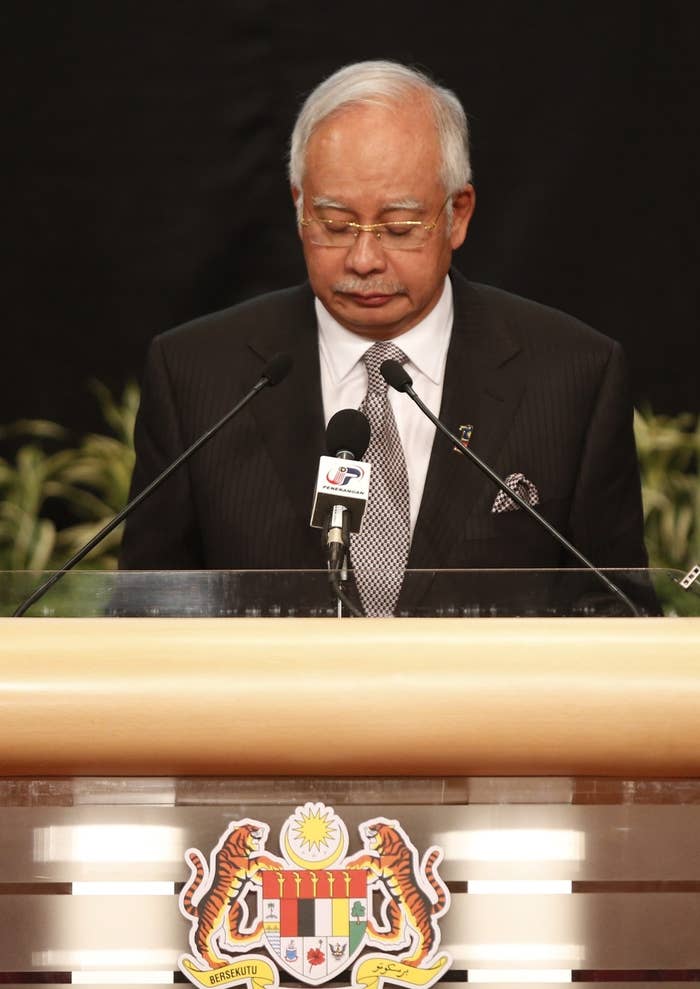 UPDATE — March 24, 4:15 p.m. ET:
Malaysia's Prime Minister Najib Razak announced Monday that conclusive new satellite data indicates that Malaysia Airlines Flight 370 crashed in the southern Indian Ocean and there are no survivors.
"MH370 flew along the southern corridor and its last position was in the middle of the Indian Ocean, west of Perth," the prime minister said at a news conference Monday. "According to this new data, MH 370 ended in the southern Indian Ocean."
Flight MH370, a Boeing 777-200 aircraft, seemingly vanished after reaching an altitude of 35,000 feet on March 8. There were 239 people on board: 227 passengers and 12 crew members.
Families of the missing passengers were informed Monday that nobody on board the plane survived.
"Malaysia Airlines have already spoken to the families of the passengers and crew to inform them of this development. For them, the past few weeks have been heartbreaking," Razak said. "I know this news must be hard; still I urge the media to respect their privacy, and to allow them the space they need at this difficult time."
Malaysia Airlines released this statement agreeing with the Prime Minister's announcement, saying "we have to assume that MH370 ended in the southern Indian Ocean":
Malaysia Airlines deeply regrets that we have to assume that MH370 ended in the southern Indian Ocean. As you will hear in the next hour from Malaysia's Prime Minister, new analysis of satellite data suggests the plane went down in the Southern Indian Ocean.

On behalf of all of us at Malaysia Airlines and all Malaysians, our prayers go out to all the loved ones of the 226 passengers and of our 13 friends and colleagues at this enormously painful time.

We know there are no words that we or anyone else can say which can ease your pain. We will continue to provide assistance and support to you, as we have done since MH370 first disappeared in the early hours of 8 March, while flying from Kuala Lumpur to Beijing.

The ongoing multinational search operation will continue, as we seek answers to the questions which remain. Alongside the search for MH370, there is an intensive investigation, which we hope will also provide answers.

We would like to assure you that Malaysia Airlines will continue to give you our full support throughout the difficult weeks and months ahead.

Once again, we humbly offer our sincere thoughts, prayers and condolences to everyone affected by this tragedy.
Malaysia Airlines sent a text message to families of Chinese passengers prior to the Prime Minister's statement informing them of the conclusion that the plane crashed.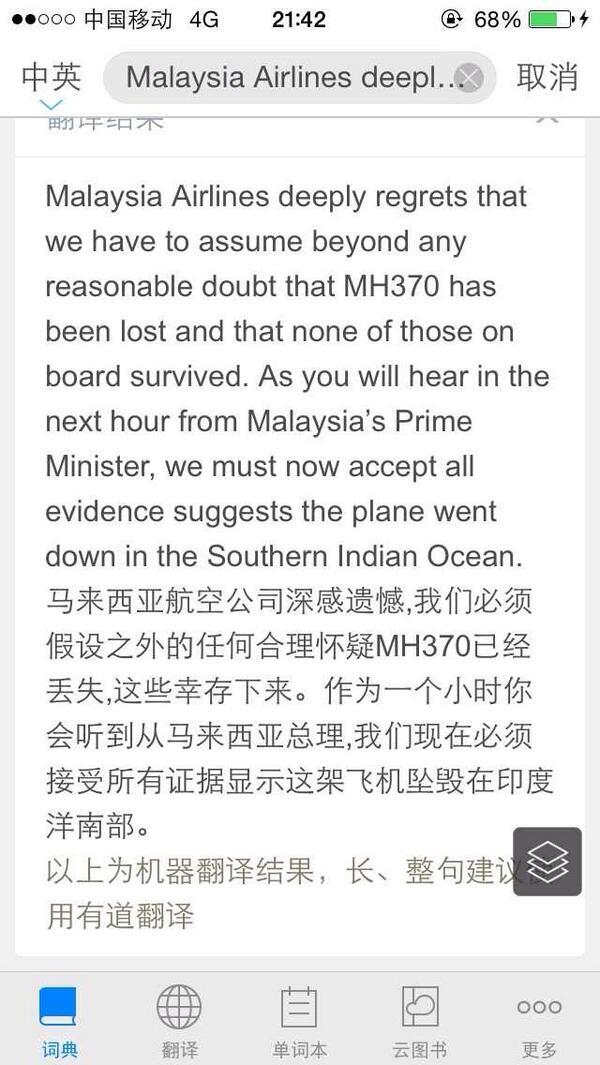 Reacting to the negative backlash that it had informed family members via text, Malaysia Airlines released a statement saying they only sent the text to those they could not reach in person or by phone:
It is with deep sadness that Malaysia Airlines earlier this evening had to confirm to the families of those on board Flight MH370 that it must now be assumed the flight had been lost. As the Prime Minister said, respect for the families is essential at this difficult time. And it is in that spirit that we informed the majority of the families in advance of the Prime Minister's statement in person and by telephone. SMSs were used only as an additional means of communicating with the families. Those families have been at the heart of every action the company has taken since the flight disappeared on 8th March and they will continue to be so. When Malaysia Airlines receives approval from the investigating authorities, arrangements will be made to bring the families to the recovery area and until that time, we will continue to support the ongoing investigation.
They were quick to point out that they had spoken "face to face" with as many family members as they could.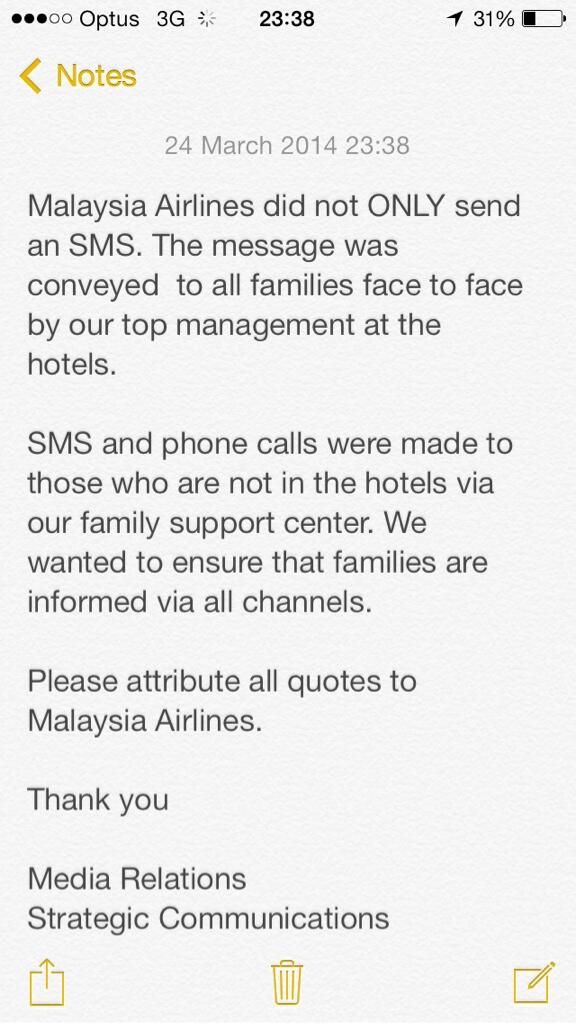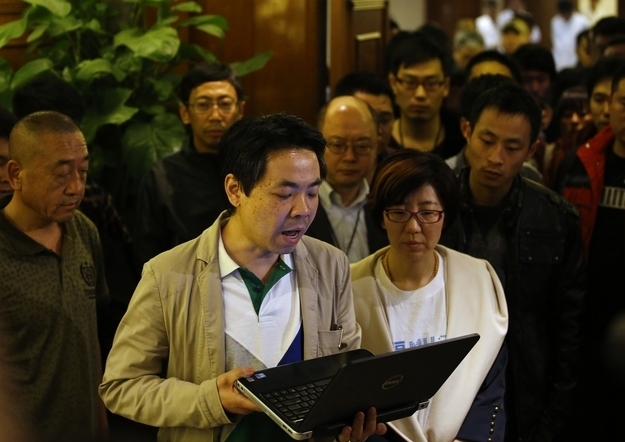 Families of Chinese passengers who were gathered in Beijing issued the following scathing statement on Monday, calling Malaysia Airlines, the Malaysian government, and the Malaysian military the "real executioners."
At 10pm on March 25, the Malaysian prime minister sent a statement to the families of MH370 passengers without any direct evidence that MH370 crashed in the south Indian ocean and no people survived.

From March 8 when they announced that MH370 lost contact to today, 18 days have passed during which the Malaysian government and military constantly tried to delay, deceive the passengers' families and cheat the whole world.

This shameless behavior not only fooled and hurt the families of the 154 passengers but also misguided and delayed rescue actions, wasting a large quantity of human resources and materials and lost valuable time for the rescue effort.

If the 154 passengers did lose their lives, Malaysia Airlines, the Malaysian government and military are the real executioners who killed them. We the families of those on board submit our strongest protest against them.

We will take every possible means to pursue the unforgivable crimes and responsibility of all three.
Shortly after the Prime Minister's press conference, stretchers were rushed to the distraught families of passengers and crew in a Beijing hotel.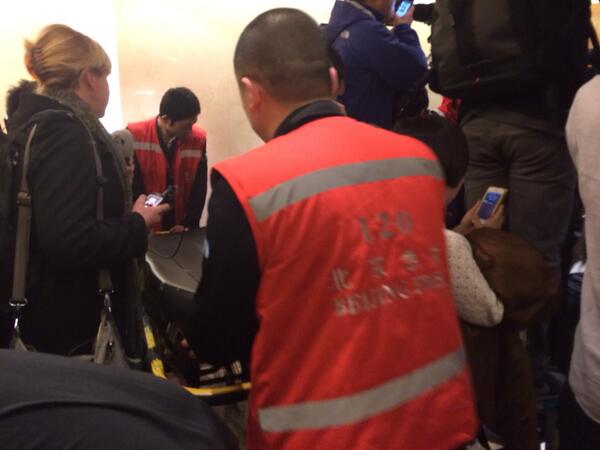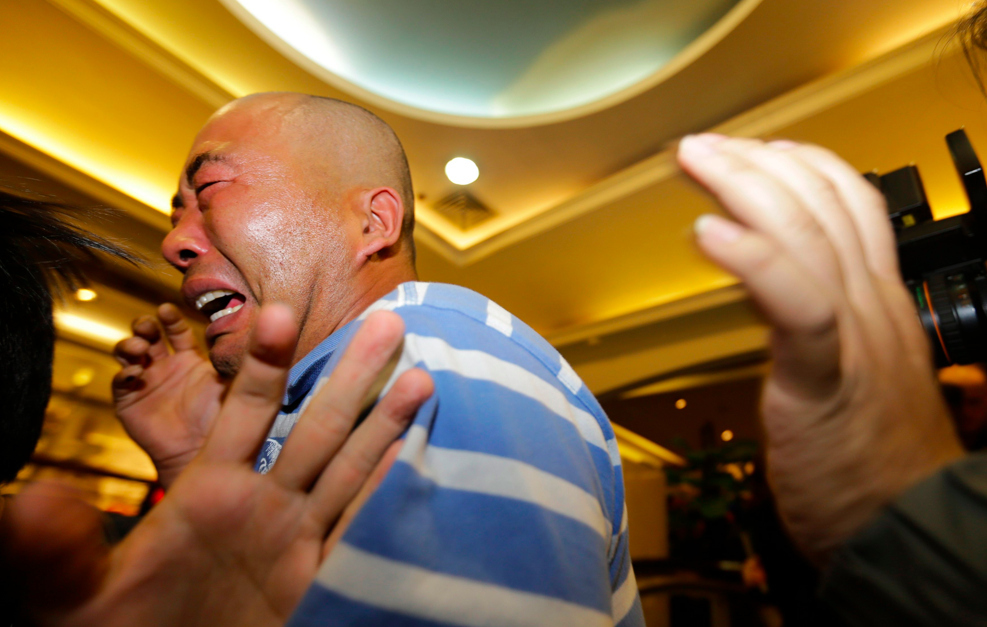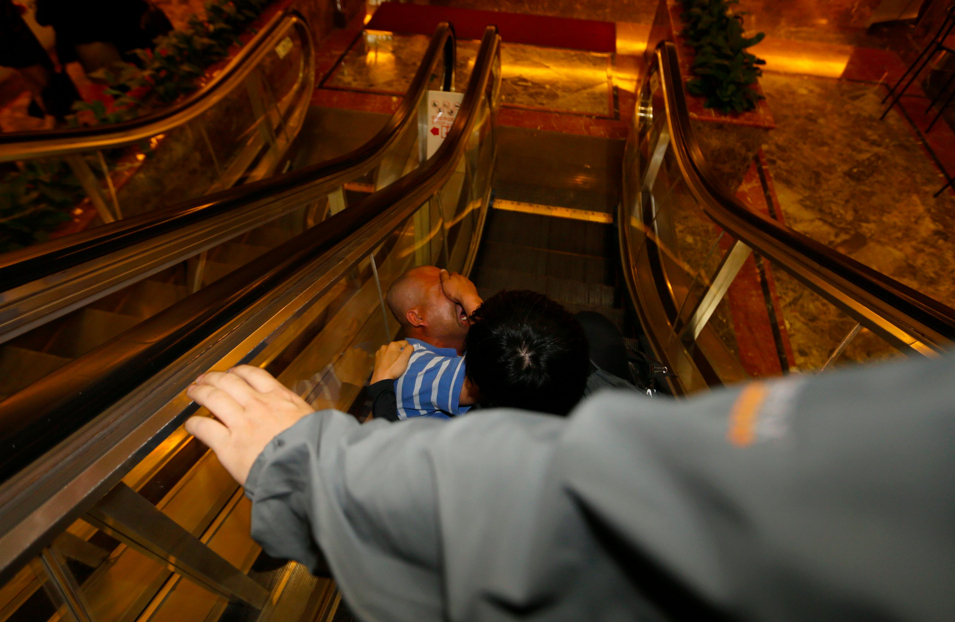 Update — Tuesday, March 25, 2:28 a.m. ET:
Malaysia Airlines CEO statement delivered during a press conference in Malaysia on Tuesday, March 25:
I stand before you today not only as the Group Chief Executive Officer of Malaysia Airlines, but also as a parent, as a brother, as a son. My heart breaks to think of the unimaginable pain suffered by all the families. There are no words which can ease that pain. Everyone in the Malaysia Airlines family is praying for the 239 souls on MH370 and for their loved ones on this dark day. We extend our prayers and sincere condolences.

We all feel enormous sorrow and pain. Sorrow that all those who boarded Flight MH370 on Saturday 8th March, will not see their families again. And that those families will now have to live on without those they love. It must be remembered too that 13 of our own colleagues and fellow Malaysians were also on board.

And let me be very clear on the events of yesterday evening. Our sole and only motivation last night was to ensure that in the incredibly short amount of time available to us, the families heard the tragic news before the world did. Wherever humanly possible, we did so in person with the families or by telephone, using SMS only as an additional means of ensuring fully that the nearly 1,000 family members heard the news from us and not from the media.

Ever since the disappearance of Flight MH370 Malaysia Airlines' focus has been to comfort and support the families of those involved and support the multi-national search effort. We will continue to do this, while we also continue to support the work of the investigating authorities in the Southern Indian Ocean.

Like everyone else, we are waiting for news from those authorities. We know that while there have been an increasing number of apparent leads, definitive identification of any piece of debris is still missing. It is impossible to predict how long this will take. But after 17 days, the announcement made last night and shared with the families is the reality which we must now accept. When Malaysia Airlines receives approval from the investigating authorities, arrangements will be made to bring the families to the recovery areas if they so wish. Until that time, we will continue to support the ongoing investigation. And may I express my thanks to the Government and all of those involved in this truly global search effort.

In the meantime, Malaysia Airlines' overwhelming focus will be the same as it has been from the outset – to provide the families with a comprehensive support programme. Through a network of over 700 dedicated caregivers, the loved ones of those on board have been provided with two dedicated caregivers for each family, providing care, support and counsel. We are now supporting over 900 people under this programme and in the last 72 hours, we have trained an additional 40 caregivers to ensure the families have access to round-the-clock support.

In addition, hotel accommodation for up to five family members per passenger, transportation, meals and others expenses have been provided since 8th March and that will continue.

Malaysia Airlines has already provided initial financial assistance of USD 5,000 per passenger to the next of kin. We recognize that financial support is not the only consideration. But the prolonged search is naturally placing financial strain on the relatives. We are therefore preparing to offer additional payments as the search continues.

This unprecedented event in aviation history has made the past 18 days the greatest challenge to face our entire team at Malaysia Airlines. I have been humbled by the hard work, dedication, heartfelt messages of concern and offers of support from our remarkable team. We do not know why, and we do not know how this terrible tragedy happened. But as the Malaysia Airlines family, we are all praying for the passengers and crew of Flight MH370.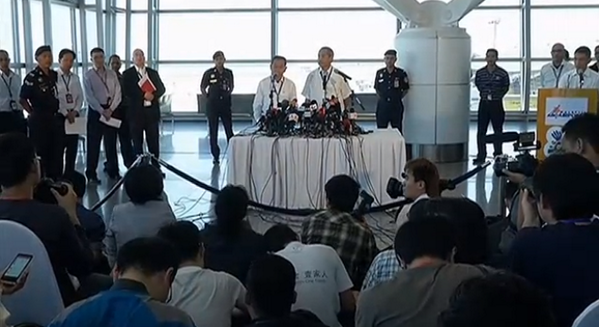 Grieving relatives of passengers on Malaysia Airlines flight MH370 hold placards as they gather outside the Malaysian Embassy in Beijing on Tuesday: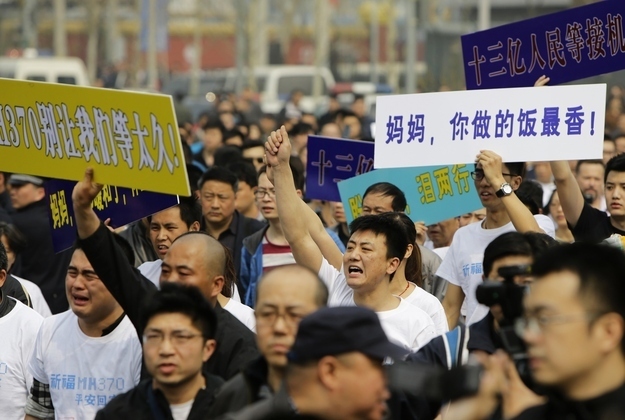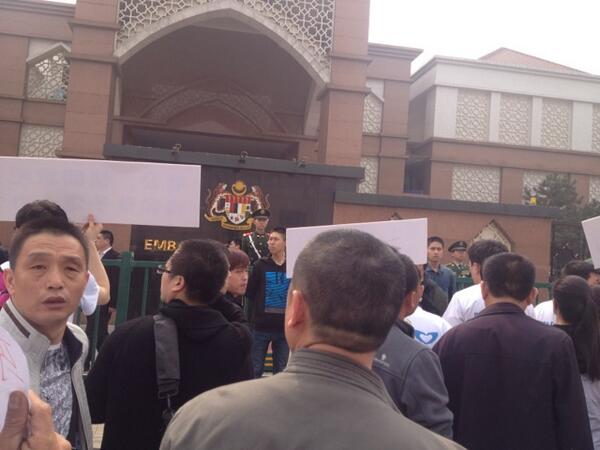 Police stand guard outside the Malaysian Embassy in Beijing: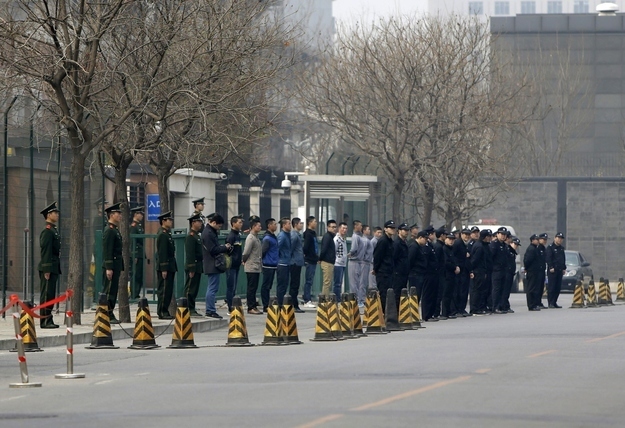 Relatives of Chinese passengers clash with police outside the embassy.