"Loud Music" Killer Who Shot An Unarmed Teenager Sentenced To Life In Prison
Michael Dunn was sentenced to life in prison without the possibility of parole for the November 2012 shooting death of unarmed 17-year-old Jordan Davis.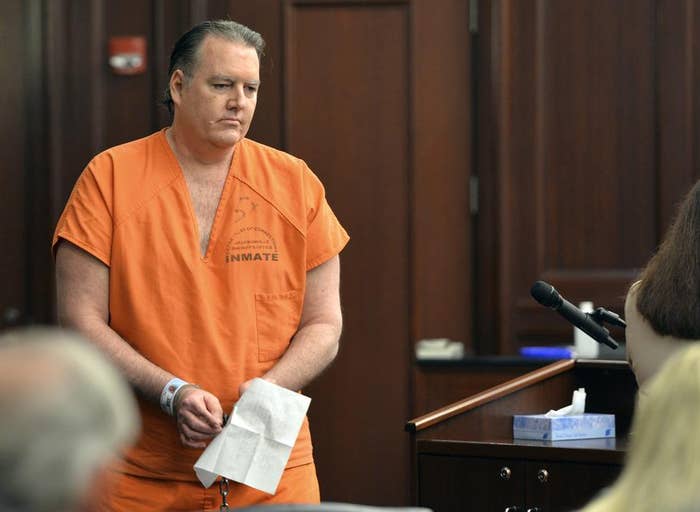 The man who killed Jordan Davis is going to prison for life.
Friday morning, Florida Judge Russell Healey sentenced 47-year-old Michael Dunn to life in prison without the possibility of parole for murdering Davis, an unarmed black teenager.
Dunn, who is white, fatally shot 17-year-old Davis on Nov. 23, 2012, outside a Jacksonville gas station while he was parked in an SUV with three friends. The 47-year-old Dunn got into an argument with the teens over loud music and claimed he was threatened by Davis. Dunn shot multiple rounds into the car, hitting only Davis.
The sentencing ends a two-year legal saga over Dunn's culpability for Davis' death. In February, Dunn was convicted of three counts of attempted murder and weapons charges in the shooting. The jury was hung on the murder charge for the killing of Davis, prompting a retrial.
On Oct. 1, Dunn was found guilty of first-degree murder during a retrial for the killing of Davis. His defense attorneys unsuccessfully attempted to argue that Dunn feared for his life and believed he saw a gun inside the teenagers' car, justifying the use of deadly force. No gun was ever found by police.
Under Florida law, since the prosecution didn't pursue the death penalty, the first-degree murder charge carried a mandatory life sentence. Dunn was already facing more than 60 years in prison for the attempted murder and weapons charges.
In a statement during his sentencing, Dunn expressed his condolences to the Davis family. "I truly regret what happened," Dunn said. "I was in fear for my life, and I did what I thought I had to do. Still I am mortified that it took a life."
Davis' mother, Lucia McBath, father, Ron Davis, and other family and friends of Davis addressed the court during the sentencing.
An emotional Lucia McBath talked about the time she spent with her son skating at an Atlanta roller rink, taking a tae kwon do class together, and playing with the family dogs.
"I miss his big, wide, toothy smile," McBath said.
"For years to come I will be forced to celebrate my son's birthday without his presence," McBath said. "I will be forever reminded of what might have been for my Jordan."
"I choose to forgive you, Michael Dunn, for taking my son's life," McBath told Dunn. "I pray that God has mercy on your soul."
"My life as I known it was shattered on Nov. 23, 2012," said Ron Davis. "The old Ron Davis died that very night with Jordan Davis."
"I gave him his first kiss when he came into this world — Judge Healey and I could never imagine giving him his last kiss," Davis said.
"Our family has lost the biggest and the brightest smile of all of us," Davis said.
Before announcing his sentence, Judge Healey addressed Dunn, telling him that what happened was preventable.
"We hear people debate the right to stand your ground," Healey said. "There is nothing wrong with retreating, de-escalating the situation."
"Mr. Dunn, your life is effectively over," Healey said.