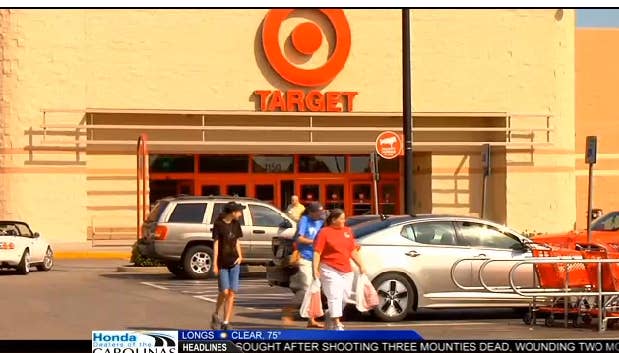 A real gun was found in the toy section of the Myrtle Beach, South Carolina Target store on Friday night, loaded with bullets and sitting in plain view, WMBF News reports.
According to the police report, a loss prevention employee happened upon the 9mm handgun, which was sitting in an unwrapped Playskool Marvel Superhero toy box. The employee thought it could have been a toy until he noticed it was fully loaded.
The employee also told police that he noticed a suspicious male acting nervous and fidgety who kept walking around the toy section earlier in the day.
News of the unfortunate incident follows reports of gun activists spotted walking around a Texas Target armed with automatic weapons while shopping for baby clothes.
The incident prompted a petition by a group asking Target to create a firearms policy for its stores. The petition has been signed by 25,000 people in the last 48 hours, according to the group responsible for it, Moms Demand Action For Gun Sense In America.
"Assault rifles and guns don't belong in the baby aisle, they don't belong in the toy aisle – and they don't belong in any aisle of the stores that American moms frequent like Target," said Shannon Watts, Founder of Moms Demand Action for Gun Sense in America. "We are grateful that a store employee found this loaded gun and reported it to the authorities – but we have to acknowledge that this situation could have had a much more tragic outcome."
CJ Grisham, President of Open Carry Texas, the group responsible for the demonstration at the Target last January, wrote BuzzFeed saying, "I wouldn't doubt if a gun control extremist planted the gun there to further his agenda of blaming gun owners for deaths of children. Whoever did it is a despicable excuse for a human being and should be charged with attempted murder and fried in in a chair."
In a statement to BuzzFeed, a spokesperson for Target says the company is working with police to get to the bottom of why a gun was found at the Myrtle Beach store:
"At Target, the safety and security of our team members and guests is a top priority for Target. We take these matters very seriously and we are partnering with local law enforcement on this incident. Because this matter is under active investigation, we are unable to share additional information.
Surveillance video from the store is being provided to police.
UPDATE: Moms Demand Action for Gun Sense in America spokesperson, Erika Soto Lamb, sent the following response to the Open Carry Texas group's suggestion that a gun control group planted the handgun at Target:
"The insinuation that an organization devoted to the prevention of gun violence would plant a loaded gun in the toy aisle of Target is utterly ridiculous. Moms Demand Action is solely focused on the safety and security of our families and communities. Only one organization has a history of bringing loaded guns into Target — it's not us."
This is the type of gun found in toy aisle, a HI-POINT MODEL C9 Comp 9mm LUGER