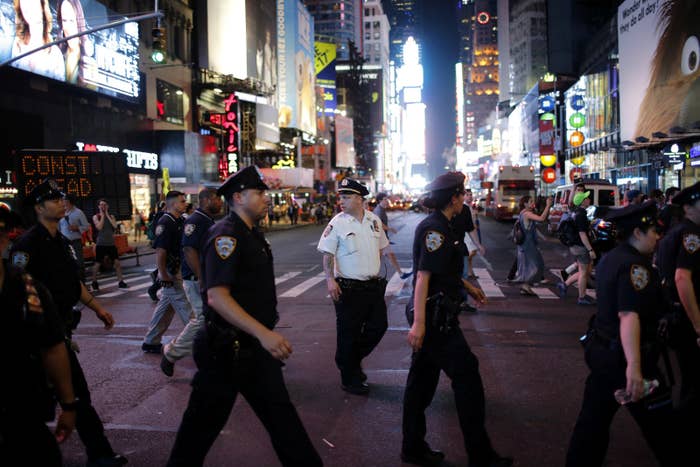 STATEN ISLAND, NY — New York State Assemblyman Ronald Castorina introduced a "Blue Lives Matter" bill Thursday that would make it a hate crime to assault a police officer in the state, therefore carrying a more severe penalty.

Castorina's move adds New York to the handful of states around the country where legislators have sought to expand hate crime laws to include police officers.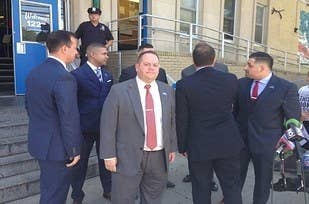 This week, Louisiana became the first state to enact its "Blue Lives Matter" law. Similar legislation has been introduced in Pennsylvania, Tennessee, Texas, and Florida. Colorado Rep. Ken Buck, a Republican, has also introduced a bill in Congress that would classify an attack on a police officer as a federal hate crime.
Castorina said the New York bill will call for a "heightened level of crime" attributed to any assault on a police officer, as well as a more severe punishment. Assaulting a police officer would be increased one level on the felony scale if the bill passes.
The New York Observer outlined the details of this increase in a report on Castorina's bill Wednesday:
New York state law presently upgrades any offense deemed a hate crime to the next level of severity. Castorina's bill would thus turn assault on an on-duty cop from a Class C felony to a Class B Felony, and cases of aggravated assault on a police officer—where the attacker intends to cause serious harm—from a Class B felony to Class A.

This would mean much harsher sentencing for offenders, who already face anywhere from three-and-a-half to 30 years in prison.
"The impetus for this bill is a climate in this country, in this state, where police officers have been targeted merely because they wear the uniform," Castorina, a Republican who represents the South shore of Staten Island, said at a press conference Thursday.
"We need to do something to deter people from assaulting New York City police officers, from assaulting police officers throughout the state of New York," he added.
Castorina was joined by New York City Councilman Joe Borelli. During the press conference, Borelli read the Facebook post of Baton Rouge Police Officer Montrell Jackson. Posted three days after the death of Alton Sterling, Jackson's post went viral after he was shot and killed in an ambush amidst heightened tensions in the city.
"Had he been targeted for being a member of the African-American community, his assailant would face hate crime charges," Borelli said.

"We're not taking anything away from anyone," said Borelli, who also serves as co-chair for GOP presidential candidate Donald Trump's campaign leadership team in New York.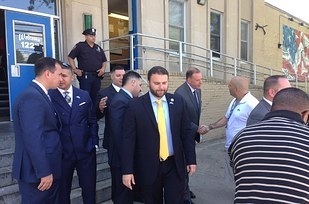 Borelli said that with the "Blue Lives Matter" bill "we're simply responding to the reality that police officers are facing the same targeted approach based on their membership in this group" that gay and lesbian, transgender, and people targeted based for their religion or ethnicity faces.
To pass, the legislation will face a steep uphill climb in the democratically-controlled New York state assembly.
Castorina said that he has a number of fellow representatives reaching out to him to co-sponsor the legislation. "I think that this bill should be supported by every member of the assembly — Democrats, Republicans. This bill is not political," Castorina said.
"I think it's a commonsense piece of legislation that everybody can congeal around and support," Castorina said.
He added that he believe the bill will have an added benefit of protecting the public at protests and demonstrations.
"At protests where people assemble in a peaceful way, unfortunately there are some that are rabble rousers, and they throw bottles, and they throw punches, or they throw rocks and they create a chaotic situation where we have pandemonium and people get hurt and people get arrested," Castorina said.
Asked by BuzzFeed News if he is in contact with anyone from the Black Lives Matter movement about the proposed law, Castorina said, "No, I'm not."
"I don't know that this bill really has anything to do with Black Lives Matter. This bill is particularly there to protect police officers from assault. It's not targeting the Black Lives Matter movement. In fact, the Black Lives Matter movement has had many a peaceful protest without incident, and certainly we want to promote that," he said.
Donna Lieberman, executive director of the New York Civil Liberties Union, told BuzzFeed News that she thinks the "Blue Lives Matter" bill is merely political in nature.
"Of course it's important to punish those who assault police officers, but this bill is just political pandering," Lieberman said in a statement. "Any politician truly committed to making New York safer for everyone must increase trust between police and the people they are sworn to protect by holding officers accountable when they abuse civilians too."