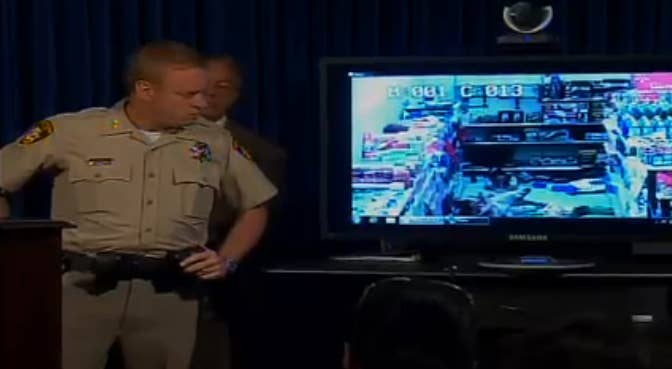 Las Vegas Metro Police confirmed Wednesday that police gunfire killed Jerad Miller while he and his wife Amanda Miller were barricaded in a Walmart after killing three people, including two police officers.
"This is a dramatic difference from what was discussed in a previous news conference," Assistant Sheriff Kevin McMahill said in a news conference Wednesday.
Previously, law enforcement officials said that Amanda Miller shot and killed Jerad Miller before taking her own life.
According to police, after killing police officers Igor Soldo and Alyn Beck, who were eating lunch inside a CiCi's Pizza restaurant, the Millers took the slain cops' guns and headed for the nearby Walmart. While inside the store, the Millers shot and killed a third person, Joseph Wilcox, and proceeded to barricade themselves inside the store.
Video from inside the Walmart shown by police at a news conference on Wednesday appears to show Amanda Miller shooting Jerad Miller before turning the gun on herself. However, further investigation by police and the Clark County Coroner's Office indicate that the shot that killed Jerad Miller came from the police.
A police officer was also wounded during the standoff, but police said it is unclear if he was shot by either Amanda or Jerad Miller. The officer was treated for an injury to his upper thigh at the hospital and is expected to make a full recovery.