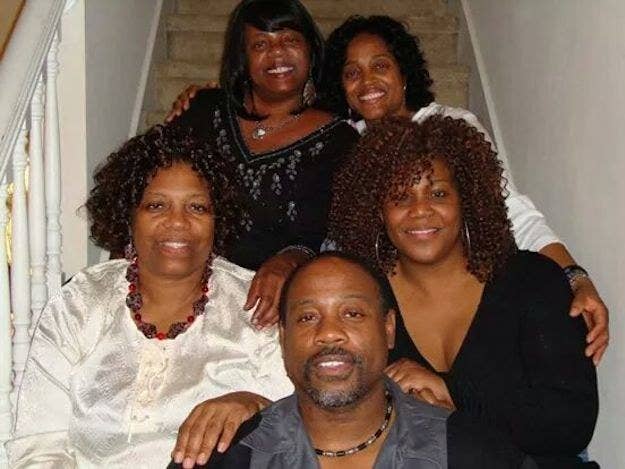 When she heard the shots, April Edwards ran down the hallway to the front room of her Atlanta apartment where she found her boyfriend, 44-year-old Kevin Davis, bent over and bleeding.
"Kevin said to me, 'They shot me April,'" Edwards told BuzzFeed News in her first interview since the Dec. 29 incident. "I turned to the police officer and said, 'What did you do?'"
Then Edwards passed out and woke up hours later in the hospital.
Just before the shooting, Edwards was stabbed by the couple's roommate Terrence Hilyard after an argument over the television's volume. She retreated to her room and called 911 with Davis, who helped her tend to the wound. Hilyard fled the scene. (He was later arrested when he returned to the apartment complex that night.)
When the Dekalb County Police arrived at the scene, Edwards and Davis heard three shots ring out.
One of the responding cops from the Dekalb County Police, Officer Joseph Pitts, shot and killed their dog Tooter, a three-legged pit bull, who was still in the front of the apartment.
Davis, thinking that it might have been Hilyard returning to the house, grabbed his gun and confronted Officer Pitts. According to police, Pitts told Davis to drop the gun. When he didn't comply, Pitts shot Davis three times. Witnesses told the family's lawyers that they did not hear Pitts command Davis to drop the gun until after he started shooting.
Davis and Edwards were both transported to Grady Hospital. Davis was admitted as an in-custody patient. He was charged with felony aggravated assault of an officer for confronting Pitts with his gun, according to a warrant.
Davis' family says he was cuffed to his hospital bed and they were denied access to him while he lie in critical condition.
A Grady Hospital spokesperson said that it is their policy to only allow families access to patients in custody after police approval.
The family said that it requested to see Davis multiple times, but those requests were denied by the Dekalb County Police Department. DCPD said that the family never asked to see Davis.
While she was recovering in the hospital, Edwards says she asked hospital staff "more than several times" for an update on Kevin.
"Each time they just told me he's in critical care," she said.
On Dec. 31, two days after the shooting, Edwards was released from the hospital. Kevin's family came and picked her up.
"I asked them for an update [on Kevin] and they asked me the same thing," she said.
A couple hours later on Dec. 31, Davis died.
The Georgia Bureau of Investigations has opened an investigation into the shooting. After the GBI wraps it investigation — hopefully in the next two weeks, Davis' lawyer told BuzzFeed News — the agency will present its report to the district attorney, who will make a determination whether to move forward with charges against the officers involved in the incident.
Edwards met with the GBI on Friday and told investigators her version of the story.
She believes that if Pitts or the other responding officers had called out to the couple when they arrived at her apartment, things would have played out differently.
"We never heard the police announce themselves. Had we heard them announce themselves Kevin would have never retrieved his gun," Edwards said.