The man accused of fatally shooting one Indian immigrant and wounding two others at a bar in Kansas asked the victims if their "status was legal" before opening fire, one survivor told authorities.
According to a court affidavit obtained by BuzzFeed News, Alok Madasani told investigators that he didn't know why the alleged shooter, 51-year-old Adam Purinton, was harassing him and his friend, Srinivas Kuchibhotla, who was slain in the attack at Austins Bar & Grill in Olathe, Kansas, on Feb. 22.
Thirty minutes before the shooting, Purinton, described as wearing a white T-shirt with military-style medals on it, and a white scarf around his head, began harassing the two Indian men on the patio outside the bar, the court documents state. According to witnesses, Purinton, a regular customer, told the two men, who he allegedly believed to be Middle Eastern, to "get out of my country."
Purinton was asked to leave the bar, but returned 30 minutes later wielding a handgun. Madasani told investigators that just before the shooting he heard people say, "He's back and he has a gun!"
Purinton opened fire on Kuchibhotla and Madasani. Kuchibhotla was shot at least three times and was later pronounced dead at the hospital. Madasani was shot once in the leg. After the shooting, Purinton attempted to flee the scene but 24-year-old Ian Grillot, who according to the affidavit had helped remove Purinton from the bar earlier, chased after him, thinking the gun was empty. However, Purinton turned and allegedly fired, striking Grillot in the hand and chest.
"I thought I heard nine shots, expected his magazine to be empty," Grillot said from his hospital bed in a video interview released by KU Hospital. "So I got up and proceeded to chase him down, tried to subdue him so that the police could come in and do what they needed to do."
"I guess I miscounted with everything going on," Grillot added.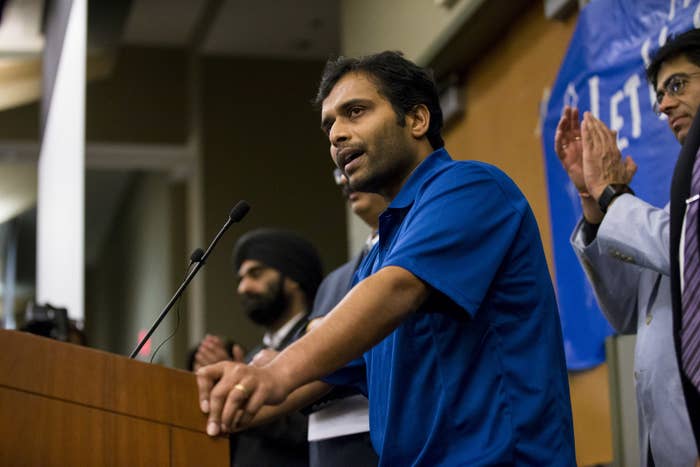 Purinton was able to escape before the police arrived and drove about 80 miles to an Applebee's restaurant in Clinton, Missouri. The restaurant proved to be an effective hideout for at least a short time until Purinton confided in a bartender that he was on the run.

That bartender then called 911, telling the dispatcher that Purinton believed he had "killed two Iranian people" in the attack.
"I need to report something," the bartender told the 911 dispatcher, according to audio acquired by FOX4 KC. "I'm a bartender at Applebee's and I had this guy come into the bar and he told me that he had done something really bad and he was on the run from the police, and he asked if he could stay with me and my husband and he wouldn't tell me what he did."
Purinton was later arrested at the restaurant without incident. He was charged in Johnson County District Court with one count of first-degree murder and two counts of attempted murder. His next court date is scheduled for Mar. 9.
The FBI is also investigating the shooting as a possible hate crime.
Last week, President Trump, who was initially slow to address the incident, condemned the shooting during his first major address as president, calling for the country to stand "united in condemning hate and evil in all its forms."
Indian men have been victimized in three shootings across the US over the past two weeks. On Mar. 2, South Carolina shop owner, Harnish Patel, a 43-year-old Indian immigrant who had been living in the US with his family for 14 years, was shot dead outside his home after leaving work. One day later, 39-year-old Sikh man Deep Rai, an Indian national, was wounded after being shot in the driveway of his Washington-state home by a man he described as "white and stocky."
Rai said the shooter told him to "go back to your own country."
The Fatal Shooting Of An Indian Man in South Carolina Is Under Investigation
None