Kalief Browder's Mother Tells The Horrific Story Of Finding His Body After His Suicide
Venida Browder tells the gripping story of Kalief Browder's final moments.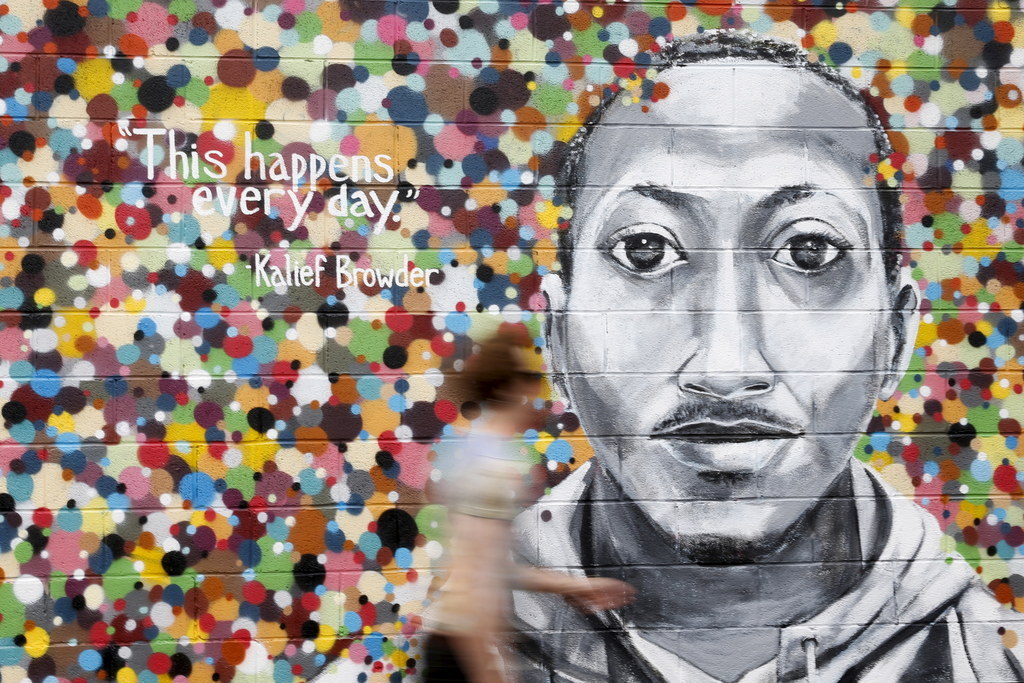 After Kalief Browder was released in June 2013 from New York's Rikers Island jail where he spent three years incarcerated — two of those years in solitary confinement — for an alleged crime he was never prosecuted for, his mother says that he would spend long periods of time walking the four corners of the rooms in their Bronx home as if he were still in that tiny jail cell.
"He would say, 'Mom, that was all I was allowed to do for years,'" Venida Browder says.
Venida Browder spoke Friday at Tina Brown Media's American Justice Summit at John Jay College in New York City about her son's years spent in Rikers without his case ever going to trial ("If he was here to tell it, everyone would be in tears") and about the morning last June, when she found her son's body after he killed himself.
Kalief Browder's story has garnered national attention in the past few years, but the spotlight was intensified when he killed himself in June 2015 following a bout of depression he suffered after his release from Rikers.
This week, President Obama referenced the tragedy of Kalief Browder after signing a ban on solitary confinement for juveniles. His mother said her reaction was, "Oh my god! Finally!" As in, finally, somebody powerful was talking about how what happened to her son was wrong. She says, "Nobody has come forward to take the blame [for what happened to Kalief Browder]."
In 2010, 16-year-old Kalief Browder was arrested for allegedly stealing a backpack in Bronx. His family could not afford his bail, so he was brought to Rikers. While he waited for the trial that would never come, he was attacked by fellow inmates, beaten by guards, and placed in solitary confinement for months on end. During this jail stint, he was also given the opportunity to plead guilty and get out with time served, but he was refused because, as his mother says, he simply didn't do it. Kalief Browder was eventually released in June 2013 after prosecutors decided not move forward with the case.
At home, Kalief Browder would "go to dark places" his mother says. He displayed the classic symptoms of somebody suffering from post-traumatic stress disorder. Yet when he was released, the City of New York provided him with no mental health followup services. His mother says that the jail just gave him a Metrocard for the subway and sent him out into the world.
Two years later, on the morning of June 6, 2015, Kalief Browder would take his own life.
It started as a normal morning, he popped into his mother's bedroom to see how she was doing. "Ma, you all right?" he asked her.
"That was one of his things," Venida Browder said, talking about her son's morning greeting.
Then Kalief Browder went upstairs and started pacing between his room and his brother's room, a ritual of his that Venida Browder had grown accustomed to since he had come home from Rikers. That was what he did when he went to one of his dark places, she recalled.
Moments later, Venida Browder said she heard a loud crash. Her first thought was that her son had thrown his brother's television out the window in a fit of rage. However, that was impossible because of the bars on the window that were there to keep the air conditioner from plummeting to the ground.
But when she went upstairs to investigate, she found that her son had kicked out the air conditioner and window bars. She then heard more banging coming from the outside. "Kalief stop playing," Venida Browder recalled saying. Then she peered out the window and saw her son's body hanging from a cord.
"The loud noises was his body banging up against the building," Venida Browder said.
Venida Browder has filed two civil lawsuits, including a wrongful death suit that accuses not just Rikers Island officials, but also the City of New York, of having played a role in her son's death.
"It wasn't just one person who killed Kalief," said Venida Browder's civil right attorney, Paul Prestia, who appeared with her on the speaking panel on Friday.
Speaking about the family's legal prospects, Prestia said that "anything at this point is bittersweet, because he's not here."
To Kalief Browder's mother, there will be no justice until the city takes some responsibility for what happened to her son. To date, Venida Browder says that no city official has apologized to her or even acknowledged that what happened to her son was wrong.
"I want them to admit it," Venida Browder said. "Justice, for me and Kalief, is having them admit that my son is dead and that they snatched him off the street on a flimsy case."