Judge To Allow Tsarnaev "Fan Girls" At Boston Bombing Trial
The judge in the Boston Marathon bombing trial has denied suspected bomber Dzhokhar Tsarnaev's request to have conspiracy theorists and demonstrators banned from outside the courthouse.
Judge George O'Toole denied Dzhokhar Tsarnaev's motion to ban so-called "supporters" from demonstrating outside the courthouse during his capital murder trial for the Boston Marathon bombing.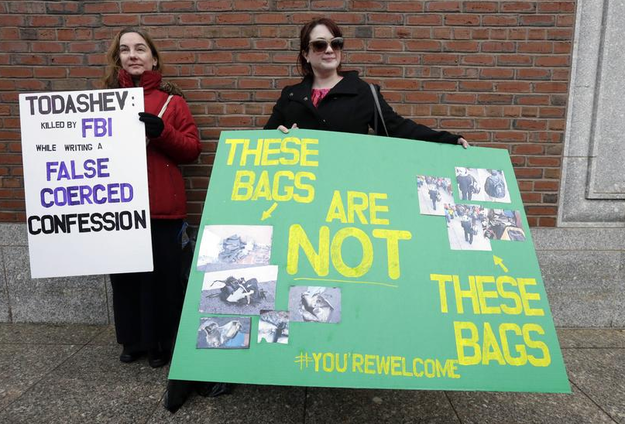 The judge's order dashes Tsarnaev's hopes that U.S. marshals would clear out conspiracy theorists during what his expected to be a six-month long trial at Boston's Moakley Courthouse.
In December, the suspected Boston bomber's defense team filed a motion arguing that the demonstrators posed a "grave threat to the fairness of the defendant's trial."
The defense said these demonstrators create a "false inference that the defendant and his counsel agree with the outrageous conspiracy theories."
The demonstrators have been largely absent during the long jury selection process, which has been going on since the beginning of January.
Throughout the jury selection, Tsarnaev's team has continuously argued it will be impossible to seat a fair and impartial jury in the same city where the April 2013 bombing that killed three and injured over 260 took place.
This month, Tsarnaev's third motion to move the trial out of Boston was denied by Judge O'Toole. A ruling to change venues by the court of appeals is still pending.
The U.S. District Court has been forced to postpone six days of juror questioning due to the record snowfall in Boston this winter.
Despite the lengthy jury selection process, a court official said last week that it is hoping to hear opening statements in the trial in early March.