Judge Denies Dzhokhar Tsarnaev's Final Appeal To Delay Boston Marathon Bombing Trial
Jury selection will start Monday.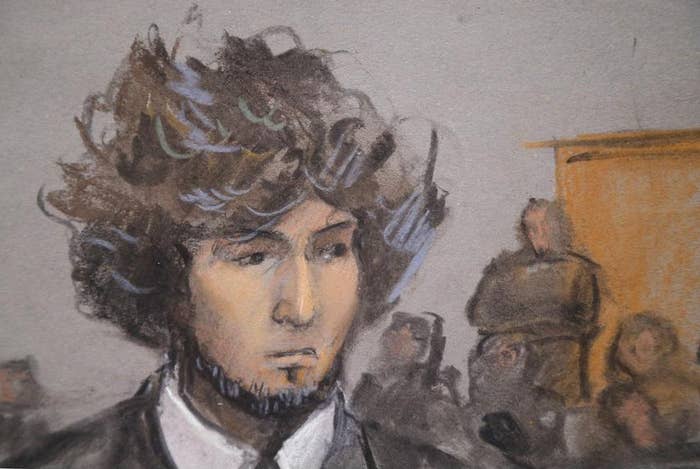 The judge presiding over the highly-anticipated trial of Dzhokhar Tsarnaev has denied the accused Boston Marathon bomber's final appeal to delay jury selection, scheduled to start next week.
In an order submitted Friday, Judge George O'Toole writes, "Because of the nature and subject matter of this trial, logistical preparations have been considerable. More than 1,200 citizens are scheduled to begin appearing for the commencement of jury selection procedures on Monday, Tuesday, and Wednesday of next week. Those persons have likely arranged their affairs in reliance on the dates given them in their summonses, and any change in reporting dates would cause some unknown degree of disruption to those people."
Beyond the obvious scheduling inconvenience a delay would pose to prospective jurors, O'Toole points out that even a small stay of the jury selection process could result in the need of a re-summonsing, which could delay the start of the trial for months. In total, 3,000 people received jury summonses from around the state of Massachusetts.
O'Toole also notes that the trial was already delayed once after it was pushed back from a November 2014 start date to January 2015.
Tsarnaev's last-minute appeal came late in the afternoon of Dec. 31, 2014 — the last official business day before the scheduled start of jury selection on Jan. 5.
In the appeal, Tsarnaev's lawyers argued that a delay "should be granted in the interests of judicial economy and to ensure public confidence in the fairness of the proceedings."
In the weeks leading up to the start of the trial, Tsarnaev has argued that the trial should be moved out of Boston and pushed back to September 2015 so his counsel has more time to prepare.
Both appeals were denied by O'Toole, who has remained steadfast in his opinion that Tsarnaev can get a fair trial in the same city where the massacre that killed three and injured over 260 occurred.
Jury selection in the case is expected to take several weeks. If convicted, Tsarnaev faces the possibility of the death penalty.