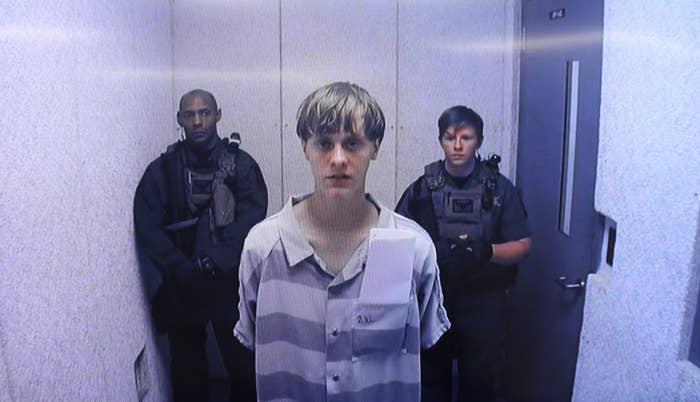 A judge on Monday allowed Dylann Roof, a white supremacist accused of killing nine people at a historic black church in Charleston, South Carolina, to represent himself in his trial.
Roof, who is facing a federal death penalty trial, will act as his own attorney and question prospective jurors; his attorney, David Bruck, however, will stay on as stand-by counsel.
The decision came after Roof filed a petition Sunday night to represent himself under the Sixth Amendment.
In its response to the motion, the government said that while it had "an interest in having counsel remain to ensure the integrity and efficiency of the trial, that interest cannot trump the defendant's constitutional right."
"At the heart of the defendant's Sixth Amendment right to represent himself is the right to conduct his defense as he sees fit, to present 'his case in his own way,'" the government wrote. "A district court may not deny a defendant his right to self-representation based on conclusion that the choice of self-representation is foolish."
Before granting the motion, US District Judge Richard Gergel said he continued to believe that Roof's decision represent himself is "unwise."
Roof, who was found mentally competent to stand trial, at times appeared to not fully grasp the magnitude of the decision.
After moving to the first chair reserved for lead counsel at the defense table, he mostly sat still and responded "no" when Gergel asked if he had follow-up questions or objected to jurors being qualified or struck from the jury pool.
At times, Bruck would pass notes and whisper comments to Roof. In one instance, Roof rebuked his former lead attorney's advice with a smirk. Bruck, clearly frustrated, turned away and shook his head.
At one point, Bruck tried to register an objection to the judge striking a juror who hesitated when asked if she could impose the death penalty. Prosecutor Jay Richardson responded by "vigorously objecting" to Bruck's attempt to object on Roof's behalf.
"We can't function this way," Gergel responded.
"Mr. Bruck, sit down. Mr. Roof, stand up," Gergel added. The judge then reminded the defense that Roof had decided to represent himself and any objections to jurors being qualified or struck from the jury needed to come during their questioning from Roof and not "after the fact."
Roof did successfully file a motion to strike a juror from the pool during the afternoon session of questioning.
The juror expressed that in all instances of intentional murder, he felt the death penalty was the appropriate penalty.
"You should be held accountable and responsible … you should just be held accountable," the prospective juror said.
Asked if he had any follow-up questions, Roof said, "No additional questions, but on this one I think he should be struck."
The judge agreed, despite the government's protests, and granted the motion to strike the juror.
On Monday, seven of the twenty jurors questioned were qualified to move to the next phase of jury selection. Of the seven, six are women and one is a man.
Sharon Risher, who lost her mother and cousins in the shooting, told BuzzFeed News in a statement that she continues to pray for "the best outcome."
"My heart continues to ache for all of us," she said. "God will help us through all of this. No matter what happens, Roof has no weapon against us who believe."
Roof faces 33 charges, including hate crime charges in federal court, for allegedly killing nine black people during a prayer meeting at the Emanuel AME Church on June 17, 2015. If convicted, he could face the death penalty. He also faces capital murder charges in state court and faces a death sentence if convicted.
Prosecutors rejected Roof's offer to plead guilty to the federal charges and serve life in prison if the government agreed to take the death penalty off the table as a possibility.