Attorney General Jeff Sessions issued a memo this week ordering federal prosecutors to pursue "the most serious, readily provable" offense against those suspected of crimes, a reversal of course from the Obama administration which sought to change how some nonviolent drug offenders were prosecuted.

"By definition, the most serious offenses are those that carry the most substantial guidelines sentence, including mandatory minimum sentences," Sessions' memo reads.
The directive did not come as a surprise, as the Trump administration has indicated for weeks that such an order was imminent. Even still, the policy change received a harsh reaction from several former federal prosecutors, current lawmakers, and criminal justice groups on Friday, who called it a potentially dangerous return to the failed "War on Drugs" and era of mass incarceration.
"The policy announced today is not tough on crime. It is dumb on crime," former Attorney General Eric Holder said in a statement Friday, calling Sessions' decision "unwise" and "ill-informed."
At Friday's press briefing, White House press secretary Sean Spicer backed up the policy, saying, "As the attorney general said this morning, this will take the handcuffs off our nation's prosecutors and, if I can add, it frankly puts the handcuffs on the drug traffickers, who threaten the safety of our families and communities."
Joyce Vance, former US Attorney for the Northern District of Alabama, however, put out a series of tweets Friday saying, "[the] DOJ returned to a charging and sentencing policy known as tough on crime today. It means charging to get the longest sentence in most cases."
"This approach leads to bloated prisons at enormous cost. Prisoners are warehoused [without] rehabilitation opportunities," Vance, who identifies herself as "President Obama's US Atty in Birmingham" in her Twitter bio, tweeted.

"The memo is truly a throwback to failed drug war policy and to an era of mass incarceration that has devastated communities of color," former head of the DOJ civil rights division Vanita Gupta told BuzzFeed News. "It just seems like the AG is out of touch with folks in his own party who have been pushing for the reform of our criminal justice laws."
Wade Henderson, CEO at The Leadership Conference on Civil and Human Rights — a organization that Gupta is joining as president later this year — said, "Attorney General Sessions seems to have missed the memo that the War on Drugs is over."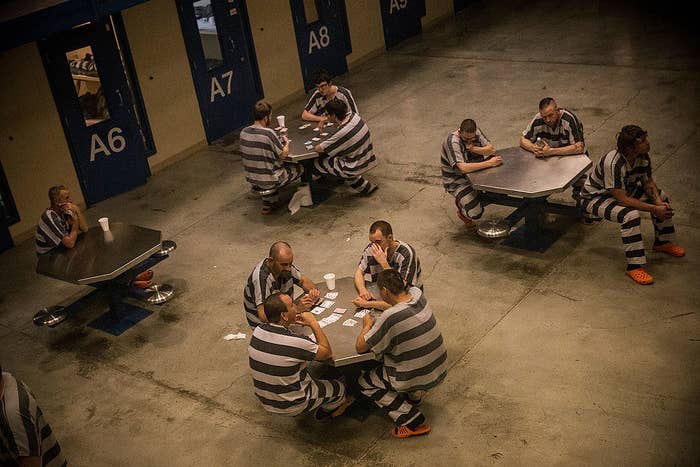 Indeed, criminal justice reform aimed at lowering the prison population — the US maintains 25% of the world's incarcerated people, while having only 5% of the world's population — has received bipartisan support with both Republicans and Democrats in Congress pushing for new legislation.
Republican Senator Rand Paul put out a statement Friday saying that the Trump administration's new policy will "accentuate" injustices.
"Mandatory minimum sentences have unfairly and disproportionately incarcerated too many minorities for too long," Paul said. "Attorney General Sessions' new policy will accentuate that injustice. Instead, we should treat our nation's drug epidemic as a health crisis and less as a 'lock 'em up and throw away the key' problem."
Michigan GOP Rep. Justin Amash called the policy "unjust, ineffective, and costly."
Sen. Dick Durbin, who has been leading Democratic efforts on legislation to improve the criminal justice system, said, "this policy shift flies in the face of the growing bipartisan consensus" on the need for reform.

"It's no coincidence that the Sessions memo was quietly signed on the same day the President was making major headlines for firing FBI Director Comey because of his investigation of Trump — this policy is unjust and unwise and can't withstand even minimal public scrutiny," Durbin said.
Senator Cory Booker, who has been outspoken about the need for criminal justice reform, believes that Sessions' strategy will not achieve the Trump administration's expressed objective of making America safer.
"This approach will put more low-level, nonviolent offenders in our prisons, waste taxpayer dollars, and divert critical resources away from proven approaches that reduce crime, like funding for law enforcement, crime prevention initiatives, and treatment programs," Booker said in statement.

Not all lawmakers had a negative reaction to the Sessions order. Republican senator Chuck Grassley, Chairman of the of the Senate Judiciary committee and supporter of criminal justice reform, seemed to applaud the AG for what he sees as Sessions "returning the DOJ to its longstanding policies before former Attorney General Eric Holder ordered prosecutors to file more lenient charges for federal crimes."

"The new policy also attempts to ensure that federal crimes are more consistently prosecuted across the country. The Attorney General has a responsibility to use his authority to promote public safety, and that means taking bad guys out of our communities when they break the law," Grassley said in a statement. "But, it also means being fair. I've helped to lead a discussion in Congress about what some of those laws and penalties should be, particularly regarding drug offenders, and I expect the Attorney General to enforce whatever laws Congress passes, as he pledged to do in his nomination hearing before the Judiciary Committee."

But the overwhelming reaction to the order from the criminal justice community to Sessions' order was a negative one tied to statistics they believe refute the Trump administration's "tough on crime" strategy.
In a joint statement, Steve Hawkins, president of the Coalition for Public Safety, and Holly Harris, executive director of the U.S. Justice Action Network, said, "Research has shown, time and again, that lengthy prison terms for lower-level offenders do not increase public safety. Federal prosecutors have a responsibility to enforce the law firmly, but need the flexibility to do so in ways that will best serve their communities and protect public safety. That's why we have and continue to support congressional efforts to reform sentencing. "
The groups point to statistics showing that between 2010 and 2015, 31 states cut both crime and incarceration, with the 10 states with the largest decreases in their use of prisons reporting a larger crime drop (14%) than those ten states with the largest increases in imprisonment (10%).
FreedomWorks director of public policy and legislative affairs, Jason Pye, called Sessions' memo "concerning," pointing out that the US federal prison population remains over 200,000, which is "costing taxpayers millions."

"Our current system is broken; it is not productive to lock up non-violent criminals next to violent criminals. It is crucial that we find a solution, and naturally restructuring this system aligns with conservative values," Pye said in a statement.

Mark Holden, Chairman of Freedom Partners Chamber of Commerce, an umbrella group for the Koch brother's political network, reacted to the Sessions memo saying, "We favor a different approach which requires changing some of the existing federal laws."

"Fortunately, there are already federal reform bills from last year that have broad bipartisan support that will address this issue," Holden said in a statement provided to BuzzFeed News. "These reforms are consistent with those enacted by many states the past 10 years. The states have proven that communities and law enforcement are safer when the punishment fits the crime through sentencing reforms."
Sessions' directive to push mandatory minimums and tougher sentencing does stand in contrast with many criminal justice reforms taking place on the state level. According to Pew Charitable Trusts' public safety performance project, since 2007 at least 23 states have reformed sentencing laws for crimes related to low-level drug offenses and other offenses that carry potential mandatory minimums.
Gupta said she is optimistic that "momentum" on the state and local level will continue "despite what Sessions is telling the federal prosecutors."
Still, she said, "it is hard to ignore the bully pulpit that Sessions has."
"The movement for criminal justice reform will continue to propel forward, but it becomes harder in the face of a DOJ that is engaged in retrenchment," Gupta said.