Gabby Giffords Was Shot In The Head Three Years Ago; Today She's Going Skydiving
Former Rep. Gabrielle Giffords was shot in the head in an assassination attempt in 2011. Today aired the jump on Thursday.
Former Rep. Gabby Giffords, who was shot in the head on Jan. 8, 2011, at a community gathering outside a Tucson supermarket, went sky-diving on NBC's Today show to mark the anniversary.
nbcnews.com
"Today Gabby Giffords is going to do something that is incredibly courageous and inspiring and a little bit surprising — she's going to skydive here in Arizona to commemorate the three-year anniversary and all of the progress that she's made," Today's Savannah Guthrie said on the show Wednesday from Tucson.
Giffords, 43, who has skydived before, was joined by her husband, former astronaut Mark Kelly; her mom; and Navy SEAL Jimmy Hatch whom she jumped with. Today aired the jump on Thursday.
On Jan. 8, 2011, Giffords was shot in the head in a massacre where six people were killed and twelve others wounded. Throughout her miraculous recovery, Giffords and her husband have been advocates for gun reform and outspoken critics of Congress's failure to pass gun control legislation. Following the shooting at Sandy Hook Elementary School, Giffords and Kelly launched the organization Americans for Responsible Solutions to go after the gun lobby and their deep pockets.
Giffords' road to recovery has been long and slow. Three years later, she still struggles to speak, her eyesight is still weak, and her right arm and leg are paralyzed, she wrote in an op-ed in The New York Times. Yet she still remains determined to be a voice and force for change to gun violence in America.
"Our fight is a lot more like my rehab. Every day, we must wake up resolved and determined. We'll pay attention to the details; look for opportunities for progress, even when the pace is slow," said Giffords in her op-ed. "Some progress may seem small, and we might wonder if the impact is enough, when the need is so urgent."


Success!

Asked by local news affiliate ABC 15 how the jump went, Giffords said: "It was wonderful."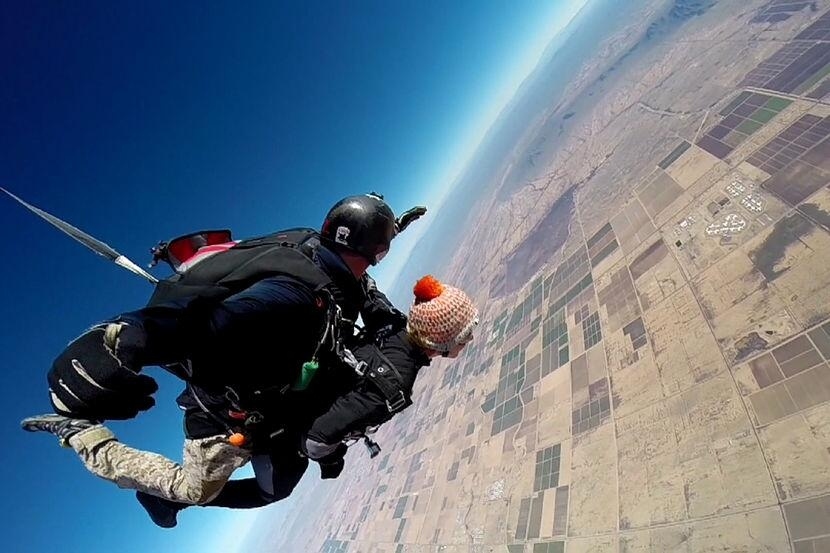 "Skydiving is my way of saying "I'm alive,'" Giffords told TODAY's Savannah Guthrie.