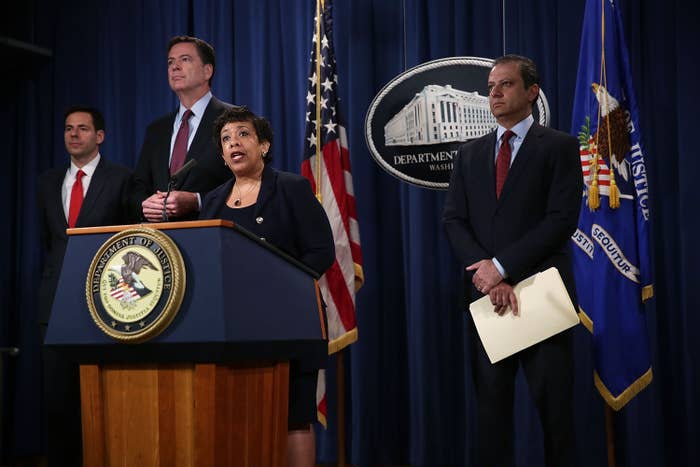 Seven Iranians allegedly ran a multi-year cyber-attack targeting 46 U.S. financial institutions and a dam based in New York, the Department of Justice announced Thursday.
From December 2011 to May 2013, the alleged hackers — who worked for two separate security companies — ran sporadic DDoS attacks designed to overwhelm and disable company servers, according to the indictment. The computer servers of the financial institutions were hit with as much as 140 gigabits of data per second during some attacks.
In addition to the bank hacks, one of the individuals charged, Hamid Firoozi, allegedly hacked into the system of the Bowman Dam in Rye, New York, giving him the ability to control water flow.
While Firoozi inflicted no damage with the dam hack, the U.S. Attorney in Manhattan, Preet Bharara said, "the potential havoc...is scary to think about."
Th hackers cost companies "tens of millions of dollars," Attorney General Loretta Lynch said at a news conference.
Asked they would be extradited, Lynch said, "Our view is that fugitives don't remain that way forever."

"Because they're not here now does not mean that we'll never get them," she said.
"Financial losses from cyber attacks are approaching $1 trillion a year, and millions of Americans have already had their personal information exposed. But the report of a cyber attack targeting a dam in New York points to a third weakness: our critical infrastructure," Senator Dianne Feinstein said in a statement after the charges were released.

"If hackers are able to access dams, the electrical grid, airports, our water supply or nuclear plants, the amount of damage they could do is enormous. Congress took a key step last year by passing a cyber-security information sharing bill to help identify and stop attacks. But we also need to do more to protect our critical infrastructure," Feinstein said.

Congressman Adam Schiff, Ranking Member of the House Permanent Select Committee on Intelligence, said that today's indictment serves as "a strong message to all hackers, whether criminals or nation states, that their anonymity is not guaranteed online."
"We will use all tools in our arsenal to bring the perpetrators of illegal hacks to justice, wherever they may be. Today's indictment also serves as a warning to U.S. companies and individuals that the threats we face online are pervasive and potentially devastating. Each of us, individually and collectively, must shore up our cyber preparedness and cyber resilience," Schiff said.

This is a developing story. Check back for updates and follow BuzzFeed News on Twitter.