How School Lockdown Culture Became Normal In Post-Newtown America
In the two years since the Sandy Hook massacre, active shooter drills have become an ordinary — and depressing — part of going to school in America. BuzzFeed News talks to teachers about the frustrating necessity of preparing kids for the worst.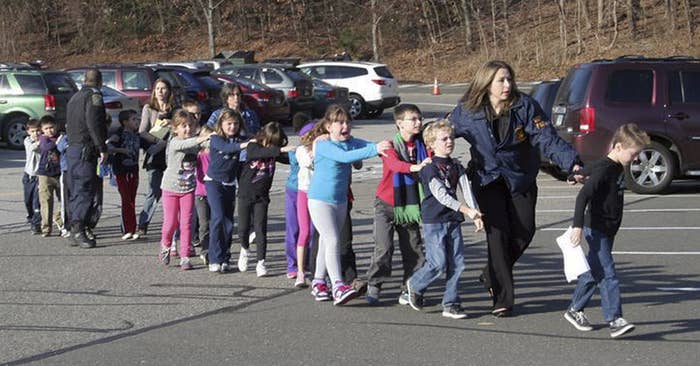 On the morning of Nov. 13, during second period at Jewett Middle Academy in Winter Haven, Florida, Principal Jacquelyn Moore announced the school was in a "hard lockdown."
Students and teachers at the middle school hunkered down in their classrooms. Xavier Tate, an eighth-grader, told Fox News his teacher told the class that if anyone was going to get hurt, it would be her.
A few minutes later, the door to Tate's classroom opened, a gun barrel sticking in. Two men, in police uniforms, entered — one holding a Glock .45, the other carrying an AR-15.
"We actually thought they were going to kill us," Tate said.
The men surveyed the room, then one yelled, "All clear!" and they moved on to the next classroom. About 40 minutes later, after the two cops had checked all the rooms in the building, the active shooter drill was over.
"Unbelievable they call it a drill," Charise Tate, Xavier's mother, told Fox News. "It was a drill for police. It was real for the kids. It wasn't realistic. It was real."
Polk County schools initially defended the drill. District officials stood by their decision to keep the teachers in the dark. The Winter Haven chief of police, Charlie Bird, said the exercise was "useful" for his officers.
But a few days later, school district superintendent Kathryn Leroy said she never ordered an "active-shooter drill be performed with students present and officers having weapons in their hands." The district added that, in the future, all parents would be notified before drills took place.
Principal Moore was put on administrative leave. BuzzFeed News learned that Moore was just reinstated this past Wednesday — more than four weeks after the controversial drill. Polk County schools spokesperson Jason Geary told BuzzFeed News in statement, "Jacquelyn Moore has been reinstated as principal of Jewett Middle Academy Magnet in Winter Haven. She has an opportunity to provide feedback before the investigation is complete. Therefore, the investigation remains ongoing and cannot be released yet. However, information obtained during the initial investigation has warranted the principal's reinstatement, and this has taken place today."
The Jewett Middle Academy lockdown drill took place almost two years after the massacre when 20 students and six educators were murdered at Sandy Hook Elementary School in Newtown, Connecticut. The controversy surrounding it is indicative of not just a lingering fear about the frequency of school shootings in the United States — 21 deadly school shootings in the past two years, according to a report by Mother Jones — but also the anxiety amongst teachers and administrators about how to prepare for the worst without traumatizing students.
As the second anniversary of the deadly shootings in Newtown approaches, BuzzFeed News spoke to a number of teachers who shared a common, begrudging acceptance of school lockdown culture in America. Teachers said they are mad about having to do the drills, though they recognize the necessity. And they're sad about how normal it's become for some kids to feel prepared for active school-shooter scenarios.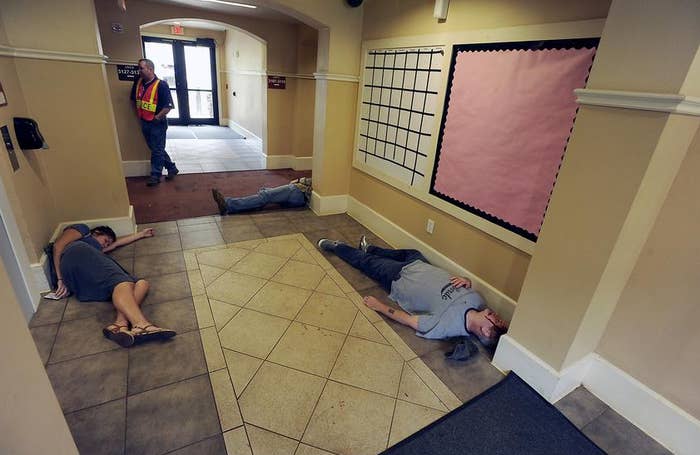 Not all lockdowns drills in America include fake violence with cops playing the part of gunmen or teachers pretending to be shooting victims. However, since Newtown, in a lot of schools the lockdown drill has changed to focus on intruders wielding guns.
Emily Raper, a seventh-grade language arts teacher in Tennessee, said her school does one lockdown drill a semester. After the lockdown is announced over the intercom, Raper makes sure the door is locked while her class of about 30 form a straight line in the front of classroom under the whiteboard so that an intruder looking into a room won't see anyone or have the angle to shoot any of the students.
"It gets crowded," Raper said.
Raper pulls a curtain or a large piece of newsprint over the door's window so an attacker can't see in. The lights are turned out, but the room's window blinds are left open so that police or a SWAT team can look in and know if anyone has been hurt.
Once Raper's students are secure, she slides one of two sheets of paper under the door: green for all good, yellow if there is trouble (like a missing student).
Blocking the classroom door, the green and yellow paper, opening the blinds for SWAT — this is all new in the last couple years since Sandy Hook.
Raper said her kids usually take the drills seriously.
"They're middle schoolers. Sometimes a student's shoe will make a farting sound and students will giggle."
"We do tell them [lockdown drills are] in case of a shooter," Raper said. "But we don't say we're doing this so we don't get shot."
If a real attack occurred, she said, "they will still obviously be freaked out. But it's like second nature: I know where to go, I know what to do, we've done this before."
But for Tracie Happel, an elementary school teacher in La Crosse, Wisconsin, the announcement of practicing is enough to freak out some of her second-graders.
At Happel's school, once a semester, the principal will come on the loudspeaker and say they're running a lockdown drill. Heavy emphasis on the drill part.
"Kids get scared even with that alone," Happel said. "They will ask, 'Is it really pretend?'"
Where a middle schooler or high schooler might assume they're practicing in case of an active shooter, elementary school kids need more coaching, Happel said.
"Usually we have to talk about it. They ask, why did we do that? What do you mean a bad guy is coming?"
"It makes me mad. I don't like doing this. I don't like scaring the kids," Happel said.
Gail Anderson, a teacher at Lake Oswego Junior High School in Lake Oswego, Oregon, said her middle school students handle lockdown drills well, but ask questions about what to do if it's real, too.
"They just have all these scenarios: What if somebody is outside? What would we do if this happened? It comes from what they've heard on the news and at home," Anderson said.
"One of their biggest questions: What if we're outside at lunch? What should we do?"
Anderson said she doesn't go into specifics with her students. She just tells them to do their best to get somewhere safe — and reassures them that it's her job to protect them.
One thing Anderson definitely doesn't share with her students is her and her fellow teachers' extra behind-the-scenes preparation for the real thing.
"I think the biggest change in the past couple years is that we've been told that it's OK to fight back," Anderson said. "And to actually be prepared to do that."
Anderson said that at the beginning of this school year, the faculty and staff discussed being ready to respond to an attacker. She said some teachers keep things like baseball bats in their closets.
"They used to just tell us hide and wait," said Anderson. And that is what the teachers practice during the drill: hide and wait.
"We hide with the kids during the drills," Anderson said. "But you need to do what you can to take care of it yourself. Be ready to throw a chair. Be ready to whack someone."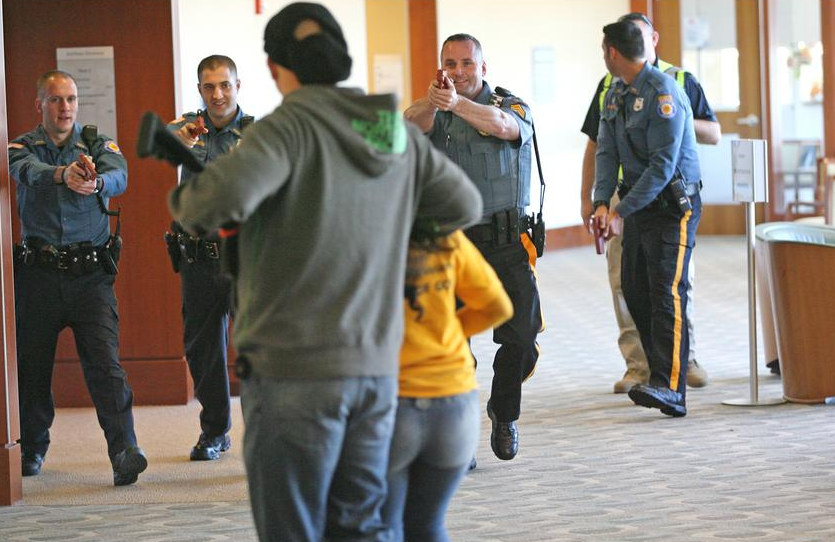 The common goal in these drills is preparedness. And all of the teachers who spoke with BuzzFeed News agreed that they felt the drills made their students more ready to react to a real emergency.
Julia Chester, associate professor at Purdue University, wishes that the school was more prepared for an incident earlier this year where a student shot and stabbed a teacher's assistant in the building next to her office.
"A lot of people were traumatized, in part because they didn't know what to do," Chester said. "They didn't understand shelter in place."
Chester, who works with the gun control group Moms Demand Action, said she spent a couple classes just talking to students about what happened that day.
She said that Purdue has gotten better at readying students for emergencies, with mandates like professors having their cell phones on and subscribed to the emergency notification system.
"It's sad, very sad, that we have to prepare for this," Chester said.
She worries about her son in pre-kindergarten. She has heard from other parents about the lockdown drills he will encounter when he reaches kindergarten next year.
"It's absolutely heartbreaking," Chester said. "It could be potentially very damaging for these children to go through these scenarios."
That raises another lingering question: Are lockdown drills doing psychological damage to kids who are traumatized just by practicing?
According to crisis expert Stephen E. Brock, Ph.D, president of the National Association of School Psychologists, evidence shows that traditional safety drills — like fire drills — don't cause any noticeable anxiety in children. However, he said that telling kids that they're practicing for an active shooter or even using the word "lockdown" could be "problematic."
"This new kind of drill, the active shooter drill — we don't have any evidence at all," Brock said. "It just hasn't been studied. We have to be careful. It's so new. It's really post-Newtown. My recommendation is that we proceed cautiously."