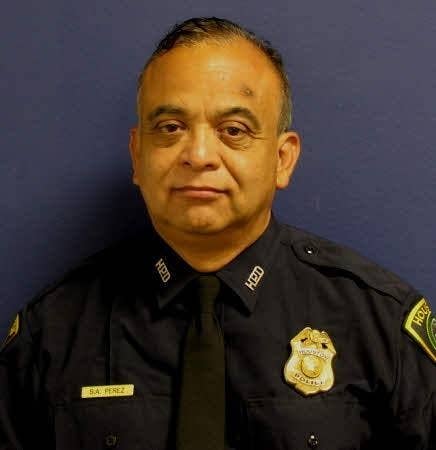 A veteran Houston police officer drowned Sunday after he became trapped in floodwaters, officials confirmed Tuesday at an emotional news conference.

Houston Police Sergeant Steve Perez died when he drove his patrol car "in the darkness" under an underpass into deep water, police chief Art Acevedo said, adding, "drove into the water, and he died in a flood — in a drowning-type event."

The 60-year-old officer's wife had asked him not to go to work, but Acevedo said he went anyway.

"This is an individual who was with HPD, Houston's finest, men and women in blue, for 34 years," Mayor Sylvester Turner told reporters. "In fact, he was two days shy of his 61st birthday. And he lost his life on Sunday morning on his way to work.
"On behalf of the people of the city of Houston and our great city, I want to take the time to extend my condolences, my prayers, to his family, specifically to his — specifically to his wife, Cheryl, to his son as well as to his daughter."
The Houston Chronicle first reported Perez's death.
Perez spent more than two hours trying to find a safe way to his station before calling his commanders and reporting that he could not get to the station, Acevedo said. Perez then followed protocol, which was to go to a second station in the Kingwood area in northeast Houston, the police chief added.

On Monday, commanders realized that Perez had not made it to the station in Kingwood.
On Monday evening, the search area was narrowed and a dive team was called in along with the Cajun Navy volunteer search and rescue force. Acevedo said that when the dive team arrived, flooding in the areas was "too treacherous to go under."
"We made a decision to leave officers there waiting until the morning because as much as we wanted to recover him last night, we could not put other officers at risk for what we knew in our hearts was going to be a recovery mission," Acevedo said, tearing up as he described the search.

At around 8 a.m., rescuers recovered Perez's body.
Acevedo became choked up, describing Perez as "one of the sweetest people I've ever met."

Houston Police released an official statement Tuesday afternoon on Sgt. Perez's death:
It is with a heavy heart that we announce the tragic in the line of duty death of Sergeant Steve Perez. Sergeant Perez was bravely serving the City of Houston in the face of this unprecedented weather-related disaster when his vehicle entered high water.

The death of Sergeant Perez reminds us of the dangers that police officers willingly face every day in order to serve this great City. We will go through this extremely difficult and trying time with heavy hearts sadly reminded of the ultimate sacrifice one of our own paid. Words cannot adequately express the sense of loss the Perez family and their extended Houston Police family are experiencing. Our hearts and prayers go out to Sergeant Perez's family, his friends, neighbors and colleagues. He is survived by his wife Cheryl, a grown son and daughter, and extended family. We ask that everyone keep him and his family in their thoughts and prayers.

We are proud of the courage of this 34-year veteran. Like Steve, we will not waiver and we will not stop until we meet the immediate safety and security needs of the community Steve and his HPD family love to serve.
Officials in Harris County — which includes Houston — told BuzzFeed News that in addition to two confirmed deaths, including Perez, they "highly suspect" seven additional deaths "are related to the hurricane." Officials have also confirmed an additional fatality in Rockport.
If you've been impacted by the storm in Texas or have a tip about rescue, relief, government, or aid efforts, call the BuzzFeed News tipline at (646) 589-8598. Find us on Signal, email, SecureDrop, and more here.