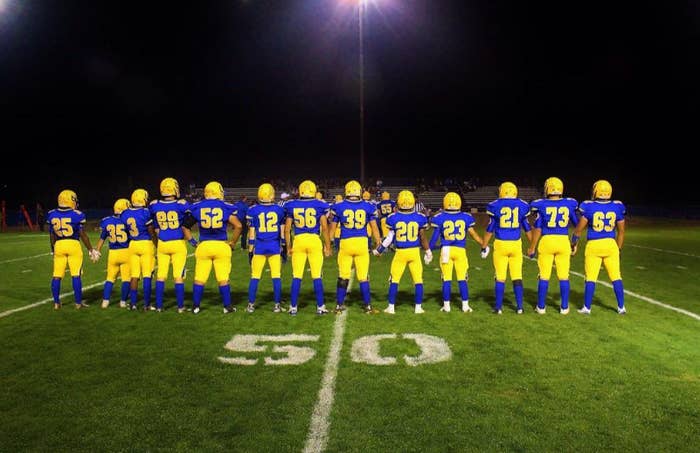 Three High School football players involved in a hazing investigation in a small California town have been charged with false imprisonment, prosecutors told BuzzFeed News.
In addition to the felony false imprisonment charges, the students face one count each of misdemeanor hazing, the Merced County District Attorney's Office confirmed.
The three players are juveniles — two of them are 17 years old boys, the other is 16 — and their names have not been released publicly.
Law enforcement officials said a fourth student has been arrested in connection with the case but wouldn't comment on charges for that individual.
"This appears to have been a hazing incident that, as hazing incidents often do, got out of control. We're still sorting through exactly what the nature of it was," Merced County District Attorney Larry Morse told BuzzFeed News.

At this point in the investigation, Morse said he doesn't believe the students will be charged as adults. However, he added, "depending on where the investigation takes us we certainly reserve the right to change that."
The Dos Palos police chief has warned that the details of the case will likely shock the entire community when they're made public.
"When some of these details become public, I think there's going to be a healing process needed for the whole community," Dos Palos Police Chief Barry Mann told the Merced Sun-Star.
Mann provided few specifics on the investigation but would not rule out additional arrests. But in an interview with the Sun-Star, he warned that when details do emerge on the "very serious" case, the community will likely need to come together and heal.
"When some of these details become public, I think there's going to be a healing process needed for the whole community," Mann told the paper.
When asked if the case involved criminal sexual activity, the Mann would neither confirm nor deny that possibility.

"We didn't charge a sex related crime — that indicates that we believe any such charge was merited," Morse told BuzzFeed News. "We're still sifting our way through things. Obviously, if we uncover something we reserve the right to change that."

Police told KMPH there are "one or more victims."
"We are going to leave nothing unturned to make sure that any victim out there gets the proper service they need, and the chance for redress," Mann told the station.
On Thursday, the Associated Press reported that Mann said he is "fearful" that the scandal will grow beyond the alleged incident that led to the three arrests.
Dos Palos' football team is scheduled to play its rival Los Banos on Friday. School officials told KMPH it is unlikely that the three students arrested so far in connection with the investigation will play.

Asked if he was concerned about Dos Palos playing the game as details in the case begin to emerge, Morse said, "This is much more serious than a football game."
"That begins to be the problem. For those who are losing sight of what's important they need to be reminded that these are students first," Morse said. "As much as I love football, the game is a complete non-consideration of how we're approaching this."