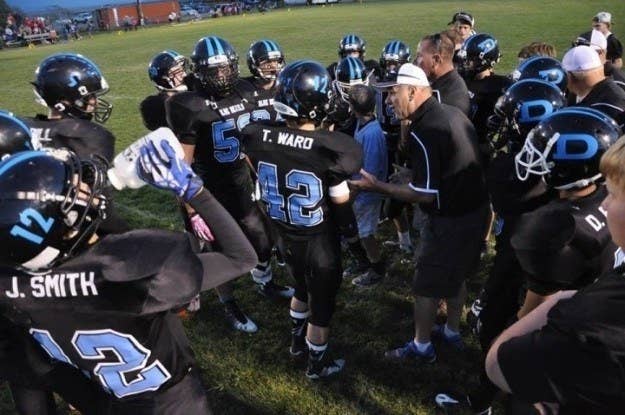 A black high school student with mental disabilities in Idaho was "more likely than not" sexually assaulted by his white football teammates who inserted a coat hanger into his anus in 2015, according to a new court filing.
The documents, first reported on by the Idaho Statesmen, appeared last week in a civil lawsuit brought by the alleged 18-year-old victim, who claims Dietrich High School officials and coaches turned a blind eye to months of racially charged abuse to occur, culminating with coat hanger incident on Oct. 22, 2015.
One of the players, John R.K. Howard, 18, is accused along with two other Dietrich High School football teammates of luring Antwon McDaniel into the locker room after practice and shoving a coat hanger into his rectum. Prosecutors say Howard then kicked the hanger multiple times.
The new court filings in the civil case includes two investigative reports filed by school Superintendent Benjamin Hardcastle, who is a defendant in the lawsuit.
The investigation found that the victim was given a "wedgie" that ripped his boxers. After practice, he was then assaulted with the hanger.
Hardcastle wrote that based on his investigation, it is possible that another football player told the assailants to stop, to which one of his teammates responded, "Shut up or I'll do the same thing to you."
On other occasions one of the players involved "dry humped" or simulated having anal sex with other younger players, Hardcastle wrote, adding that the victim had also told his mother that he had previously been choked and shot with a pellet gun.
Officials investigating the incident conducted 30 interviews with students that were in the locker room, other football players, coaches, and parents, according to Hardcastle.

In one of the interviews, which were attached in the documents filed last week, a student who witnessed the incident said that as he walked into the locker room, he heard "pounding and banging on the walls," then saw the victim walk over "limping" and "holding his butt."
According to the interview, one of the students involved said, "I just pounded him so hard," and pointed toward the victim.
"We found evidence of misconduct among students that include sexual harassment, bullying behavior, and sexual assault," Hardcastle wrote in his report.
According to the civil complaint, in the summer of 2015, the victim was taunted and called racist names by teammates including "Kool-Aid," "chicken eater," "watermelon," and "nigger."
The revelation that school officials concluded that the coat hanger assault occurred is the first documentation of the attack by anyone connected to the incident. School officials had previously acknowledged that they were alerted of the attack by the victim's mother, an investigation was completed, and law enforcement were notified.
In the civil lawsuit, school officials have denied all claims of wrongdoing and insisted the victim was not vulnerable.
Howard, who now lives in Texas, appeared earlier this month in district court for the first time since he was arraigned on charges in April. He pleaded not guilty.
If convicted, Howard faces up to life in prison and a fine up to $50,000. He also would have to register as a sex offender.
Howard is the only alleged assailant facing charges in the case as an adult. Another football player charged in the case, Tanner Ward, 17, had his case moved to juvenile court as part of plea negotiations. Another student is also facing charges in juvenile court, but his case has been sealed.