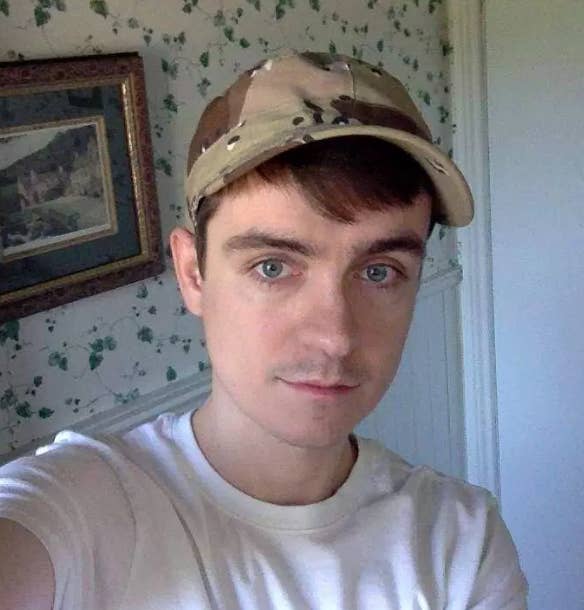 The lone suspect in a mass shooting at a Quebec City mosque on Sunday that left six dead was identified by police as Alexandre Bissonnette, a 27-year-old white French Canadian.

The deadly shooting occurred inside the Centre Culturel Islamique de Quebec at around 8 p.m. when a masked gunman entered the mosque with an assault rifle and began firing, police said.
Local police initially said two men were in custody for the attack, but on Monday, the second person, Mohamed Belkhadir, a Moroccan, was identified as a witness.
Bissonnette, who was identified by Canadian media and NBC News citing police sources, reportedly called 911 and confessed to the shooting. He was arrested after parking his car on a nearby bridge and surrendering to authorities, police said.
On Monday evening, Bissonnette was charged with six counts of murder.
"For the moment, nothing leads us to believe there are other suspects linked to the event, but you'll understand we're not taking chances and we're making necessary verifications to make sure there aren't any," Quebec police spokeswoman Christine Coulombe told The Canadian Press.
Authorities say they are investigating the attack as an act of terrorism.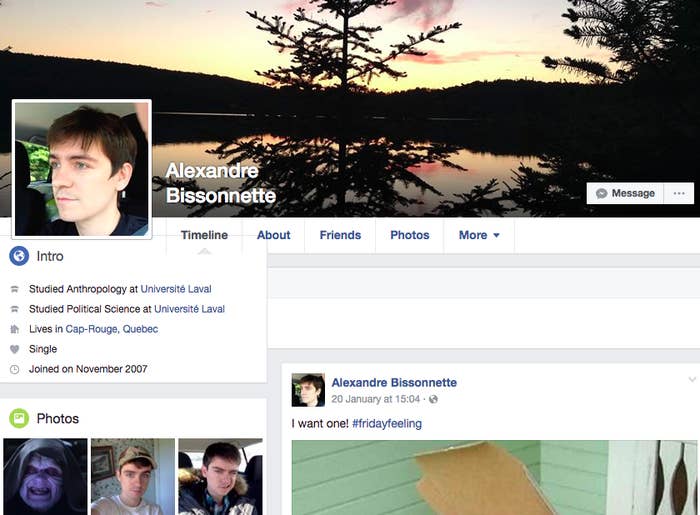 Soon after the shooting, false rumors swirled on social media that the shooter was Muslim. But after Bissonnette's name and photo began to show up in the media in connection with the shooting, Canadian immigration activist François Deschamps told La Presse he recognized Bissonnette as "a troll" who had made "extreme right-wing" comments on a Facebook page that Deschamps created for welcoming Syrian refugees to Canada.

Vincent Boissoneault, another friend of Bissonnette's, described him to the Globe and Mail as a "xenophobe" and said he was "enthralled by a borderline racist nationalist movement."
Boissoneault said that when the two would argue about politics, Bissonnette "attacked refugees or expressed support" for right-wing politicians including far-right French nationalist and presidential candidate Marine Le Pen and US President Donald Trump.

According to his Facebook page, which has since been taken offline, Bissonnette lived in the Cap-Rouge section of Quebec City and attended the Universite Laval. At the university, Bissonnette studied political science and anthropology, La Presse reported. An unidentified fellow student told La Presse that Bissonnette was "a loner" with no friends.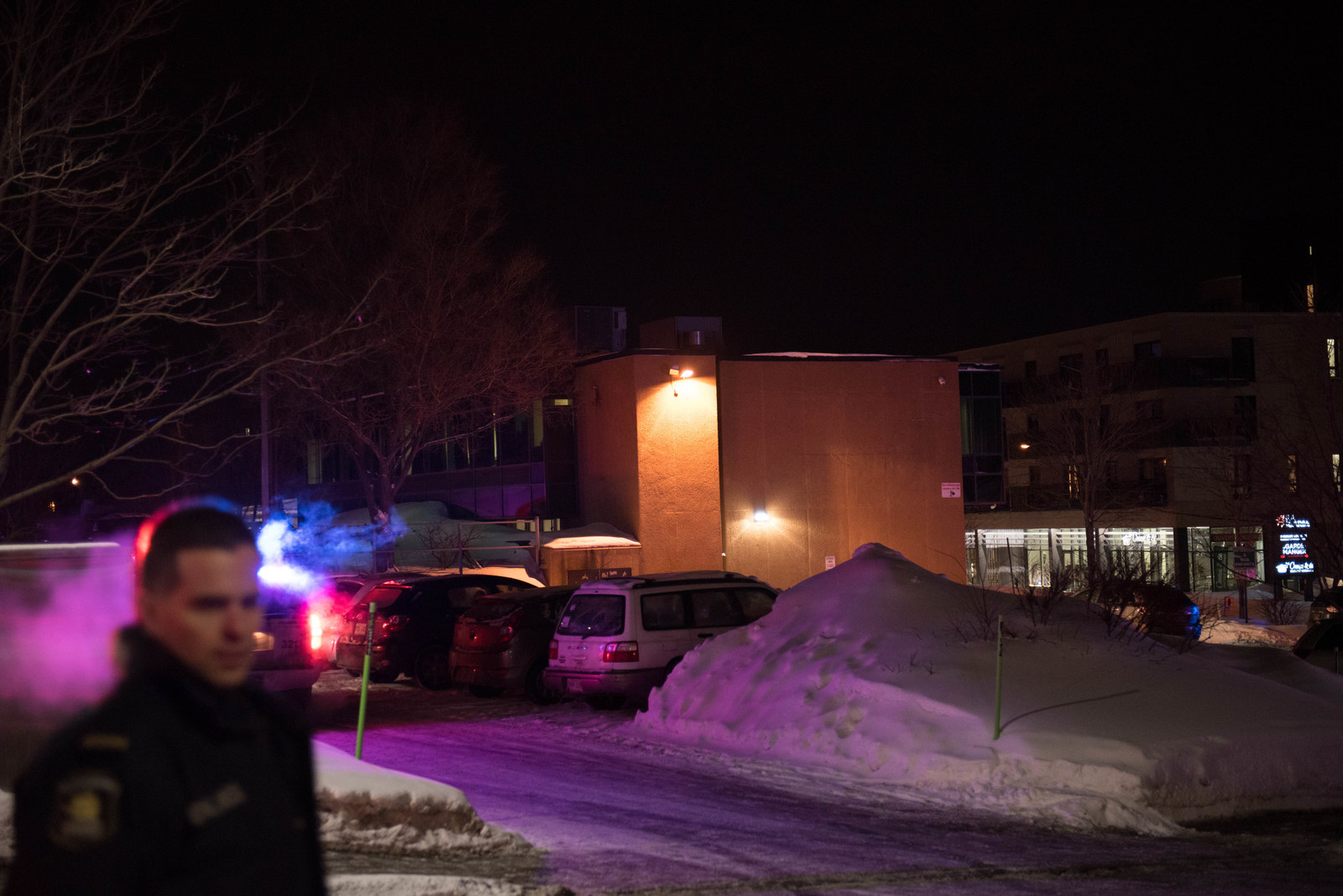 Before Facebook deactivated Bissonnette's page, screenshots of his "likes" were also circulated on social media. Among them were page for Le Pen, Trump, and atheist and critic of Islam Richard Dawkins.
Posts on Bissonnette's own Facebook page, however, reveal little about any political or ideological leanings. For example, his profile shows a post of him at a Subway restaurant; driving in a car, with the caption "driving to my camping ground!"; a screengrab from the computer game Warcraft; and a photo of a dog wearing a Dominos pizza delivery outfit, with the caption "I want one! #fridayfeeling."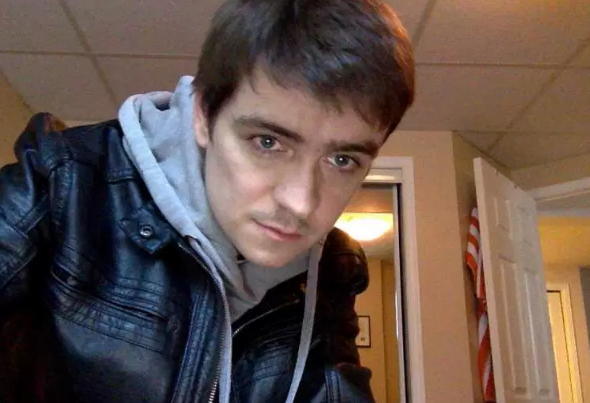 At a news conference Monday, officials identified the shooting victims as men ranging in age from 35 to 60. Officials said five people remain hospitalized, with two in critical condition and three stable. At least 14 others suffered minor injuries, Genevieve Dupuis, a spokeswoman for the University of Quebec Hospital Centre, said.

A motive for the attack remains unclear, and law enforcement offered few details about the suspected attacker other than that he told police he intends to cooperate with the investigation.
The White House said Trump spoke to Canadian Prime Minister Justin Trudeau Monday and "offered to provide any assistance as needed."
During his daily press briefing, White House Press Secretary Sean Spicer used the attack to justify Trump's controversial travel ban for immigrants from seven Muslim-majority countries, calling it "a terrible reminder of why we must remain vigilant and why the president is taking steps to be proactive rather than reactive when it comes to our nation's safety and security."
Trudeau, meanwhile, spoke directly to Muslim Canadians from the House of Commons Monday, saying they have the country's full support.
"To the more than 1 million Canadians who profess the Muslim faith, I want to say directly, we are with you," he said. "Thirty-six million hearts are breaking with yours. Know that we value you. You enrich our country in immeasurable ways; this is your home."
"We will grieve with you, we will defend you, we will love you, and we will stand with you."