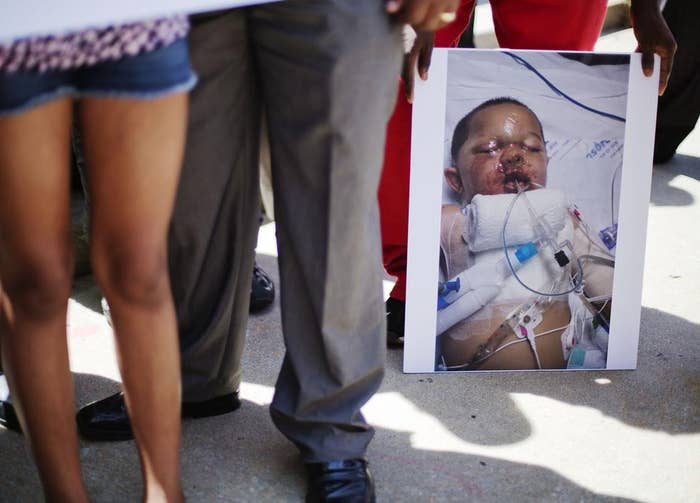 A Habersham County, Georgia, grand jury decided this week not to indict the law enforcement officials involved in the botched raid that left 19-month-old Bounkham "Bou Bou" Phonesavanh's face disfigured from a flash grenade explosion.
But Sally Quillian Yates, the United States Attorney for the Northern District of Georgia, told BuzzFeed News on Tuesday that her office will take up the investigation.
"Federal authorities have been participating in the investigation of this terrible incident, and now that a state grand jury has declined to return an indictment, we will review the matter for possible federal charges," said Quillian Yates in a statement.
Just hours before the raid, an informant reportedly told agents they successfully purchased methamphetamines from the suspected drug dealer in the case, Wanis Thonetheva, at the Habersham County home. The informant also told police that there were men standing guard outside the home, and it was unclear whether they were armed.
Because Thonetheva had a previous weapons charge officers were issued a "no-knock warrant" for the home.
At approximately 3 a.m. on May 28, 2014, SWAT officers entered the home and threw a flash grenade that landed in the crib of "Bou Bou" Phonesavanh, blowing his nose off his face.
According to an incident report obtained by the Atlanta Journal-Constitution from the Habersham sheriff's office, deputies were told to anticipate a cache of weapons at the home.
The officers found no weapons or drugs. Baby "Bou Bou" was left in critical conditions and spent in weeks in the burn units of two hospitals. The toddler would undergo multiple surgeries to repair the damage to his face and chest.
Following the incident, WSBTV reported that Habersham County denied a request by the Phonesavanh family to pay their child's medical bills.
The grand jury spent six days hearing testimony, and reviewing statements and photographs from the scene.
The grand jury wrote in its decision, "The drug investigation that led to these events was hurried, sloppy, and unfortunately not in accordance with the best practices and procedures. While no member of this grand jury condones or wishes to tolerate drug dealers and the pain and suffering that they inflict upon a community, the zeal to hold them accountable must not override cautious and patient judgment."
Lawyers for the Phonesavanh family told Buzzfeed News that they will hold a press conference on Tuesday afternoon to update the media on the investigation.
The grand jury makes specific mention of the family's relationship to Wanis Thonetheva in its presentation.