Former Palm Beach Gardens police officer Nouman Raja was indicted on Wednesday over the October 2015 killing of Florida drummer Corey Jones, investigators announced.

Palm Beach County State Attorney Dave Aronberg told reporters at a press conference that his office was charging Raja with one count of manslaughter by culpable negligence and one count of attempted first-degree murder with a firearm. If convicted, Raja could face life in prison.
At Raja's initial court hearing on Thursday, Circuit Court Judge Joseph Marx set the ex-officer's bond at $250,000.
John Kazanjian, president of the Palm Beach County Police Union said Thursday that the union would pay Raja's legal fees throughout the case.
Raja fatally shot Corey Jones while the musician was waiting on the side of the road after his car broke down in the early morning hours of October 18, 2015.

At the time of the incident, Palm Beach Gardens police said the 31-year-old Jones had a handgun and "confronted" officer Nouman Raja when the shooting occurred.
A gun Jones had legally bought three days earlier was found at the scene.

However, Jones' family maintained that the musician's weapon had not been fired — a detail that Aronberg later confirmed.
The family said Jones purchased a gun for his protection, because he often rode in his car with very expensive musical instruments and band equipment.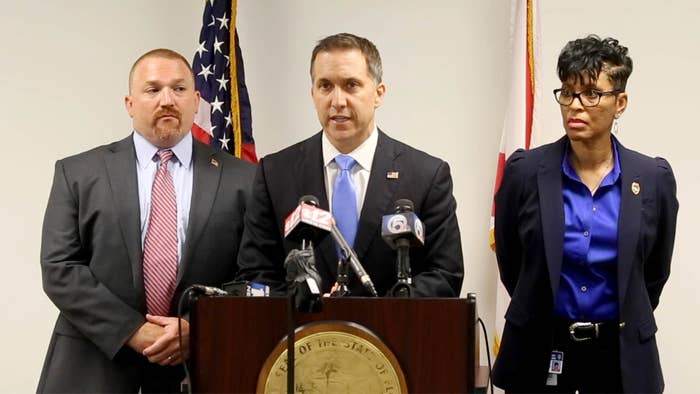 In a probable cause affidavit signed by State Attorney's Office Deputy Chief Investigator Mark Anderson, officials detailed an audio recording that was recovered of a conversation between Jones and Raja picked up during a call Jones made seeking roadside assistance for his broken-down vehicle:
Jones: Huh?

Raja: You good?

Jones: I'm good.

Raja: Really?

Jones: Yeah, I'm good.

Raja: Really?

Jones: Yeah

Raja: Get your fucking hands up! Get your fucking hands up!

Jones: Hold on!

Raja: Get your fucking hands up! Drop!
According to the affidavit, Raja fired three gunshots in rapid succession immediately after he said, "drop!" The call center operator can be heard saying "Oh my gosh." Then three more shots can be heard.
In another recording of a 911 call placed by Raja after the shooting, when asked for a description of the person Raja replied, "black male wearing all black, dreads, had a silver handgun in his right hand. I came out, I saw him come out with a handgun. I gave him commands. I identified myself and he turned, pointed the gun at me, and started running. I shot him."
Raja also told the 911 dispatcher that he had "hit" Jones "at least three to four times."
In noting the reasons for charging Raja, investigators refuted Raja's claim that he identified himself to Jones as a police officer based on recovered audio.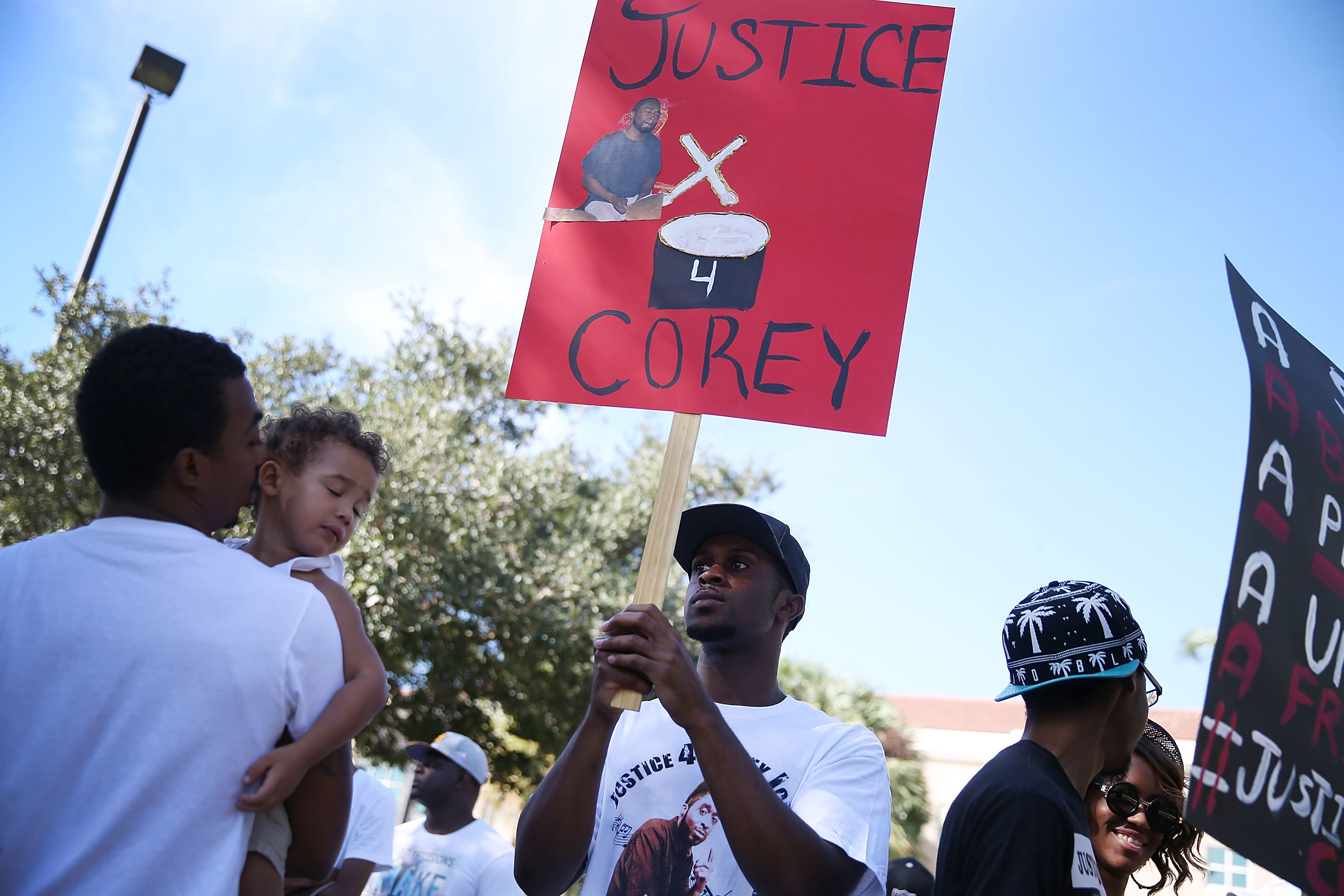 After the incident, attorney for the family Benjamin Crump also claimed that Raja was not wearing his badge at the time of the incident.

"He went to his grave not knowing if this was a real cop or not," Crump said. "Nobody understands how this could happen to Corey Jones."
After the shooting, Palm Beach Gardens Police Chief Stephen Stepp said the police department has no video of the incident, as there was no dashboard camera installed in the officer's car, nor does the department issue body cameras to officers.
In the weeks after the shooting Raja was placed on paid administrative leave, and later fired. At the time of the incident, he had been with the Palm Beach Gardens police department for just six months. In his application for the position, he failed to disclose that he had been reprimanded at his previous police job, the New York Times reported.
According the report, at his previous job with the Atlantis, Florida police department, Raja failed to turn over morphine pills recovered from a suspect. Raja reportedly never wrote a report or submitted the evidence, according to an Atlantis police internal affairs file. Due to Raja's actions, prosecutors were forced to drop the case against the suspect from whom the pills had been confiscated.
When asked if he had ever been reprimanded on his application for the Palm Beach Gardens police department, Raja only listed minor incidents.
Following the announcement of charges against Raja on Wednesday, Jones' family released the following statement:
"We were relieved to learn that Officer Nouman Raja, who senselessly killed Corey Jones, was arrested earlier today and will face criminal charges for his reckless act. While we understand that nothing can bring back our son, brother and friend, this arrest sends a message that this conduct will not be tolerated from members of law enforcement.

Our goal now as a family is to ensure that this never happens to another innocent citizen. In spite of this news, our hearts are heavy. We lost a wonderful soul. But rather than focus on the reprehensible actions of one police officer, today we choose to celebrate Corey's life. A life which he lived to the fullest, every day. We take solace in the outpouring of support from the people who knew Corey best. His spirit will live on through his music and the lives he touched over the years. We will stay vigilant as this process moves forward and peacefully demand greater accountability and transparency from law enforcement."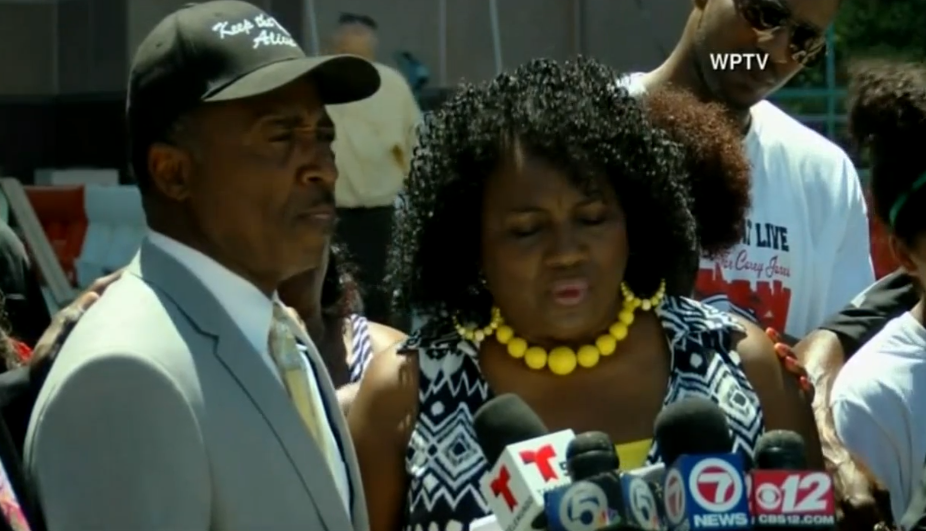 Speaking out for the first time since the charges were announced, the Jones family and their attorneys held a news conference Thursday. The family thanked the grand jury for returning an indictment against Raja, but at the same time expressed frustration with the amount of time it took for the State Attorney to bring charges.
"If we knew we had this tape from the beginning, then why did it take so long?" said Jones' brother, CJ Jones.

"The recording only proves what we've been telling people from day one," said Jones' sister, Melissa Jones.
Jones' stepmother Katie Jones said that she spoke to law enforcement "seven months ago" about the evidence against Raja.

"We know in America other grand juries that had more evidence than this – they had visual evidence – and they still didn't return an indictment," Crump said.